BOYS: Highlanders turn up Tigers
Updated: December 19, 2019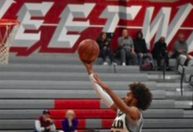 Jahari Hill, of Helix. / photo by Nicholas James
2019 EAST COUNTY PREP BOYS BASKETBALL
EastCountySports.com staff report
HELIX 84, MORSE 46 – The Helix Highlanders woke up in the second half, stopped fouling and kept it simple on offense, to improve to 7-4 by defeating Morse, 84-46, on Wednesday.
The victory was Helix's second in three tries at the Sweetwater Tournament.
Once the Highlanders get their roster settled, they often can pick up a tournament championship.
Helix plays El Camino on Friday at the event.
Keishon Trice had 20 points to lead Helix in the victory.
Trice had 14 points in the first half, including a perfect 8-for-8 from the foul line.
Tonight, as a team, I think Helix showed our defensive presence which led to transition buckets and allowed our offensive to run smoothly. As far as my points, all of my teammates contributed in some way. We really played selfless basketball and tried to share the ball as much as possible. I believe Maurice Holmes was a key contributor to the win tonight. With respect to being on the road, this is Helix's second year having all away games so we are pretty used to it. Also, our coaching staff has mentally prepared us so that as long as we go out and play Helix Basketball it doesn't matter home or away. Of course, it would be great to have home games and play in front of our own crowd with our Scotties energy, but for now we will just try to treat all gyms as our own. – Keishon Trice
Isaiah Robinson had three three-pointers in the game and finished with 15 points.
We realized how much we don't play as well against teams we're supposed to beat because we know how good we can be so coach (John Singer) kinda got on us about that and we turned it up. For me, personally, I just felt like I wasn't doin enough and I was frustrated so I found my fuel to go harder every time after that point. – Isaiah Robinson
Senior Maurice Holmes added 14 points, including eight points in the third quarter.
Jahari Hill, who missed the first several games of the season while playing for the section champion football team, added nine of his 11 points in the fourth quarter, as he appears to be ready to go on the hardwood.
The 6-foot-5 Hill might have been known for his play on the court prior to his breakout season as a football receiver in 2019.
Helix led 23-12 after one quarter as Morse fell to 5-5.
RANCHO BUENA VISTA 74, SANTANA 29 – The Longhorns defeated the visiting Sultans in a non-league game on Wednesday.
RBV led 20-8 after one quarter and held Santana to single digits in each period.
Santana fell to 1-10 overall.
LIBERTY CHARTER 53, THE CAMBRIDGE SCHOOL 45 – The Lions won the home game over the Griffins at Lemon Grove Recreation Center in a game played on Tuesday night.
The Lions won for the third time in 10 games this season.