BOYS: East teams rack up Thursday wins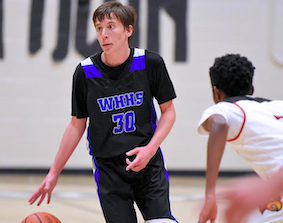 Cash Creighton runs the West Hills offense against Hoover on Thursday. / photo by Ken Todd
2019 EAST COUNTY PREP BOYS BASKETBALL
EastCountySports.com staff report
CHRISTIAN 67, GROSSMONT 38 – The Patriots controlled the game early, outscoring the Foothillers, 21-5, over the first eight minutes en route to the Grossmont Winter Classic win at Grossmont High on Thursday night.
The Foothillers had a good second quarter, outscoring Christian 19-18, but the Patriots bogged down Grossmont in the third quarter, 19-2.
Kobe Sanders and Jake Tawhiao both finish with 14 points while Patrick Roberts added 11 points and 15 rebounds.
"Jake has yet to step into his own shoes," Josh Kinney said. "If he does that, you are going to see some D-I schools looking at him."
Vincent Warren scored nine points for the Patriots.
"Vincent Warren added great energy off the bench," Christian head coach Tim Brown said.
Vinny Signorelli had a pair of three-pointers in the fourth quarter for Christian.
Noah Velasco scored 12 points for the Foothillers, including a pair of three-pointers.
Mykol Rodriguez hit a pair of three-pointers in the second quarter to finish with eight points for Grossmont.
Bruce Baines had a three-pointer in the fourth quarter for the Foothillers.
EL CAPTIAN 67, CLASSICAL ACADEMY 47 – Jake Pfitzner roared home with 36 points on 14-of-21 shooting in the Vaqueros' win over the Caimans.
Pfitzner made three three-pointers. He also had five rebounds, three assists, a steal, and a blocked shot.
"I feel really good about the game especially since we were only up by two coming into the third quarter and we came out with an insane amount of energy which really helped us bust open a pretty big lead," Pfitzner said. "Also my teammates and I have been playing very well together and it truly is showing. I'm also very optimistic about El Cap winning a league title we have all the tools this year and I really think we can do it."
Senior Jaqori Harris had 13 points as El Capitan shot over 50 percent from the field once again. Harris also had six assists, a rebounds and a steal.
"I'm proud of these two young men tonight," El Capitan head coach Elias Totah said. "We had our starting point guard, Harrison Morton, go out with a wrist injury early in the first quarter and we ran into a lot of adversity. We got into foul trouble early with a few players and Classical Academy capitalized on it. They played a really good first half."
Classical trailed just 24-22 at halftime but El Capitan came out with a 24-9 push in the third quarter.
"It took us until the start of the second half to hit another gear," Totah said. "Pfitzner has it going in all phases, altering shots on the defensive end and then he got it going from the perimeter. He played a complete game in my book. A job well done."
Harris played 30 minutes total after taking over the point guard responsibilities.
"(Harris) had to take over point guard responsibilities when Harrison left and he did a tremendous job," Totah said.
WEST HILLS 64, HOOVER 49 – At the Winter Classic, the Wolf Pack defeated the Hoover Cardinals behind 27 points and 19 rebounds.
"The best win in a long time for the Pack tonight over a really big and good Hoover team," West Hills head coach Tim Barry said. "They lost to St Augustine by only 10 earlier (this season)."
Kyle Dobyns was a man on a mission with 27 points and 19 rebounds.
Ashton Avestro and Jayden Moreno contributed a solid 12 points apiece.
"I thought this was a very big win," Jayden Moreno said. "Kyle had a phenomenal night and having Ashton back healthy really helps us run the score up and Cash (Creighton) did an amazing job seeing the open man and also attacking when necessary. This was a great win to get us ready for our next two games."
Cash Creighton ran the show again for the Wolf Pack while connecting for eight points.
"I thought the team just played well as a whole and everyone did their part," Avestro said. "I know that only seven kids played tonight but my teammates on the bench were still hyped and celebrating for us even though they didn't play. I thought I played well tonight, just picking my spots and getting ready to shoot when my teammates passed me the ball.
"I thought that this was just a good team win but we don't consider it our biggest win yet because we still gotta get through Helix. We were just really happy in the locker room and we're just happy we got the win over a solid team."
MONTE VISTA 77, HEALTH SCIENCES 51 – Monte Vista High junior Cameron McKan scored 20 points and had four assists.
The Monarchs had a huge third quarter, scoring 28 points.
Ivan Maynard had 17 points, six steals, and four rebounds for the Monarchs. He scored 12 points in the third quarter.
Sirr Young had a three-pointer in the second quarter for Monte Vista.
Niamiah Alston had 10 points and seven rebounds for the Monarchs, while teammate Marco Balhin added six points.
GRANITE HILLS 81, MARANATHA CHRISTIAN 53 – Granite Hills' John Yakou had the ball dragging through the net like a magnet to finish with 44 points and 10 rebounds in the team's win at the Grossmont Tournament.
Yakou had seven three-pointers in the contest. The Eagles made 11 three-point field goals in the game.
"You know what it feels good scoring 44 points," Yakou said. "I've never scored 44 points before or over 40 points but it felt good. I just couldn't miss. I'd say that Granite is on the come up right now we're just getting started we just needed a dub to boost our confidence and I do think we are going to win the league and be a really good impact in our league."
McKay Roberts added 13 points, 11 assists, and eight rebounds for Granite Hills.
John Vrzich had 13 points and 14 rebounds for Granite Hills.
The Granite Hills Eagles got off to a roaring start with a 47-36 lead at halftime, then turned up the defense in the third quarter, outscoring the Maranatha Christian Eagles, 17-4, in the period.
EL CAJON VALLEY 60, CRAWFORD 45 – The Braves defeated the Colts with a strong start and a big second half.
It was a close game early but the Braves eventually took a 15-4 lead, however, the Colts closed to within 15-10.
The score was 28-24 at the half in favor of the Braves.
"We pressed them and did pretty well with our pressure," El Cajon Valley head coach Ray Mills said. "The guys played well, I give them credit. They're improving and getting a lot better. We are coming together as a unit. I see it coming together. I am looking forward to this. It is a slow process, but I saw a lot of good improvement from our guys."
OLYMPIAN 64, STEELE CANYON 60 – The Eagles jumped out to a 21-10 start but Steele Canyon rallied to pull within 35-29 at halftime.
The Cougars outscored Olympian, 19-17, in the fourth quarter.
SOUTHERN CALIFORNIA YESHIVA 62, LIBERTY CHARTER 59 – The Lions allowed the Hawks to rally in the fourth quarter for the victory.
SoCal Yeshiva outscored the Lions, 21-14, in the fourth.