City tops Coyotes for 18th straight time
Updated: December 19, 2019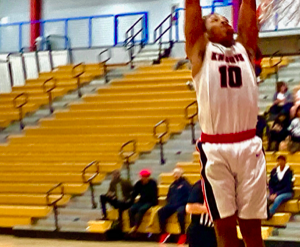 Kai Huntsberry goes up for San Diego City on Wednesday. / photo by Dave Dickens
2019 COMMUNITY COLLEGE BASKETBALL
SAN DIEGO CITY 98, CUYAMACA 47
EastCountySports.com staff report
SAN DIEGO – Fifth-ranked San Diego City earned its 18th consecutive victory over Cuyamaca on Wednesday by routing the Coyotes, 98-47, in the PCAC opener.
Makiah Morris came off the bench to lead the Knights with 20 points, seven rebounds, and four steals.
It was the Knights' sixth straight win as they improved to 10-3 overall and 1-0 in the league.
San Diego City's Kai Huntsberry put in 17 points to go with five assists and five steals off the bench. Chase Murray added 11 points in a reserve role for the Knights.
The Knights had their best shooting performance of the season on Wednesday as they made 63.8 percent of their field goals and 55.6 percent of their three-pointers.
The Knights hit a season-best 15 shots from beyond the arc with Morris knocking down 5-of-6 and Huntsberry making 4-of-5.
Cuyamaca, who was led by Ray King's 16 points, held a 16-13 lead with 11:10 left in the first half, but the Knights turned the game around by going on a 12-2 spurt over the next five minutes and finished the half on a 24-7 run to take a 37-23 halftime lead.
San Diego City scored 14 straight points during a 4-minute stretch midway through the second half to turn the game into a rout as they went ahead 68-34 and eventually took a 51-point lead.
Legend Stamps added eight points and seven rebounds, while Isaac Davis contributed eight points, nine assists, and three steals.
San Diego City turned 25 Cuyamaca turnovers into 31 points.
The Coyotes also got six points from Moses Smith.
Darian Norwood had four points for the Knights.
The Knights will play at Mesa on Friday at 5 p.m. before going on a two-week break for the Holidays.
SOUTHWESTERN 87, GROSSMONT 69 – In another matchup featuring county rivals, the Jaguars kept the Griffins winless on the year by winning on the road.