GIRLS: Knights knock off Matadors
Updated: December 22, 2019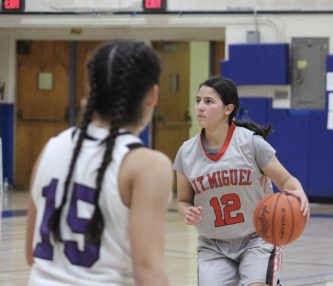 Jennifer Moreno, of Mount Miguel, goes up against Foothills Christian on Thursday. / photo by Dave Dickens
2019 EAST COUNTY PREP GIRLS BASKETBALL
EastCountySports.com staff report
SAN DIEGO – The 17th-ranked Foothills Christian Knights knocked off the 20th-ranked Mount Miguel Matadors, 49-41, in a Crawford Tournament game between East County schools on Thursday.
Junior Arantxa Fonseca scored 18 points and grabbed 21 rebounds for Foothills Christian, while senior Ellie Turk added 16 points for the Knights.
Turk had three three-pointers, while also grabbing six rebounds, making three steals, and handing out six assists. She also had four blocked shots.
Fonseca also dished out four assists.
Sophomore Nataly Bravo scored nine points for the Knights. She also had six rebounds and three assists.
Faith Wilson, a sophomore, grabbed seven boards for FCHS.
Foothills Christian led 29-23 at halftime but Mount Miguel came out strong in the third quarter and outscored the Knights, 16-7.
Freshman Jennifer Moreno had a big second half for Mount Miguel on the way to a game-high 25 points. She had a pair of three-pointers in the fourth quarter and had four treys in the game.
Freshman Zanna Hurst added eight points for Mount Miguel, including a pair of three-pointers during the third-quarter rally.
Jacquee Brown had five steals and four rebounds for the Matadors.
Moreno contributed six assists and four rebounds, while teammate Angelana Detate had six boards.
CHRISTIAN 60, OMAHA WESTSIDE 58 – The second-ranked Christian Patriots led 55-46 in the fourth quarter, then withstood a rally by the Westside Warriors on Thursday at the NIKE Tournament of Champions in Phoenix, Ariz.
Westside led 13-11 after one quarter.
Kristin Williams and Allie Carreon both had three-pointers in the second quarter as Christian jumped back into the lead, 17-15.
Simone James had eight points in the second quarter for Christian, which took a 29-24 lead into the half.
James followed that up with 10 more points in the third quarter, as the Patriots led 41-32 heading into the final quarter.
Williams opened up the fourth quarter with a three-pointer to increase the lead to double-digits, putting Christian ahead 44-32.
Carreon made a basket with under a minute to play to put Christian ahead 59-56.
SANTANA 45, CLASSICAL ACADEMY 38 – The Sultans rallied from an early 13-8 deficit to win at the Valley Brave Winter Classic.
"Super proud of my kids today," Santana head coach Jordan Franey said. "We have really been grinding these last few weeks in practice and really working on what makes us uncomfortable. This week, I have seen incredible growth, especially from kids with limited varsity experience and who are now a big part of what we are doing. It's a really cool thing to be a part of."
Briana Jerig had 16 points and five steals for the Sultans.
"Brianna is an absolute workhorse," Franey said. "She is one of my hardest workers, and her basketball IQ has skyrocketed. She moves without the ball and hunts shots that flow in our offense."
Bella Terry added 14 points on 5-of-10 shooting, along with eight rebounds.
"Bella is a special kid with potential that is limitless and I feel that she is tapping into that more and more," Franey said. "I push her in practice every single day and she never quits. It's not perfect but it's progress and Bella is going to leave here a really, really memorable player if she keeps working hard."
Lakaila Aquiningoc-David had nine points and five rebounds for Santana.
"I'm just going to keep up my hard work," Aquiningoc-David said. "I only have one more year so I'm going to make the most of it and hopefully get another championship. All I'm thinking about is progressing far enough to succeed as a whole."
Santana trailed 21-19 at halftime but went out on a 14-7 spurt in the third quarter to assume the lead.
"They listened at halftime and made the adjustments and we won a tough game," Franey said. "I told my kids that's how you build a program. You go out and win tough games on the road.
Jerig had six deflections, while Aquiningoc-David had five deflections, a stat that Franey says goes back to what legendary head coach Wade Vickery always preached.
"Lakaila Aquiningoc-David was her best today," Franey said. "She was dialed in from the start and really dominated on both ends of the floor. She got her hands on the basketball often with five deflections and that's a stat that Wade Vickery taught me wins games. And when Wade Vickery tells you something, you listen. Lakaila is a cerebral player who knows our system inside and out. She is a kid that I trust tremendously and I value the rapport that she and I have."
GROSSMONT 54, HILLTOP 31 – The Foothillers shutout the Lancers, 16-0, in the second quarter to erase an 11-7 deficit after one quarter and win the Crawford Christmas Tournament game.
Hilltop led 11-7 after the first eight minutes.
The Foothillers were led by senior Sarah Henry, who scored 16 points and grabbed 10 rebounds.
Junior Daneca Perez added 12 points for Grossmont. She also had five steals.
Sophomore Mckenzee Purnell came home with eight markers and eight boards, as well. She contributed three steals.
Freshman Dominece Shivels had six rebounds for the Hillers.