Pats beat Vaqs for Sweetwater title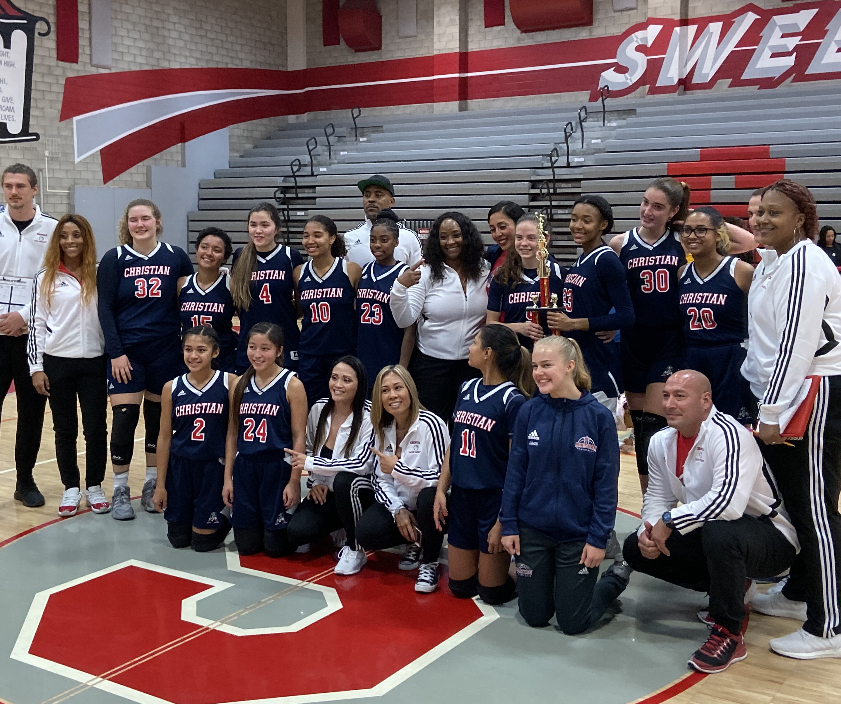 The Christian Patriots celebrate their Sweetwater New Year's Classic title. / photo by Dave Dickens
2019 EAST COUNTY PREP GIRLS BASKETBALL
EastCountySports.com staff report
NATIONAL CITY – The second-ranked Christian High Patriots won the Sweetwater New Year's Classic by defeating the El Capitan Vaqueros, 73-51, in an all-East County final at the tournament on Saturday.
The Patriots racked up some impressive numbers over the three-day event, scoring 225, points, dishing out 50 assists, grabbing 103 rebounds and making 49 steals.
Senior Allie Carreon led Christian in the final with 23 points, including three three-pointers.
Georgia Southern-bound senior Simone James scored 16 points in the first half, as Christian jumped out to a big lead, 36-23, at halftime. She finished with 21 points for the game.
Pats junior Kristin Williams had a trio of three-pointers in the third quarter and ended with 16 points.
Sophomore Gigi Hatfield had a pair of three-pointers in the fourth quarter for the Patriots.
The Patriots won two tournaments over the last few weeks, having captured a division title at the NIKE Tournament of Champions in the greater Phoenix area two weeks ago.
Mackenzie Curtis scored 19 points for El Capitan (10-7).
Tiffany Bickford added 10 points, including a three-pointer in the fourth quarter.
The Vaqueros outscored the Patriots, 19-15, in the fourth quarter.
Emma Driskill had seven points for the Lady Vaqueros, while teammate Jacey Danks contributed six points.
El Capitan's Kaylee Cole had a field goal in the first quarter that kept her team within range at 12-11 early.
Christian improved to 11-4 overall as head coach Vickie Carrington notched her 296th career win on the bench.
FOOTHILLS CHRISTIAN 46, EASTLAKE 40 – The 20th-ranked Knights knocked off the 17th-ranked Titans at the Grossmont New Year's event on Saturday.
Foothills Christian led 15-5 at the end of the first period and 32-19 at halftime before the Titans made a modest comeback in the second half.
Senior Ellie Turk led the Knights with 14 points, including a pair of three-pointers, along with four assists, while sophomore teammate Nataly Bravo finished with 12 points. Junior Caroline Burke contributed eight points, four steals, and nine rebounds for FCHS.
Junior Arantxa Fonseca had 13 rebounds, four assists and five blocked shots for Foothills Christian, which improved to 13-3 on the season.
ESCONDIDO 40, MONTE VISTA 20 – The Cougars doubled up the Monarchs on Saturday after pulling away from an 18-11 halftime advantage.
Senior Maya Garcia had six points for Monte Vista, which trailed just 8-5 after the first quarter.
Angelina De Leon had four points in the first quarter for the Monarchs, while teammate Yasemine Al Asady also had four points.
Monte Vista shot 67 percent (12-of-18) from the free-throw line.
HOOVER 49, GRANITE HILLS 31 – Hoover improved to 13-2 on the season, while the Eagles fell to 5-11.