Lancers stop Knights; Sultans win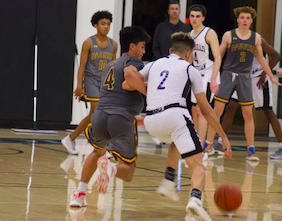 2020 EAST COUNTY PREP BOYS BASKETBALL
EastCountySports.com staff report
EL CAJON – The Francis Parker Lancers continued to show why they are the county's hottest team when they knocked off the co-No. 1-ranked team in the latest poll – the Foothills Christian Knights – by the score of 68-58 on Wednesday evening.
Francis Parker (16-2) has been the fastest riser in the poll since the start of the year, moving up to seventh in this week's rankings.
The Lancers led by two, 11-9, at the end of the first quarter but a 9-0 run for the Lancers to start the second quarter increased the lead 20-9.
Parker extended the lead to 28-22 at halftime.
Foothills Christian (14-6) came back to tie the score at 39-all but Parker had an 8-0 run to take back control 47-39 with 1:55 in third and led 49-39 after three.
Yassine Gharram hit a field goal with 5:18 left in the fourth to make it 54-46 in favor of Parker.
Parker led 62-52 with 55.6 seconds left.
SANTANA 50, MOUNT MIGUEL 41 – The Sultans remained hot, winning their fifth straight game by knocking off the host Matadors in a non-league game in Spring Valley.
Santana (8-13) led 31-27 at halftime.
Santana junior forward Alden Rasmussen had 12 points, 16 rebounds, and seven assists.
The Sultans will face Granite Hills in Santee on Friday at 7 p.m.
Both teams are undefeated in the Grossmont Valley League.
LIBERTY CHARTER 75, CALVARY CHRISTIAN 36 – The Lions rolled the Royal Knights at Lemon Grove Rec.
Junior Jayden Swanson poured home 25 points and grabbed 16 rebounds, while junior Jonah Belprez finished with 19 points and 12 rebounds for the Lions.
Aiden McGarity, a sophomore, added 15 points for Liberty Charter (7-12), which improved to 3-1 in the Summit League.
LIBERTY CHARTER 72, THE CAMBRIDGE SCHOOL 53 – On Thursday, the Lions followed up with another Summit League win, taking down the host Griffins behind 23 points from junior Tyler Snell.
Jonah Belprez had 17 points for the Lions, while teammate Jayden Swanson added 15 points and 11 rebounds.
The Lions moved to 4-1 in the Summit League, a half-game back of first place O'Farrell Charter (4-0).
Liberty Charter improved to 8-12 overall.