No. 4 Knights coast by 9th-ranked Eagles
Updated: January 30, 2020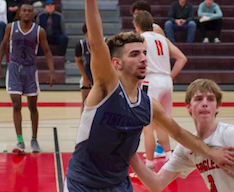 Yassine Gharram against Santa Fe Christian on Wednesday. / scorebooklive.com
2020 EAST COUNTY PREP BASKETBALL
EastCountySports.com staff report
SOLANA BEACH – The fourth-ranked Foothills Christian Knights downs Santa Fe Christian, 81-71, in a Coastal League matchup on Wednesday.
Senior Yassine Gharram led the Knights by scoring 31 points. He also grabbed 12 rebounds and eight assists.
Nico Meza finished the game with 20 points, six rebounds, and two assists for FCHS.
Foothills Christian had a 36-32 halftime lead as Jalai O'Keith scored 15 points in the first half for the Knights.
The Eagles led 20-17 after one quarter.
The Knights improved to 16-7.
Foothills Christian will face Bishop's on Friday in La Jolla in another Coastal League game.