GIRLS: Whoa, Ellie, 2000 points?
Updated: February 2, 2020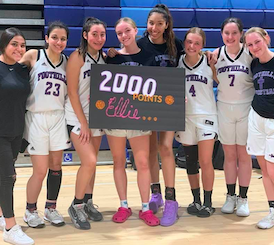 Ellie Turk and teammates after achieving 2,000 career points on Saturday.
2020 EAST COUNTY PREP GIRLS BASKETBALL
EastCountySports.com staff report
EL CAJON – Foothills Christian senior Ellie Turk surpassed the 2,000 career point-plateau in the Knights' 65-52 Pacific League win over Escondido Charter at Granite Hills High.
Turk scored 20 points, including three three-pointers, as the Knights moved to 2-0 in league play.
Turk, who is headed to Point Loma Nazarene University next season, also had seven rebounds, nine assists, five steals, and a pair of blocked shots.
However, sophomore Nataly Bravo led Foothills Christian with 23 points, including six three-pointers.
The Knights led 14-6 after one quarter but extended the lead to 35-23 at halftime.
Junior Aranxta Fonseca had 14 points and 19 rebounds for FCHS (20-4), which won its fifth-straight game.
Junior Caroline Burke added six points, four rebounds, and three assists.
MOUNT MIGUEL 56, SCRIPPS RANCH 47 – The 17th-ranked Matadors blitzed the 18th-ranked Falcons in the final stanza with a 23-12 fourth-quarter run.
The Matadors led 15-13 after the first quarter and 25-23 at halftime.
The Falcons, however, surged to a two-point lead after three quarters, 35-33.
Jennifer Moreno scored 26 points for Mount Miguel, including five three-pointers.
Zanna Hurst made a pair of three-pointers in the fourth quarter for Mount Miguel.
Freshman Ixchel Rojo made 5-of-6 free throws in the fourth quarter for the Matadors.
Jacquee Brown scored 10 points for the Matadors, who improved to 16-6 overall.
"At first it was tough for us because we would over-help on the post and they would kick it back out and shoot the three and make it," Brown said. "Then we noticed it and had the person from the other side come and make for a tough shot or even a steal or rebounds. We have to box-out because we are too small to try out-jump players taller than us because they have an advantage.
Hurst's first three gave the Matadors a 39-35 lead, while her second three upped the Mount Miguel lead to 46-39.
"Zanna hit some threes and Jersey (Edmonds) had outstanding defense which helped us," Brown said. (Edmonds) is able to keep their best player in front of her and then Ixchel is great at dumping off the ball to a cutter or an open man."
BISHOP'S 70, CHRISTIAN 66 – The Knights held off the rally of the Patriots at the Crusader Classic after Christian led at halftime but later fell behind by 11 after three quarters.
Simone James scored 29 points for the Patriots.
Amaya Howard hit three three-pointers for Christian High, including a pair of treys in the fourth period.
Koko Akridge had a three-pointer in the fourth quarter, as well.
Allie Carreon had a three-pointer in the first quarter for CHS (16-9)
Sarah Moyer had a pair of field goals for the Patriots in the first quarter.
Bishop's improved to 12-8 overall.
SERRA 65, HELIX 37 – The Highlanders lost to the Conquistadors after a rugged start saw Helix trailed 31-11 by halftime against the 12th-ranked team in the county.
Helix fell to 13-8 overall.