Vaqueros, Sultans maintain leads
Updated: February 1, 2020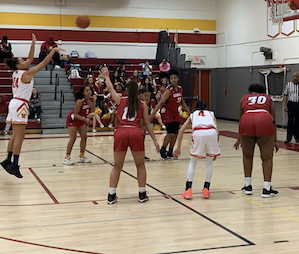 Monte Vista's Vanessa Braun shoots a free throw against Steele Canyon. / MonarchSports
2020 EAST COUNTY PREP GIRLS BASKETBALL
EastCountySports.com staff report
LAKESIDE – El Capitan defeated visiting Helix, 64-39, in a Grossmont Hills League game on Friday night to remain undefeated in league play at 5-0.
Mackenzie Curtis scored 24 points for El Capitan.
Tiffany Bickford added 11 points for the Vaqueros.
"Helix is such a scrappy team, they really played with heart and class tonight," El Capitan head coach Darin Curtis said. "They made it a game and we really had to buckle down and run our stuff to be successful after halftime.
El Capitan led 21-10 at the end of the first quarter, although Helix whittled the lead to 31-22 at halftime.
"You could definitely say it was a tale of two halves," Bickford said. "Out coaches let us know that this wasn't how we play and that we could be doing so much better. After we got back in the gym we got in a huddle by ourselves and we're just like, 'this is our game, and now we need to play like it.' And from then on we were off and running."
El Capitan started the third quarter with an 8-0 run.
"We know that teams are out to get us considering that we were 4-0 for the first round of league so we knew we were going to have to really buckle down," Bickford said. "We started doing the little things, like boxing out early, to help us get the win.
The Vaqueros outscored Helix, 34-17, in the second half.
"Helix is a great team but they didn't have their point guard which kind of threw us off because we had a plan for all of their players."
Shiana Peres had 10 points for the Vaqueros.
"The first half was definitely not our half but during halftime, we all realized that we needed to play together, fight together, and win together," Peres said. "Tiff and Kaylee (Cole) had a game today. Out wings were looking to go to the basket not just pass it away. I feel like Helix had the chance to play with us in the first half because we didn't have the right mindset but that all changed after halftime to get us the win."
Emma Driskill scored three points, grabbed 12 rebounds, and blocked a shot for El Capitan.
"The key to having such a great game is being in the right mindset to do so," Driskill said. "We have all been working very hard on defense and it's paying off."
Helix got 12 points from sophomore Ariy'Ana Duke.
Senior Jada Patterson had seven points for Helix.
Serena Solomon made three three-pointers for the Highlanders.
"Emma Driskill had her strongest game of the season in the low post," Darin Curtis said. "She really solidified our defense. Kaylee, Shiana, and Tiffany really looked to attach the basket."
El Capitan's drive for the Grossmont Hills League championship culminates next week with league games at Grossmont and Mount Miguel, the closest rivals in the standings.
"Being the youngest on the team definitely has its challenges but I feel that the older girls' experience really guides me and helps me on the court," Cole said. "I feel like I contribute to the team by showing my dedication to the sport."
SANTANA 34, VALHALLA 22 – The Santana Sultans defeated the Valhalla Lady Norsemen, 34-22, to remain atop the Grossmont Valley League standings.
Briana Jerig had 15 points, 13 rebounds, and five blocked shots for the Sultans
Bella Terry had 11 points, 11 rebounds and five blocked shots for Santana.
Taylinn Warren had 12 rebounds for the Sultans.
Santana is now 5-1 in the Grossmont Valley League an 11-13 overall. The Sultans lead second-place Monte Vista by one game.
The Sultans host the Monarchs next Friday at 5:30 p.m.
MOUNT MIGUEL 56, WEST HILLS 31 – The 17th-ranked Matadors defeated the Wolf Pack in Santee, picking up a key Grossmont Hills League victory to keep pace with first-place El Capitan.
The Matadors jumped all over West Hills in the first quarter, getting out to a 26-5 lead.
Jennifer Moreno, a freshman, scored 22 points for Mount Miguel. Her three-pointer in the second quarter gave Mount Miguel a 31-7 advantage.
A triple in the third quarter from Moreno gave the Matadors a 46-27 lead, then another three from Moreno in the fourth made it 49-27
Jacquee Brown had a big game for the Matadors, finishing with 20 points.
Zanna Hurst added seven points for Mount Miguel. She hit an early three-pointer for a 5-2 Matador lead.
Anastasia Timothy paced the Wolf Pack with 12 points.
Caitlyn Stayner had a three-pointer in the second quarter for West Hills.
Paige Evans buried a pair of triples in the third quarter for West Hills.
CHRISTIAN 67, MIRA MESA 44 – The Patriots won at Mira Mesa in an Eastern League game by dominating the third quarter to break away from a four-point halftime lead over the Marauders.
Kristin Williams knocked down a three-pointer early in the first quarter as the Patriots led 5-3.
Simone James had back-to-back field goals to give Christian a 9-6 lead in the first.
Christian led 21-17 at the end of one period.
Allie Carreon knocked down a three-pointer late in the first quarter, then Amaya Howard followed with a triple, as the Patriots lead 21-12.
James was on fire from the field in the second quarter, helping stake the Patriots to a 34-28 advantage with eight points during a run.
Christian led just 36-32 at halftime, however.
The Patriots eventually built a 55-35 lead at the end of the third quarter.
MONTE VISTA 66, STEELE CANYON 44 – The Monarchs have finally got all of their players on the court, it seems, and Monte Vista won over the visiting Cougars with a big start, taking a 22-11 lead after one quarter.
The Monarchs led 40-23 at halftime.
Sami Gonzalez came out hot with nine points in the first quarter. She finished with 16 points in the first half.
Gonzalez finished with 22 points.
"The whole team brought in their positivity," Gonzalez said. "Everybody did their job today. I am proud of our bigs, our guards, and everyone."
Meadow Delino had 12 points for Monte Vista, including a pair of three-pointers
Jourdan Barber scored six points in the first quarter. Barber had 14 rebounds in the contest and four blocked shots.
Vanessa Bruan had six rebounds for the Monarchs.
Khamira Carter, of Steele Canyon, scored nine points, including seven in the fourth quarter.
Tia Saunders scored eight points for the Cougars.
Khylaya Brandy had 13 points, including nine in the first quarter for Steele Canyon.
The Cougars outscored the Monarchs, 18-13, in the fourth quarter.
"My teammates and I played hard," Monte Vista's Maya Garcia said. "Last night was a game where all my teammates scored and we played as a team. We communicated properly and were able to execute our plays by trusting each other to finish strong. As a captain, I couldn't be more proud to take part in a team like this one."
EL CAJON VALLEY 41, GRANITE HILLS 30 – The Braves won at home over the Eagles in the Grossmont Valley League.
Vean Gorgees scored 17 points for the Braves. She also dished out six assists and grabbed six rebounds.
Freshman Ruth Taulanga had nine points for the Braves.
The Braves had three players each grab 10 rebounds – Ruth Taulanga, Fineita Taulanga, and Silvia Aboud.
Aboud had 10 steals and four assists, as well.
Granite Hills led 11-7 after one quarter but the Braves limited to Eagles to just 19 points the rest of the way, outscoring Granite Hills, 26-13, in the second half.
Both teams are 2-4 in Grossmont Valley League play.
El Cajon Valley is 13-9 on the season.
MOUNTAIN EMPIRE 46, WEST SHORES 20 – Mountain Empire won over West Shores.