Eagles capture Valley League championship
Updated: February 12, 2020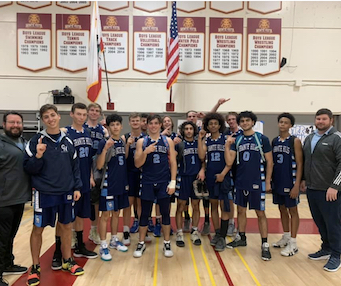 2019-20 Grossmont Valley League champion Granite Hills Eagles
2020 EAST COUNTY PREP BOYS BASKETBALL
GRANITE HILLS 73, MONTE VISTA 58
EastCountySports.com staff report
SPRING VALLEY – At one point earlier this season back on Dec. 14, the Granite Hills Eagles had a 1-7 record. The Eagles knew they had the talent but the results failed to show it.
On Tuesday night – nearly two months later – Granite Hills wrapped up the Grossmont Valley League championship by winning for the 11th-straight time by defeating the host Monte Vista Monarchs, 73-58, dispatching the remaining title challenger.
The Eagles haven't lost since Dec. 23.
Senior McKay Roberts drained four three-pointers in the first half as the Eagles and Monarchs were on the offensive, with Granite Hills out to the 38-37 lead at intermission.
The game remained close as the Monarchs were holding on for the last chance at a possible share of the title. The score was 50-49 in favor of Monte Vista heading into the fourth
The Eagles limited the Monarchs to just 21 points in the second half. Granite Hills won the crucial fourth quarter, 24-8.
Roberts had 20 of his 23 points in the first half.
Deon Spear added 19 points for the Eagles, including seven in the fourth quarter.
John Yakou contributed 12 points for playoff-bound Granite Hills. Eight of his points came in the final eight minutes.
The Eagles converted 10-of-12 from the charity stripe in the fourth quarter.
John Vrzich finished with 11 points for Granite.
The Eagles play Santana on Friday and will try to wrap up a perfect Grossmont Valley League record.
Justus McComb found the range from the arc in the third quarter with a three-pointer for the Eagles.
Cameron McKan had a great start for the Monarchs, scoring 11 points in the opening period.
He added his second three-pointer of the game early in the third quarter, as he had 17 points by halftime.
Ivan Maynard had a three-pointer in each of the first three quarters. He finished with 19 points.
Sirr Young added six points for Monte Vista, while teammates Niamiah Alston and Brandon Tully added five and four points, respectively.
"Three-and-a-half really good quarters but too many fouls in the fourth, Monte Vista head coach Mike Tully said. "We need to finish Friday and get ready for playoffs."