Matadors win 20th straight league title
Updated: February 16, 2020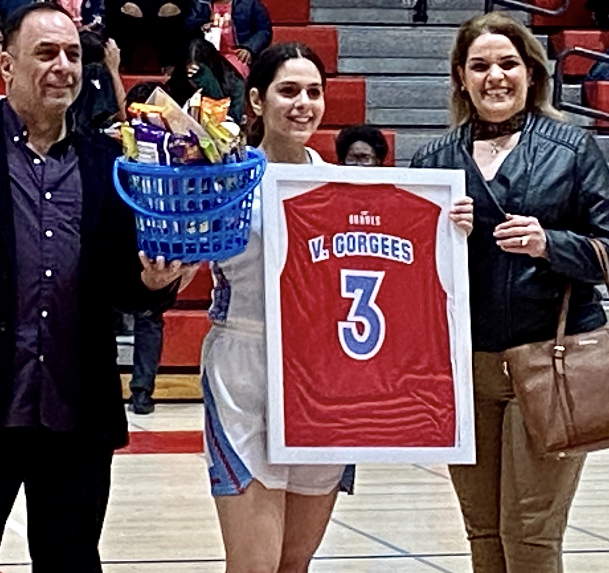 El Cajon Valley legend Vean Gorgees in honored on Senior Night. / photo by Dave Dickens
2020 EAST COUNTY PREP GIRLS BASKETBALL
EastCountySports.com staff report
SPRING VALLEY – The 11th-ranked Mount Miguel Matadors defeated visiting Helix, 48-41, on Friday night as the Matadors won their 20th-consecutive Grossmont Conference league championship by winning the Grossmont Hills League banner.
When two of the team's top stars transferred before the start of the season, head coach Robbie Sandoval got a jump start in putting together another future generation of success for his Mount Miguel girls program.
The man who has guided the team to those two decades of local championship success has shown that he can turn quality youth basketball talent into one of the county's top teams year-in-and-year-out.
While this team will not qualify for the Open Division in the upcoming playoffs, the Lady Matadors will certainly be a top contender in the Division I postseason picture, as they qualified as the No. 4 seed where they will host the Imperial Tigers on Wednesday at 7.
The current Mount Miguel club is youthful, with three freshman standouts who proved their varsity arrival early.
Guard Jennifer Moreno is already one of the top performers in the county this season.
But it has been the strong production of junior Jacquee Brown that has helped the younger talent thrive and the team to gel at just the right time.
Junior Selena Soloman had 17 points for the Lady Highlanders, while senior teammate Jada Patterson came home with 10 points.
Helix sophomore Ariy'Ana Duke had six points and 16 rebounds.
The Highlanders passed Foothills Christian for the No. 2 seed in the Division III playoffs. Helix will play Mar Vista in its playoff opener on Wednesday at 7.
EL CAJON VALLEY 58, MONTE VISTA 39 – The Braves outscored the Monarchs 28-15 in the second half to pull away from a 30-24 halftime advantage in taking the Grossmont Valley League finale on Friday night.
El Cajon Valley senior Vean Gorgees was honored on Senior Night. The talented guard has been more than just a scorer in her career with the Braves.
Gorgees scored 17 points on Friday, including three three-pointers. She has two of her threes in the second quarter and also finished with seven rebounds and seven assists.
No matter the Braves' result in the playoffs this season, Gorgees will surely be recognized as one of the best players in the school's history. And the Braves have had some very good players dating back over 30 years.
Ruth Taulanga, a freshman, was strong throughout for El Cajon Valley. She scored six points in the first quarter en route to 15 points in the contest. She also grabbed 10 boards.
Silvia Aboud added nine points and seven rebounds for the Braves.
Another senior, Tarry Flournoy, had four points and nine rebounds, along with three assists and three steals.
The Braves improved to 16-10 overall and finished with a 5-5 league record, good for third place behind the Monarchs.
Sophomore Sami Gonzalez had 12 points for Monte Vista, while fellow sophomore DaShawna Gates added nine points for the Monarchs.
"This season has been great," Gonzalez said. "I've learned so much about the team and myself. We've had a lot of ups-and-downs this season but it has been a learning experience. Today's game was tough. We weren't playing our Monarch basketball  and just shows that we need to work harder as individuals and as a team."
Senior Jourdan Barber had eight points for Monte Vista.
Senior Vanessa Braun finished with six points for MVHS.
Monte Vista finished 6-4 in the GHL and 13-15 overall.
These teams are nearly rated dead-even by the official computer rankings.
The Braves finished as the eighth-seed in the Division IV playoff pairings and are matched up with No. 9-seeded Classical Academy in a game to be played at El Cajon Valley High on Wednesday at 7.
Monte Vista finish slightly below El Cajon Valley in the D4 rankings despite finishing with a better league record.
Monte Vista will be a road team in the first round of the postseason as a No. 10-seed where it will travel to face Brawley on Wednesday at 7.
"I think that it's been a great season having all the seniors and it's kind of sad that they are leaving but we just need to work harder now," said Gonzalez, a sophomore.
"It has been a great season but they will be missed."
GROSSMONT 35, WEST HILLS 28 – The Foothillers won a real defensive tussle with the visiting Wolf Pack in the Grossmont Hills League finale.
Grossmont led just 20-13 at halftime.
Grossmont is headed for a home game in the first round of the Division II playoffs as a No. 6 seed where the Hillers will host Academy of Our Lady of Peace at 7 on Wednesday
The Wolf Pack qualified for the D2 playoffs, as well, where they were seeded 14th. West Hills with travel to face third-seeded San Dieguito Academy on Wednesday at 7.
Anyssa Chargualaf, a junior, scored 14 points for the Foothillers.
Mckenzee Purnell had a three-pointer in the second quarter for Grossmont.
Jaylyn Johnson knocked down a three in the first quarter for the Hillers, who jumped out to an 11-7 lead after one period.
Sarah Henry and Daneca Perez both had four points for the Hillers.
West Hills got a three-pointer in the opening quarter from Nolie Wiley.
Katie Caires made a three-pointer in the fourth quarter for the Wolf Pack.
Anastasia Timothy led West Hills with seven points, including five in the fourth quarter.
SANTANA 24, GRANITE HILLS 22 – The Sultans won their season finale to wrap up the Grossmont Valley League championship by finishing with a 9-1 record in league play.
The Sultans have won five-in-a-row heading into the postseason.
Joey Barkhimer had six points and five rebounds for the Sultans.
Lakaila Aquiningoc-David scored six points for Santana.
Brianna Jerig added two points, four blocked shots, and 16 rebounds for Santana.
Sultan sophomore Bella Terry had two points, 12 rebounds, and eight blocked shots.
"I am so proud of my kids for coming out and finishing what we started," Santana head coach Jordan Franey said. "It wasn't the prettiest game but we executed when we needed to and overcame adversity. And that's what I have come to love about this team. When something isn't working, we find a way no matter what."
The Sultans were seeded 14th in the Division III playoffs and will travel to face fourth-seeded Holtville on Wednesday at 7 p.m.
FOOTHILLS CHRISTIAN 86, MARANATHA CHRISTIAN 30 – The Knights rolled past the Eagles to wrap up an undefeated Pacific League season (6-0) and head into the Division III playoffs with a nine-game winning streak and a 24-4 overall record.
Foothills Christian received the No. 3 seed in the postseason and will face St. Joseph Academy in a first-round game on Wednesday at 7 p.m.
Senior Ellie Turk scored 36 points to outscore the Eagles by herself. She also grabbed nine rebounds.
Sophomore Nataly Bravo scored 20 points for FCHS, while junior teammate Arantxa Fonseca added 13 points. She had six rebounds and six assists.
Junior Carolina Burke added eight points for the Knights.
VALHALLA 46, STEELE CANYON 38 – Valhalla earned its fourth win of the Grossmont Valley League campaign by winning at Steele Canyon on Friday night.
The Lady Norsemen earned the No. 9 seed in the Division V playoffs where they will travel to face Palo Verde Valley on Wednesday at 7. The winner will advance to face top-seeded Hoover on Saturday at 7.