GIRLS: Seven teams win in first round
Updated: February 21, 2020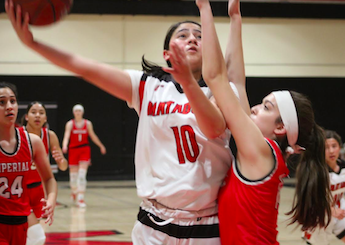 Jennifer Moreno goes up for a shot against Imperial on Wednesday night. / photo by Dave Dickens
2020 EAST COUNTY GIRLS BASKETBALL
EastCountySports.com staff report
SPRING VALLEY – The Mount Miguel Matadors passed their first test of the postseason by knocking off the visiting Imperial Tigers, 59-35, on Wednesday night.
The fourth-seeded Matadors stormed to a 22-4 third-quarter advantage to pull away from the tough Tigers in a Division I playoff game.
The Matadors led 24-18 at halftime.
Freshman Jennifer Moreno scored 26 points for Mount Miguel.
Moreno connected on five three-point field goals in the second half to help the Matadors pull away after leading 24-18 at halftime.
Jacquee Brown and Ixchel Rojo both had 10 points for Mount Miguel, which improved to 20-7 overall.
Rojo had a pair of three-pointers.
Zanna Hurst added seven points for the Lady Matadors, while Jerzey Edmonds finished with six points.
The Matadors will host fifth-seeded Del Norte (20-9) on Saturday.
HELIX 62, MAR VISTA 15 – Helix pummeled the Mariners from the get-go, racing out to  25-1 lead after one quarter.
The Mariners tried to right the ship in the second quarter, but the Highlanders led 41-10 at halftime.
Helix limited Mar Vista to just five points in the second half.
The Scotties improved to 15-11 overall.
No scoring information was available.
Helix, the No. 2-seed, will play 10th-seeded Madison at a neutral venue on Saturday at 7.
DEL NORTE 55, EL CAPITAN 53 – Vaquero junior Mackenzie Curtis scored 28 points and appeared to be fouled on a final shot from mid-court but no whistle sounded.
"I was fouled, Curtis said. "KUSI was there and played it in slo-mo for me to see it and there was a foul. The ref said he wasn't looking."
Curtis had four three-pointers in the contest. She also had a game-high 14 rebounds and five assists.
Freshman Kaylee Cole had eight points.
Sophomore Tiffany Bickford added seven points.
"My favorite team I have ever coached, they were there every day, there was no drama," El Capitan head coach Darin Curtis said. "They worked hard to get better every day. They are the kind of people I like to be around, I am so thankful for their commitment, attitude, and effort.
El Capitan led 12-9 after the first quarter. The Vaqueros remained ahead by three at halftime.
However, Del Norte outscored the Lady Vaqueros, 22-12, in the third quarter before El Cap rallied in the closing stages.
"I couldn't be any prouder of my team," said El Capitan's Shiana Peres. This season was something different then all my other seasons playing as a Vaquero. This year, my role on the team changed and now I feel like a better player. We made little mistakes in that game and if we just changed one of those it could change a lot. This season has been special to me and my team. They're more just my teammates, they're my family and I would do anything for them."
BRAWLEY 66, MONTE VISTA 40 – Monte Vista sophomore Sami Gonzalez had 11 points and four steals but the Monarchs fell on the road to the Wildcats in the Division IV playoffs.
"We were all very sad for the way that season had to end but we had a very good run," Monte Vista senior Heidy Romero said. "It was definitely very hard for us to process because we had worked so hard. It is a shame that we didn't go any further. Something that I took from this season was to never put limits on yourself and to never make excuses. Ss coach Sabrina (Jimenez) says, 'you have to put your all in everything you do,' and that's is the most important thing I learned and that will stick with me for a long time."
The Monarchs trailed big out of the gate, as the Wildcats opened up a double-digit lead in the first quarter and led 25-6 after the period.
Monte Vista outscored Brawley, 17-15, in the fourth quarter.
"Honestly, I was sad for the season to have ended so early," Monte Vista senior Maya Garcia said. The other seniors and I were all talking about how disappointing it was, but we were also able to talk about our future plans and goals. Overall, this year was a great year. As a team, we had our ups and downs, but what made it good was the experience we had together. Although we didn't get our league title, we each were able to discover a new attribute and skill that we had developed just by pushing ourselves and never giving up. Every minute spent with my team, was and always will be, the greatest gift of all."
Senior Jourdan Barber added 10 points, four blocked shots and seven rebounds for the Monarchs.
"I've work really hard this season for me and my teammates," Barber said. "I knew when the season started I had to step my game up and support my team. When I look back, I am really proud of what I've done this season, I've accomplished a lot within the last four years of playing basketball and it has taught me so much. I really showed my coach what I am able to do for my team and on the court."
GROSSMONT 49, ACADEMY OF OUR LADY OF PEACE 46 – The Foothillers knocked off the Pilots to advance in the Division II playoffs as Grossmont's Shyann Van Kirk scored 26 points.
Jaylyn Johnson made three three-pointers in the contest for Grossmont.
Sarah Henry added seven points for Grossmont.
The fifth-seeded Foothillers will now face San Dieguito Academy, which defeated West Hills on Wednesday.
GRANITE HILLS 28, SOUTHWEST 21 – The Granite Hills Eagles won on the road against the Southwest Eagles in El Centro in the Division IV playoffs on Wednesday night.
Granite Hills' Blanca Hernandez had a field goal in the third quarter that gave the visitors a 15-10 lead. She added another field goal later in the third quarter.
Granite Hills finished strong in the fourth quarter.
Fonivictoria Pitia had a pair of field goals in the fourth quarter to extend Granite Hills' lead to 24-15.
Granite Hills is now 9-18 and will advance to face Brawley on another long road trip on Saturday at 7.
LIBERTY CHARTER 46, MISSION BAY 27 – The Lions won in a Division IV game to advance to face Castle Park (15-11).
Liberty Charter improved to 19-5. The Lions are the No. 5 seed in the division.
Jessica Salvador scored a pair of baskets in the first quarter for the Lions.
Sabrina Espelet, who also scored in the first quarter, scored a bucket in the second quarter as Liberty took an 11-10 lead. She added another basket with under five minutes to go before halftime for a 15-12 lead.
Katie Peet made a two-pointer to give the Lions an 18-12 edge. Another basket by Peet in the second quarter extended the lead to 22-14.
The Lions gradually extended their lead.
In the fourth quarter, Maria Guatane made a three-pointer for Liberty to extend the lead to 42-27.
VALHALLA 46, PALO VERDE VALLEY 45 – The Lady Norsemen traveled to Blythe and came home with a playoff victory over the host Yellowjackets.
Valhalla edged the host team thanks to a 13-8 edge in the third quarter.
Valhalla connected on a three-pointer in the second quarter for a 20-19 lead.
Valhalla led 46-42 before Palo Verde Valley hit a late three.
Valhalla, which picked up its fifth win of the season, will now face top-seeded Hoover (25-3).
FOOTHILLS CHRISTIAN 58, ST. JOSEPH ACADEMY 38 – The Knights won on Tuesday in their Division III playoff game at Mount Miguel High.
The Knights will play on Saturday at 3 p.m., also at Mount Miguel High, against the Coronado Islanders.
The third-seeded Knights jumped out to an 11-6 lead after one quarter and led 25-18 at halftime.
However, the big difference came in the third quarter when Foothills Christian outscored St. Joseph, 23-12.
No scoring information was reported.
HOLTVILLE 49, SANTANA 31 – The Vikings eliminated the visiting Sultans from the Division III playoffs on Wednesday night.
The game was close early as the Sultans trailed just 9-7 after one quarter.
However, the Vikes extended their lead to 22-15 by halftime.
Senior Briana Jerig led Santana with 11 points, including a pair of three-pointers. She also recorded eight steals in the game.
Sophomore Bella Terry added seven points and three blocked shots for the Sultans, who finished 15-14 overall.
Senior Lakaila Aguiningoc-David finished her career with six points and four assists.
SAN DIEGUITO ACADEMY 69, WEST HILLS 42 – The Wolf Pack lost their playoff opener and were eliminated in the Division II playoffs.
CLASSICAL ACADEMY 53, EL CAJON VALLEY 39 – The Caimans ended the Braves' season with a road upset.
El Cajon Valley finished 16-11.