Kings troubled in Bay Area double
Updated: February 17, 2020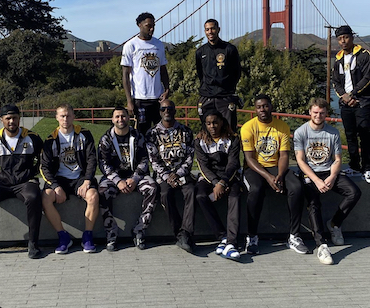 The Kings take a moment to enjoy the Bay Area over the weekend.
2020 SAN DIEGO KINGS BASKETBALL
By Damon Sloan
Special to EastCountySports.com
The San Diego Kings dropped both games in their two-game road trip up to northern California, as they were beaten by Team Trouble 121-111 on Saturday and 126-112 to the San Francisco City Cats on Sunday.  The two-game skid snaps the seven-game winning streak that the Kings put together starting back in December.
In the first matchup on Saturday, the Kings were able to match the intensity set by Team Trouble early in the contest and went into halftime only down five. It was a back and forth contest in the first half, with the score 61-56 at halftime.
In the second half, the Kings defense gave up 34 points in the third quarter and were unable to get the momentum back as Team Trouble evened the season series at 1-apiece.
The Kings put up a gallant effort in the second game of a back-to-back but were unable to keep pace with the San Francisco City Cats, as they went down 126-112.
This was a matchup to determine who truly was the No. 1 team in the Far West Division of the ABA with the City Cats and Kings being two the top-seeded teams in the division.
Just like in the first game, both teams were on fire offensively, but the City Cats were able to force more turnovers and shot better in crunch time. The Kings were able to make runs late in the fourth but were unable to sustain enough momentum to carry them to a lead in the fourth quarter.
With the road trip behind them, the Kings will have a full week to prepare for their home finale as they host the Las Vegas Royals next Saturday night at El Cajon High School. You can also stream the game on Facebook Live.
Tickets are on sale at $15 and $25 for VIP seats.