Scotties, Wolf Pack, Vaqueros advance
Updated: February 20, 2020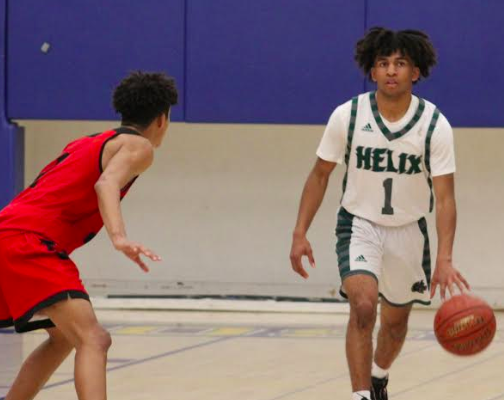 Helix guard Jadyn James brings the ball up against Vista. / photo by Dave Dickens
2020 EAST COUNTY PREP BOYS BASKETBALL
EastCountySports.com staff report
LA MESA – Indeed the Helix Highlanders' first game of the playoffs would be played on a semi-neutral court and not at their shiny "new" gym.
The Highlanders won their "home" playoff opener, 72-59, in Division I by defeating the Panthers in a contest played at Grossmont High.
Maurice Holmes had 17 points for Helix, including a three-pointer in the first quarter as Helix jumped out to a 24-10 lead.
Sammy Stewart had 16 points for Helix
The Scotties' Isaiah Robinson 13 points, including three three-pointers in the first half.
Helix led 53-39 at the end of the third quarter.
Keishon Trice had a three-pointer in the first quarter and finished with eight points.
Helix will now take to the "real" road when they travel to face fourth-seeded San Marcos on Friday at 7.
EL CAPITAN 58, SAN PASQUAL 43 – Senior Jake Pfitzner scored 19 points and grabbed 12 rebounds to help the Vaqueros pull out the win at home in the opening round of the San Diego CIF Division IV playoffs.
The Eagles led 11-6 after one quarter but the Vaqueros took a 23-19 lead into halftime.
El Cap came out strong again in the third quarter, outscoring San Pasqual 17-9.
"We got off to a slow start," El Capitan head coach Elias Totah said. "Credit to San Pasqual for bringing the energy. They mixed up their defensive coverages which was smart on their end. We made adjustments at the start of the 3rd quarter and pulled away.
Daisean Desinor scored 14 points and had five rebounds for El Capitan.
Senior Harrison Morton and junior R.J. Lugtu both had eight points for the Vaqueros. Morton added three assists and three rebounds, while Lugtu blocked three shots.
El Capitan senior Blaize Saiz scored six points, grabbed seven rebounds, and handed out eight assists.
"We had nice contributions from Saiz and Morton with defensive pressure and ball distribution," Totah said. "Tough shooting night in all for us as we shot 36 percent from the field, but in these playoffs, it is survive and advance at all costs and we did that tonight."
Pfitzner also had a pair of assists and a pair of steals, while Desinor had two steals and blocked a shot. Pfitzner, despite a tough shooting night, competed on the offensive and defensive glass grabbing 12 rebounds.
"Desinor made some adjustments into the second half by attacking the rim at will," Totah said. "He kept the defense off balance and it opened up the floor for other players to step up and thrive."
WEST HILLS 58, MT. CARMEL 56 – The Wolf Pack put together a great game to take down host Mt. Carmel after trailing 23-14 at the end of the first quarter of a Division III playoff contest.
Ashton Avestro had a three-pointer in the second quarter to help West Hills pull to within 26-23.
Moments later, Cash Creighton hit a three-pointer for the Pack as West Hills took a 28-27 lead late in the second quarter.
Mt. Carmel regained the lead in the third quarter but Kyle Dobyns made a three-pointer to pull the Wolf Pack back to within 41-40 in the final minute of the period.
Dobyns finished with 22 points and 16 rebounds. He had a three-pointer in the second quarter, as well.
After a clutch basket by senior Ayden McClure with under two minutes to play in the game to give West Hills a 52-48 lead, the game was put away by Ashton Avestro, who hit four-straight free throws.
"Being down by double-digit points does not feel good," McClure said. "I didn't want this to be my last game and I said I was going to make sure that it wasn't going to be. Rebounding and utilizing every position was the reason we came back. After driving the baseline one time and dishing the ball to Jayden, I realized that this was one of their weaknesses. I repeated this again and again on top of playing hardcore defense, which led to the win. Ashton played his heart out offensively and made sure that ball went in the hoop."
The Sundvils hit an uncontested three as time ran out.
"I'm so proud of how hard these guys play and pull for each other," West Hills head coach Tim Barry said.
Avestro finished with 16 points and five steals.
The Wolf Pack won its first playoff game since 2016 when they won a pair of contests to earn a semifinal bid.
"It definitely felt good to win our first CIF playoff game in a while," Avestro said. "We knew we didn't want to go home tonight and we worked all season to try and win CIF. Mt. Carmel was a very solid team but our team just kept fighting back and we were able to take the lead. I wanted the ball in my hands during crunch time because I know I can put my team in a position to win especially knocking down clutch free throws. Our main goal is to win CIF and we'll be ready Friday against Coronado."
MONTE VISTA 67, CHULA VISTA 55 – The Monarchs won a Division IV playoff game at home, defeating the Spartans.
Monte Vista will host Central on Friday at 7 p.m. in a quarterfinal.
The Monarchs improved to 18-11 on the season.
No scoring information was reported.
GRANITE HILLS 44, MORSE 42 – The Eagles defeated the visiting Tigers in the Division III playoffs to advance to the quarterfinals where they will face Hoover, which upset Grossmont.
Granite Hills will host the Cardinals with a trip to the semifinals on the line. The winner will face the survivor of a game between top-seeded San Ysidro and eighth-seeded Brawley.
No scoring information was reported.
SANTA FE CHRISTIAN 75, MOUNT MIGUEL 36 – The Matadors outscored the Eagles, 16-9, in the fourth quarter but were doomed after a 26-9 first-quarter deficit.
To make matters worse, SFC limited the Matadors to just two points in the third quarter.
HOOVER 70, GROSSMONT 61 – The visiting Cardinals upset the Foothillers in a Division III first-round game.
LIBERTY CHARTER 90, NATIONAL UNIVERSITY ACADEMY 30 – The Lions won the county playoff opener on Monday, winning the play-in game against National University Academy.
CLASSICAL ACADEMY 57, LIBERTY CHARTER 44 – The Lions lost the first-round game on Tuesday against the Caimans.