Sultans, Patriots get first win of year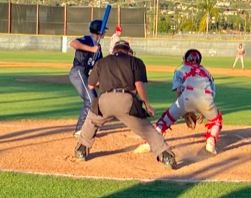 Granite Hills at the plate against Cathedral Catholic on Tuesday. / photo by Dave Dickens
2020 EAST COUNTY PREP BASEBALL
EastCountySports.com staff report
SANTANA 5, HILLTOP 2 – Dean Landers tripled home a run to cap a three-run first as the Sultans erased an early 1-0 deficit.
Tyler Fitzgerald had a two-run double in the fifth to give Santana a 5-1 lead.
Blake Taylor went 5 2/3 innings for the win.
"After giving up a run in the first inning, my team let me know they had my back by rallying right back," Taylor said. "My pitch selection varied from painting the outside black to slowing the pace with my changeup and lobbing up a couple of curveballs for good measure.
Taylor struck out four.
"Coach Vickery is a mastermind of calling pitches and he basically knows me better than I know myself," Taylor said. "We have two returners from last year's rotation in myself and Tyler Glowacki and are currently searching for a third. I'm confident in our staffs' ability to limit runs and even more confident in our lineup's ability to keep the score high on our side of the scoreboard."
Koda Alto recorded a four-out save with three strikeouts.
CHRISTIAN 6, SOUTHWEST (SD) 1 – Junior Braeden Ross double, had two RBI and went five innings to earn the pitching win for the Patriots.
Junior Carson Stroman also doubled and drove in a pair of runs as the Patriots won at the Sweetwater Tournament.
Senior leadoff man Clay Wehsener had a pair of hits, stole two bases and scored three runs.
"Compared to last year, we've grown a lot as a team both physically and mentally," Wehsener said. "Last year we had less than six returning varsity members whereas this year we have five new players coming up from last year's JV including two freshmen. We are definitely more focused this year playing with a chip on our shoulder from last year's let down.
Freshman Vaughn Major had three hits and an RBI for Christian in his varsity debut.
"As a freshman on varsity it is hard to expect a lot out of a kid so it's great to see him really feel at home out there," Wehsener said. "We have lots of competition for starting spots this year so everyone wants to get out there and show what they can do. We are very excited about this upcoming season and hoping to put on a show for everyone this year. We are gearing up for a championship season and this is only the beginning."
Juniors Andrew Carlock and Drew Young both pitching one inning and recorded one strikeout.
"Great way to start the year against a solid team that played in a CIF championship last year," Christian head coach Mike Mitchell said.
EL CAPITAN 5, OCEANSIDE 5 – Junior Connor Christ had three hits and a pair of stolen bases for the Vaqueros but the host Pirates scored four first-inning runs.
Senior Cody Griggs had two hits and drove in a run for El Capitan.
Senior leadoff man Carson Powers had an RBI for El Cap.
Vaquero sophomore Cole Winsor and junior teammate Sy Mendoza both had a hit and scored a run for the Vaqueros.
Windsor also dealt 4 1/3 innings of scoreless relief.
El Capitan scored three in the third to pull within one, then tied the game with two runs in the op of the fifth.
CATHEDRAL CATHOLIC 5, GRANITE HILLS 2 – The Dons came to El Cajon to pick up a win in the Hilltop Lolita's Tournament.
Granite Hills' T.K. Parker walked and scored a run in the bottom of the sixth to close a Don lead to 2-1.
"Just trying to help my team win by trying to get on base and do my job," Parker said. "Also, I believe we are better than Cathedral and we beat ourselves. We are talented all the way around, and we have a good chance this year. We just need to come together as a team and man-up."
Max Bodtke singled, walked, and scored a run for the Eagles.
Junior Noa Ponciano went 5 2/3 innings for Granite Hills, allowing two runs (one earned) while striking out six.
IMPERIAL 4, FOOTHILLS CHRISTIAN 3 – The Knights fell to the Tigers in a Bully's Tournament game at Mount Miguel High on Tuesday.
"Imperial was 18-8 last year and the league champ," Foothills Christian head coach Dave Lewis said. "They hardly lost anybody. They are a good team again. We made a couple of mistakes by young players that kept us from pulling it out."
Jack Wurts doubled and scored a run for Foothills Christian.
Junior Jake Baptista and freshman Zach Ortiz both drove in runs for the Knights.
"We will be led by Cade Cabral who is committed to San Diego Christian and Kip (Famolaro) who is a legitimate D1 guy," Lewis said. "We have Jack Wurts, who is a senior and our big bat in the middle. Max Merlin will be back next week and he'll be playing somewhere next year.
"Another big bat and will be our centerfielder Caleb Leonard, who is a sit out guy transferring from Christian. He had an ERA under 2.00 for them last year. He will be our No. 1 guy on the mound and can play and is also a very good hitter.
"Jake Baptista rejoins is this year and he will be a key for us in the infield and on the mound.
"Our young pitching last year took its lumps but I know will be solid with that experience.
"Seth Gilmore and Taylor Casey are lefties and will pitch a lot. Seth will be a starter.
"We have a lot of freshmen and sophomores that will really help us and I expect when we get everybody out there we will be hard to beat. We will win our league and I expect to win D4."
ORANGE GLEN 6, EL CAJON VALLEY 1 – At the Sweetwater Invitational Tournament, the Braves tied the score at 1-all in the third inning before falling to the host Patriots in Escondido.
Braves senior leadoff batter Christian Vazquez had a pair of hits.