East dominating early tourney play
Updated: February 27, 2020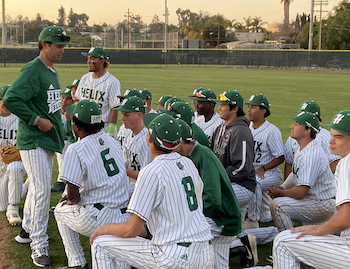 Helix following a recent victory. / photo by Dave Dickens
2020 EAST COUNTY PREP BASEBALL
EastCountySports.com staff report
EL CAJON – East County teams dominated in Wednesday tournament action…
HELIX 8, OTAY RANCH 1 – The Highlanders won at the Aztec-Foothiller Classic over the Mustangs in the South Bay.
The second-ranked Scotties threw five hurlers at the Otay Ranch hitters, led by Alonzo Richardson's three innings. The senior struck out five, allowing one hit, and was credited with the victory.
Senior Adrian Reveles threw two hitless frames for Helix (3-0).
Junior Ryan Abbott had two hits, two runs scored and drove in a run for Helix.
Senior Demitrius Wells had three hits, scored once, stole a base, and drove in a run for the Scots.
"Happy for the most part," Helix head coach Cole Holland said. "Still things to get better at, but I liked our energy today."
GROSSMONT 10, WESTVIEW 1 – The sixth-ranked Foothillers pounded the 20th-ranked Wolverines early and often, scoring in each of the first four frames in the Aztec-Foothiller win.
Junior Jaden Wilcox went six innings, striking out six and walking none to earn the win.
"First start of the season and we were playing Westview," Wilcox said. "I knew I had to get them back after that tough loss last year in the CIF game. I felt great. My slider was working really great today and very sharp and I just did everything I could to help my team get a stronger win against Westview."
Senior Anthony Mata had three hits, including a double, drove in two runs and scored twice for Grossmont.
"The first game of the season everyone is trying to come out with a bang and make some noise off the bat," Mata said. "The team was pressing and we were able to squeeze that first win out of the way. Coach Jordan came out to practice and preached to us to stay within ourselves and stay the course. We had a good day of practice and came out today as a team unselfish and all and we saw a glimpse of the team that we want to be and can be."
Senior Brodie Romero and junior Isaiah Gomez both had two hits and drove in a couple of runs for Grossmont.
Senior Danny Yanez also had a double and a pair of RBI for the Hillers.
Junior Ethan Dilgard pitched a scoreless seventh for the Hillers.
Isaiah Gomez had two hits, including a double and two RBI for GHS.
"We played really well today," Grossmont head coach Jordan Abruzzo said. "We did a really good job of throwing strikes and playing defense. Offensively, we just kept applying pressure."
VALHALLA 15, SAN DIEGO 2 – Junior Matt Tellous and senior Jojo Ingrassia both drove in three runs for the 19th-ranked Norsemen.
Ingrassia had three hits and scored twice.
The Norsemen stole 12 bases, led by seniors Kyle Casper and Mario Johnson, who swiped three apiece.
Senior Nicholas Lanciers delivered a complete-game, victory, striking out seven Cavers, and allowing just one earned run on four hits.
The Norsemen improved to 1-1 with the win in the Aztec-Foothiller Classic.
WEST HILLS 3, VISTA 1 – The Wolf Pack won at the Aztec-Foothiller Classic behind a complete game from junior Kyle Dobyns.
It was the first win at West Hills for new head coach Ram Barrera.
The Pack won with single markers in the second, third, and fifth frames.
Dobyns struck out seven and walked none, scattering six hits.
Kole Klingerman drove in a run for the Wolf Pack.
Andrew Ritayik doubled and scored.
Kai Dannis scored twice for West Hills.
MONTE VISTA 7, MONTGOMERY 1 – The Monarchs broked up a 1-all tied in the third with three runs, then tacked on two more in the fourth.
Junior Jacob Savoy had three hits and four runs batted in for Monte Vista.
Junior Andy Canedo went five innings, allowing a run, as the Monarchs improved to 2-0.
Canedo also had two hits, drove in a pair, and scored twice.
Junior Chris Leask had two scoreless innings of work, striking out two for the Monarchs.
MOUNT MIGUEL 19, KEARNY 2 – The Matadors pounded Komet pitching on Wednesday afternoon, scoring in every inning in the Sweetwater Invitational game.
Senior Carlos Sanchez had five hits and scored six runs for the Matadors. He also drove in a run from his leadoff spot. His tally included a double, triple and a base on balls.
Great to hear we fid so well. now give that same effort again and great things will happen for you.
"I just went up to get a hit and did so and then kept doing it," Sanchez said.
Junior JoJo Castillo had three hits, scored our times and drove in a pair of runs.
Senior Jay Harris and junior Jonathan Frivaldo both had three hits, drove in a pair of runs, and scored once.
"Our hitters were aggressive," Mount Miguel head coach Frank Coit said. "We were very opportunistic, ran the bases well, and scored every inning, something we stress every game. Overall, a good start.
Junior Thomas Ringer earned the win, striking out six in two frames, allowing an unearned run.
"It's the first game of the season and we came out strong," Ringer said. "All we wanted to do was come out strong and we did so. We played well but we have a bigger game tomorrow so we will carry this win and the atmosphere for tomorrow."
Freshman Joseph Ortega struck out four in just two innings, as the Matadors recorded 15 Ks as a team.
"Overall the pitching staff did well," Coit said. "Kept their pitch counts down and challenged their hitters."
Mount Miguel faces a tough Imperial team on Thursday.
"Tough D2 opponent tomorrow in Imperial High School," Coit said. "We expect our intensity and concentration to be at high-level tomorrow.
"We got to see Imperial on Tuesday versus our friends from Foothills Christian. They are a very disciplined, fundamental team. They like small ball it appears, so our defense will need to be prepared. They also appeared to be good contact hitters so our starting pitcher tomorrow, Erik Kelly, will need to be aggressive himself to counteract their aggressiveness."
SAN YSIDRO 6, STEELE CANYON 2 – The Cougars knocked off the Cougars but it was the boys from San Ysidro who took this one, handing the loss to Steele.
Sebastian Granados homered for Steele Canyon in the fifth inning off his friend, junior Jesus Tellez, to make it a 3-2 game with a two-run shot.
"I just shortened up," Granados said. "I noticed that my swing was getting pretty long and couldn't find the barrel and during the at-bat. I just got my pitch, a fastball high and inside and I took advantage of it."
Tellez finished with 11 strikeouts.
"San Ysidro is a great team," said Granados, who also stole a base. "My buddy Tellez pitched an amazing game. But I feel like as a team we weren't there mentally and as far as hitting. We were swinging at their pitches instead of ours. Towards the end, we started to lose it with mental errors on defense but I know that we'll come together and get the dub on Friday."
San Ysidro tacked on three in the top of the seventh to extend a 3-2 lead.
JJ Burns pitched 2 2/3 innings, allowing three unearned runs while striking out four.
Aiden Oakey went 4 1/3 innings for the Cougars.
Steele Canyon is 0-1-1. It will host Montgomery in an Aztec-Foothiller game on Friday at 3.
"This season is going to be real fun," Granados said. "We are really young this year with good ballplayers and I know that this year we're going to have to be bulldogs. But this is what Steele Canyon has been grinding for. So no matter what team it is we're out here to compete."