Vaqueros have bite; Bulldogs win title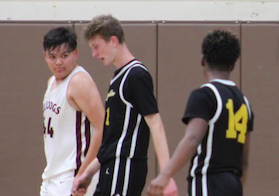 El Capitan freshman Micha O'Dell and (center) and Calexico sophomore Julian Beltran on Saturday. / photo by Dave Dickens
2020 EAST COUNTY PREP BOYS BASKETBALL
SAN DIEGO CIF DIVISION IV CHAMPIONSHIP GAME
CALEXICO 70, EL CAPITAN 57
By Dave Dickens
EastCountySports.com
TIERRASANTA (2-28-2020) – Anyone and everyone in favor of the Vaqueros from Lakeside, or the well-traveled Calexico fans,  filed into the Serra High School gymnasium in herds on Friday night.
This was not a  typical high school boys hoop contest. This was the San Diego Section CIF Division IV Championship contest, and the early roar told the story in itself, with a complete and utter championship atmosphere on both sides.
There were enough media on hand to speak volumes after the conclusion of two unexpected teams in terms of the computer polls. Although some are not fans of them, they determine the seeding in the playoffs.
Both squads came out ready to pounce on one another and each playing physical defense, accounting for a handful of fouls, as you could hear distant fan echoes of, "Just let them play."
The Vaqueros were down as much as 23-11 early on in the second quarter of play.
El Capitach head coach Elias Totah had seen enough, and as he had done all season long, called a time-out, changed his strategy and sent his young men back into battle.
Who else but key shooter JAKE PFITZNER of El Cap would quickly hit a huge three-pointer with just under five minutes left in the second quarter.
And you could not forget the little engine that could, HARRISON MORTON, who also ended up being somewhat of a dynamic duo alongside Pfitzner, as he drove through defenders in the paint either scoring on his own or distributing the rock like a true veteran.
Also not forgotten will be some key blocks, steals, and rebounds from the young, but an extremely talented freshman, MICAH O'DELL, who will be one of the future young stars for the Vaqueros for the next three years.
With 1:55 left in the half, the visiting Vaqueros clawed their way back into this one with the score, with Calexico only leading 32-27. Vaquero fans were making themselves heard at that point.
El Cap looked like they might just handle the team from the desert, but that would be the last time the Vaqueros would be within striking distance of a possible championship win, with 6:51 left in the 3rd quarter, only down 33-31.
As the fourth quarter came to a close, which started a bit tough for the visitors from Lakeside with too many fouls, and Calexico playing intense defense causing many Vaquero turnovers, which would be their ultimate demise.
Many of the Lakeside faithful started to make their way to the exits. With just 1:35 left in regulation, Calexico had a commanding lead of 67-53.
Unfortunately, after two fantastic playoff wins, the Vaqueros would ultimately fall, but not without a fantastic effort, 70-57.
Pfitzner finished his final high school performance with 26 total points, seven rebounds, two steals, and two blocks. 
PREP BOYS BASKETBALL: El Capitan senior Jake Pfitzner makes a three-pointer midway through the second quarter to cut Calexico's lead to 31-21 during the San Diego CIF Division IV championship game on Friday night… pic.twitter.com/lKM3qPjppV

— Ramon Scott (@RamonScottMedia) February 29, 2020
Pfitzner finished a great high school career under four head coaches and carried many of the teams on his shoulders.
Blaize Saiz also finished the evening and the season on a high note with 11 points, three assists, and two rebounds.
"We did not shoot the ball particularly well, and shot 9-of-20 from the free-throw line," Totah said.
"We had 18 turnovers and that is what cost us. We started flat. Shell-shocked over Calexico's extended 2-3.
"We started to really pick it up in the second quarter and cut the deficit to just two at one point.
"Calexico played fast and with great anticipation on the defensive end. 
"Credit to their personnel and coaching staff on a great season, great game, and a job well done."
"We have seven returners back next season. A ton to be proud of from our players and staff this season.
"First season in a new regime, system, new culture, and the end result, we end up as runner-ups in the D4 championship. A lot to celebrate with this group. I am very proud of the season we had."
Harrison Morton, Jake Pfitzner, and Blaize Saiz led us to this point. Their hard work and attention to detail all season was a testament to the high character players we had on this roster, a very special group, and one proud coach."