Dooney's home run lifts Brewers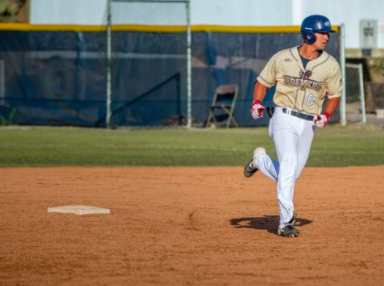 DAYTON DOONEY circles the bases on Thursday. / The San Diego League

2020 SUMMER BASEBALL
EastCountySports.com staff report
BREWERS 4, SHARKS 3 – Former Poway Titan Dayton Dooney hit a solo home run in the top of the ninth inning to give the Brewers a 4-2 lead.
Dooney, now at Central Arizona College, reached base four times in the game, including a pair of walks.
Luke Denos' sac fly in the eighth put the Brew Crew ahead, 3-2.
Santiago Gomez, a former Point Loma Pointer, earned the win in relief, striking out four.
USD commit Kyle Carr, from San Marcos High, struck out five in three innings of work for the Brewers.
Brandon Ross, a senior-to-be from the University of Hawaii, struck out five over three innings for the Sharks.
UNLV sophomore-to-be Connor Culp fanned seven on the hill for the Sharks.
Former Helix Highlander Austin Kretzschmar, now at Stanford, had an RBI single in the last of the ninth to bring the score to within 4-3.
The Brewers' Michael Campagna, from UC Davis, had a sacrifice fly.
WARRIORS 8, WILD 4 – The Warriors' Brian McClellin drove in the tying and go-ahead run with a single up-the-middle in the sixth inning.
McClellin's bases-loaded hit made the score 5-4 as the Warriors scored four with two out.
Starter Conner Thurman, from the University of San Diego, struck out five in 2 1/3 innings for the Warriors.
Pacific's Michael Defelippi, a former Cathedral Catholic Don, earned the win with two scoreless innings of relief, striking out four.
The Wild's Davis Heller had a two-out single in the first inning.
Later, Anthony Mase added a two-run hit for a 4-0 lead for the Wild.
The Wild's Carson Rudd, from Stanford, struck out four.
WAVERIDERS 10, SHARKS 8 – On Friday at Christian High, Axel Dobreff pitched two scoreless innings, striking out two, to earn the win.
San Diego Christian College's Keanu Walkush got the save.
The Sharks' Jordan Andrade, out of UNLV, had two hits, including a double, drove in three runs and scored twice.
Saturday's games
9:05 a.m.
Hooks (2-0) SP: Carson Hamro (R)
Wild (0-2) SP: Reed Coffin (R)
12:35 p.m.
Jets (1-1) SP: Jake Miller (R)
Brewers (2-0) SP: Jon Sotto (R)