D-I Titans latest to feast on Hawks
Updated: December 13, 2020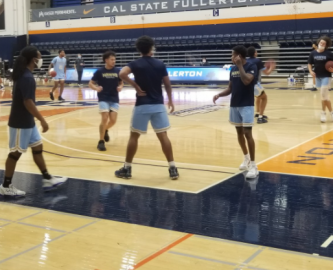 2020-21 SAN DIEGO CHRISTIAN MEN'S BASKETBALL
CSU FULLERTON 94, SAN DIEGO CHRISTIAN 70
ECS staff report
FULLERTON – San Diego Christian College lost to an NCAA Division I program on Sunday afternoon, falling to host Cal State Fullerton, 94-70, at Titan Gym.
However, the more interesting question is why CSF did not play the University of San Diego on Friday. Both schools stated the postponement – they will attempt to reschedule the ballgame — was due to COVID related reasons, but with no details. USD men's basketball home opener postponed
Fullerton played less than 48 hours later in defeating the Hawks.
Meanwhile, the Titans raced to a 52-23 halftime cushion before emptying the bench against the winless Hawks (0-4). Guard Wayne Arnold drained 5-of-6 triples for a team-high 19 points.
For San Diego Christian, Teyden Gause poured in a game-best 23 points, but 16 of those came in cosmetic fashion in the second half against the CSF reserves. Gause, a senior point guard, also registered four assists and a pair of steals.
Next in scoring for the Hawks was Nathan Clark, a transfer from Victor Valley College, who came off the bench to tally 12 points. He was followed by junior guard Riley Blea (11 points) and senior forward Jermain Camacho-small  (10).
The game was the first of three road events over a busy, 6-day span prior to the holiday break for SDCC. They return to the court Monday in a non-conference battle with GSAC rival The Master's University in Santa Clarita. WATCH HERE: San Diego Christian – Home