Smith honored for greatest comeback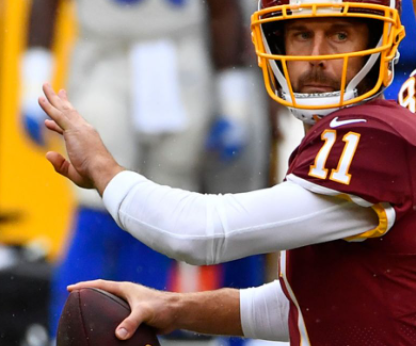 Smith against the Rams on Oct. 20, 2020
Alex Smith received a special video after winning Comeback Player of the Year. Here's his reaction 🙏@WashingtonNFL | @Theismann7 pic.twitter.com/yzUqQRiAEF

— NFL (@NFL) February 7, 2021
2021 EAST COUNTY ALUMNI
By Nick Pellegrino
ECS staff writer
LA MESA – It's an award athletes don't really want to win. But when you consider the option that faced Helix High product Alex Smith, he'll take it.On Friday (Feb. 6), Smith was named the 2020 NFL Comeback Player of the Year.
Three years after a massive injury left his right leg mangled with a severe compound fracture, doctors were in a quandary on whether to amputate his limb, obviously ending his playing career.
Today, an amazing 17 surgeries, later, there are smiles within the Washington Football Club organization after Smith completed a 2-year trek to recovery to again become a starting quarterback.
Career path
Smith is regarded as the top quarterback to hail from San Diego County along with Brian Sipe (Grossmont HS/San Diego State), the 1980 NFL Most Valuable Player with the Cleveland Browns despite being drafted just 330th overall; and Mark Malone (El Cajon Valley HS/Pittsburgh Steelers).
From Helix, Smith was a first-team All-America performer for Utah in 2004. That season, he was also named the Mountain West Conference player of the year. He led the Utes to a 2005 Fiesta Bowl triumph over Pittsburgh.
Originally drafted by San Francisco, he led the 49ers to their first NFC championship game appearance in nearly a decade.
Concussions eventually led to him being traded to Kansas City, where he posted starts of 9-0 and 11-0 with the Chiefs.
In 2017, he earned his third Pro Bowl appearance, after winning the league QB passing rating title with Kansas City. With the Chiefs, Smith was considered instrumental in the development of future NFL MVP Patrick Mahomes.
Smith signed a 4-year free-agent contract with Washington in 2018 but suffered his leg injury that first season.
Alex Smith. 2020 Comeback Player of the Year. 🙏🙏 #NFLHonors @WashingtonNFL pic.twitter.com/cKZHm0CYxJ

— NFL (@NFL) February 7, 2021
354 total views, 1 views today