Hawks know long road from Carr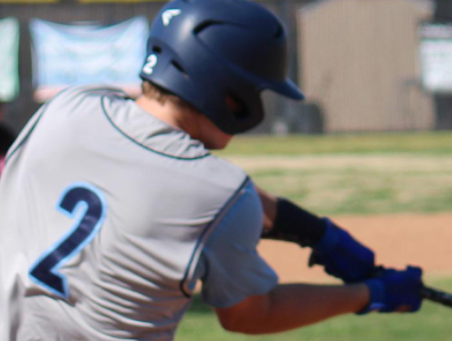 Cade Cabral, of the Hawks. / SDCC Hawks
2021 SAN DIEGO CHRISTIAN HAWKS BASEBALL
ECS staff report
SANTA BARBARA – Westmont College calls its scenic ballpark Russell Carr Field. San Diego Christian College describes the facility as the Hawks' House of Horrors.
Despite a near .500 record between the ballclubs over the past decade, the series has been home-heavy  SDCC does fine in contests played in San Diego County, but on the road, well, not so much.
The Warriors kept their end of the home-field equation intact Saturday (Feb. 20, completing a doubleheader sweep, 4-2 and 10-0, to claim all four games in this year's series to open Golden State Athletic Conference play.
On paper, everything looked level. Both schools played similar opponents, with both teams winning or losing against the same teams, with the lone exception coming against Saint Katherine of San Marcos.
Sure, the four games this weekend were close, but for some reason, the Hawks haven't done the job at Westmont. After SDCC pulled a surprising three-game sweep in 2015, they now own a meager 2-14 below par record at "The Carr."
In Game 1: As in Friday's twinbill, the Hawks got on the scoreboard first when Cade Cabral singled, moved to second base on a wild pitch, then scored on a clutch, two-out single to left-center field by Billy Strohm.
However, Westmont immediately answered to take a 3-1 lead through six innings, then limited the Hawks to just three singles the rest of the way.
Pate registered an RBI single for an unearned run in the eighth. In the ninth, the other two hits came with two outs to make things interesting, but a strikeout ended the contest.
In Game 2, the Warriors jumped to a 4-0 cushion in the first, coasting to a coast-to-coast triumph. They scored in all six at-bats in the 7-inning  ballgame.
Left-handed sophomore Ryan Humphreys fired a one-hit shutout. He struck out eight SDCC batters against five walks.
The lone Hawks hit was a one-out single in the second by center fielder Ryan Lystlund.
Westmont, which has played all 12 of its games at home, moved to 9-3 overall (4-0 GSAC).
San Diego Christian (2-9, 0-4)returns to Morley Field at Balboa Park for doubleheaders next Friday and Saturday (Feb.  26-27) against Hope International.