Godspeed: Here's to our future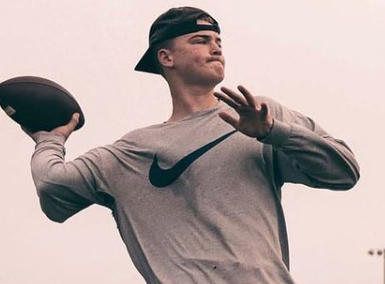 Helix freshman quarterback Ryland Jessee
2021 EAST COUNTY FEARLESS FORECASTER
LAKESIDE – The East County high school football season begins in earnest with only four official games on the opening weekend.
Nearly every school district in the state resumed official workouts two weeks ago after receiving the go-ahead from state and health officials.
Tonight, after nearly a seven-month delay, the El Capitan Vaqueros will host the No. 11-ranked Steele Canyon Cougars in a matchup of Grossmont Conference teams, while the county's top team – the Helix Highlanders – will host non-league rival St. Augustine, which is ranked fifth in the county. Both games are slated for a 7 p.m. start.
Meanwhile, on Saturday, the Valhalla Norsemen will host 14th-ranked Granite Hills at 5:30 p.m.
The 19th-ranked Grossmont Foothillers were scheduled to open a six-game season on Friday night against the eighth-ranked Mission Hills Grizzlies but that game was canceled after the Mission Hills program produced a positive COVID-19 test on Friday.
Many county teams will play scrimmages on Friday, including Monte Vista (at Point Loma). Santana and El Cajon Valley will scrimmage against each other on Saturday morning in Santee at 10:30 a.m.
All local teams have games scheduled for next weekend, except for Foothills Christian, which will not field a football team this season.
No. 5 ST. AUGUSTINE at No. 1 HELIX – The Highlanders and Saints met twice… in 2019. The Scotties scored twice in the fourth quarter to take away a finals' berth from the Saints' grasp in a 12-7 win in La Mesa. Helix also won a game on the opposite side of the scoring spectrum against St. Augustine, 44-38, in a mid-September matchup.
In the regular-season meeting, the Scots jumped out to a 14-0 lead in the first quarter and led 21-0 before hanging on for the victory at the finish in the game played at Mesa College, the Saints' home field
This one figures to be more like the playoff game, at least in terms of the score.
Both teams boast impressive offensive lines but may opt for contrasting approaches on offense.
The Highlanders have one of the county's best running backs in Christian Washington, who scored a touchdown in the fourth quarter of the first matchup "last" season, while the Saints feature quarterback Richard Colmenero.
The best matchup on the field features Saints' standout Gracen Halton, who is headed to the University of Oregon, against the Scotties' offensive line, led by Josh Simmons and Shawn Martinez. Simmons will march to San Diego State next fall, while Martinez will haul his gear to Southwest Minnesota State, along with more than a half-dozen other county standouts heading to the Mustangs' D2 program.
St. Augustine figures to have to reload its running game but that is rarely a tough fill for the Saintsmen.
The Scotties, meanwhile, have a promising freshman starting at quarterback, after four-star quarterback Tyler Buchner, a disciple of new Christian High head coach Danny Mitchell, headed to Notre Dame early to start his college career.
Ryland Jessee, who already has the stature of and composure similar to that of former Highlander star Carson Baker prior to his junior season, according to head coach Robbie Owens, will likely get most of the reps behind center, although a partial time-share could be expected at the position.
Helix has several standouts on defense led by senior linebacker Jerry Riggins Jr., who announced a commitment to the University of San Diego in early February, senior Blaze Zito, and another Southwest Minnesota State commit Domonick Schoop, a defensive back.
With departures on both sides, the teams figure to rely on those standouts that have had prior success, but the game could be decided by a new, or unheralded standout, since the pandemic has been a bit of an equalizer for high school athletes. Many student-athletes worked hard on their craft while isolating in 2020, while others throughout high school sports, may have, unfortunately, given up on their desire to play sports, especially some seniors.
Despite their ranking in the state's top twenty (Helix starts the season ranked 16th in the state), the Highlanders still have much to prove… HELIX, 22-21.
No 11 STEELE CANYON at EL CAPITAN – The Cougars also have plenty to prove in this short season. Steele Canyon may be in the re-loading process for next season but still boast one of the county's top programs year-after-year and may be unfairly rated by some this spring.
The Vaqueros are in the position of being one of the most-prepared programs in the East County.
Head coach Ron Burner never lost faith that a season could be conducted even as the campaign's window was closing rapidly just weeks ago.
Even on the surface, El Capitan appears to be the more veteran club.
Two-way lineman Timmothy Hutson leads the Vaqueros, while Steele Canyon is led in the trenches by tackle Logan Hicks. These two might be the biggest standouts of the field.
The brightest newcomer figures to come from the Cougars in sophomore running back Major Givens. Givens is likely already going to make SC fans forget about any departures in this shortened season.
Steele Canyon quarterback Elia Kirisimasi has varsity experience and has proven capable of producing in big games. In his first start last year against Grossmont, Kirisimasi passed for 158 yards, passing for two touchdown and running for another score as the Cougs scored 58 points, while in a season-ending loss to Helix, Kirisimasi accounted for Steele's first three scores – passing for two and running for the other – staking his team to a 21-7 lead.
The Vaqueros boast a hard-charging running game led by running back Taylor Grasmick and new quarterback Antwone Yokley, a former receiver.
However, it should be the Cougars, which should still have enough defense to earn a victory in Lakeside… STEELE CANYON, 14-7.
GRANITE HILLS at VALHALLA (Sat., 5:30 p.m.) – The Eagles likely have the East County's top quarterback entering the season in senior Justus McComb.
McComb, who threw for more than 2,500 yards, and accounted for 31 touchdowns (24 passing) is another Southwest Minnesota State commit from the area.
Senior transfer Angel Almazon, who comes over from Steele Canyon, gives him one of the top targets in the conference, as well.
Two-way star Matt Keeley is a top veteran presence with 55 tackles and three interceptions on defense in 2019, along with being the team's top returning receiver (16 catches in 2019). He was a second-team All-East County defender last season.
Offensive lineman Stan Earley (6-foot-5, 315) is part of a big group up front for McComb, as in big-in-size.
The Norsemen are the East County's best-kept secret.
Valhalla quarterback Luke Pillsbury, who has appeared as a starter in each of the last two seasons, may have the conference's deepest receiving core with seniors Marsalis Childs, Miles Tomlinson, and Gavin Nagel. The group is relatively untested, combining for 17 catches alongside a Division I prospect last season who has since transferred, but reportedly full of promise.
Allen Kalasho, a 2019 All-East County second-teamer leads the Valhalla offensive line. Linebacker Bashar Nooh and defensive back Giovanni Alejo led the Orange defense.
The Norsemen provide a dangerous first-week test given the circumstances, but the Eagles had the highest-rising stock – possibly in the entire county – during the long layoff… GRANITE HILLS, 28-14.
MARANATHA CHRISTIAN at MOUNTAIN EMPIRE – The RedHawks figure to be evenly-matched with their visitors from the Pacific League. And they'll have the home-field advantage despite the fact that no fans will be allowed to attend the game – at least for this week.
Mountain Empire is led by seniors Marcus Smith, a big-play receiving threat, as well as, a top defender, running back/linebacker Aiden Hamada and lineman Efren Penuelas.
Larry Clark and Chaz Ennis are part of the two-way crew for the RedHawks.
The teams combined for five wins last season, but one of these two will be 1-0 at the end of this one… MOUNTAIN EMPIRE 20, MARANATHA CHRISITAN 19.
SCHEDULE
WEEK 1
Fri., Mar. 12
Maranatha Christian at Mountain Empire, 4:30 (time change)
St. Augustine at Helix
Steele Canyon at El Capitan
Westview at Mount Miguel, scrimmage CANCELED
Monte Vista at Point Loma, scrimmage
Christian at Serra, scrimmage, CANCELED
Army-Navy at Foothills Christian, Parkway MS, CANCELED
Sat., Mar. 13
Santana at ECVHS, 10:30 a.m., scrimmage
Granite Hills at Valhalla, 5:30