RedHawks grounded by Eagles in overtime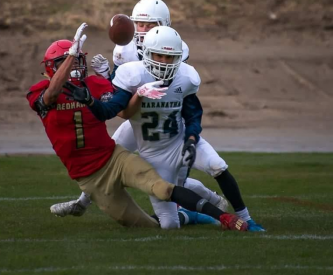 Marcus Smith attempts a catch of a pass on Friday. / Heather Jones - Rustic Memories Photography
2021 EAST COUNTY PREP FOOTBALL
MARANATHA CHRISTIAN 12, MOUNTAIN EMPIRE 6 (OT)
By Nick Pellegrino
ECS staff writer
CAMPO – There are only a few ways to lose a football game when your defense tosses a shutout. Unfortunately for Mountain Empire High, more than one occurred when the RedHawks fell in overtime to visiting Maranatha Christian, 12-6, in the 2020-in-'21 season opener for both schools.
According to the San Diego Prep Sports History website, it was the first extra-time game in Mountain Empire football history.
In a contest filled with total frustration, it often seemed like the Hawks were playing against more than just an 11-man opponent. Three touchdowns were nullified by penalties, while the offense was dinged for an Eagles touchdown on an interception runback.
"We lost a tough one tonight," said RedHawks assistant coach Ricky Prince. "Unfortunately we had three touchdowns that were called back due to penalties."
Still, the Mountain Empire defense stood tall, as Maranatha Christian never put five successful plays together all evening… until overtime.
After MEHS failed on its first possession in the extra session, Eagles quarterback Max Johnson raced around left end for a 5-yard score to garner the walk-off victory.
Talk about a disheartening setback.
"For being such a young team, we held on pretty well," added Prince. "We had two freshmen start and two other freshmen that we're getting some significant playing time. We have a ton of upside on this ballclub."
"We're trying to get these guys comfortable with the system and gain some confidence."
In the first half, all but the final minute of the first half was played on the Maranatha Christian side of the 50-yard line. However, the RedHawks only reached the end zone, well, legally — on a circus catch by Marcus Smith midway through the second period to take a 6-0 halftime advantage.
Smith was draped by at least one defender, who was tagged for pass interference, but Smith was still able to garner the football for a one-handed grab which he clutched into his chest before falling to the turf on his 19-yard score.
"My coach sent me on a streak down the home sideline," Smith said. "I came back to the ball and made a play between the DB and safety."
Smith, who is among a preseason list of candidates for all-East County recognition, led all receivers with six receptions.
"I think that kid's going places," added the coach. "He's a good athlete with a great attitude, and seems very knowledgeable — he has a great football I.Q."
But it was the plays that didn't count which doomed Mountain Empire against a Maranatha squad that went just 3-8 last season.
"In the first quarter, Marcus saw his 84-yard TD reception called back," said RedHawks assistant coach Ricky Prince.
The early score was flagged for a penalty, but that call was obvious. Two others were not so clear.
Early in the third period, Smith raced 76 yards on a punt runback. He originally took the ball to the right side, but when a Maranatha tackler over-pursued, the senior cut back and raced untouched down the left sideline, However, an illegal block in the back — well after Smith had cleared the area — was ticketed.
Four plays later, Maranatha got even on a "Pick 6." However, the ballgame remained tied when the PAT kick was blocked by RedHawks linebacker Daniel Obed.
In the fourth period, Mountain Empire again thought the contest was won when diminutive cornerback Rodrigo Gonzales, who is listed at a mere 130 pounds, intercepted an Eagles pass and raced 57 yards for a touchdown with five minutes remaining. However, another illegal block took the ball back.
The RedHawks' 2-minute offense marched the ball to the 9-yard line with a minute remaining, but a fourth-down pass fell incomplete.
Meanwhile, the defense shined. registering six quarterback sacks, including a pair of takedowns by middle linebacker Larry Clark, the ballclub's top tackler.
"Zayne Higuera was a bright spot for us, too. He had a clutch catch and a couple of very key tackles on defense," Prince said.
Maranatha was also hurt by three snaps which sailed over the head of the punter to give MEHS excellent field position. Two other snaps went over the head of the quarterback who was positioned in shotgun formation. Thus, the Eagles finished with less than 20 yards in total offense.
The game was the first-ever between the schools.
SUMMARY
EAGLES 12, REDHAWKS 6 (OT)
Maranatha Christian (1-0)   0   0   6   0   6 – 12
Mountain Empire (0-1)        0   6   0   0   0  –   6
Second Quarter
ME – M.Smith 19 pass reception (pass failed)
Third quarter
MC – 20 interception return (kick blocked)
First Overtime
MC – M.Johnson 9 run (no PAT attempt)