Top-ten collisions highlight full week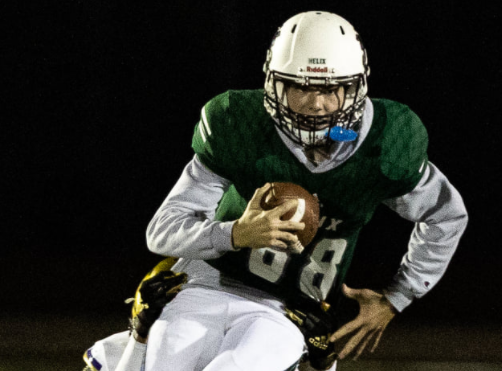 Helix junior Noah Horvath following a reception last Friday. / photo by P.J. Panebianco
2021 EAST COUNTY FEARLESS FORECASTER – Spring Week 1
The 2021 spring football season gets into full swing on Friday night, including nine games with East County representation.
After a seven-month delay caused by the first major worldwide pandemic in a century, teams were finally given the green light to take the field and play against another school, although most opted to scrimmage opponents rather than play sanctioned games.
Two of the games this Friday night involve opponents both ranked in the county top ten.
No.  1 CATHEDRAL CATHOLIC (1-0) at No. 9 STEELE CANYON (1-0) – The Cougars have had to bring the young Cubs up a little faster than maybe they would have given the circumstances, but these guys are still Steele, and likely worthy of keeping a top-ten ranking in the shortened season.
Sophomore tailback Major Givens lived up to promise on his first carry last Friday in the awaited-opener at El Capitan, rushing for a 22-yard touchdown. He also scored on a 16-yard completion from quarterback Elia Kirisimasi.
Kirisimasi passed for a pair of scores in the first half to aid his team in a 35-12 win in Lakeside.
The Cougars, who certainly have one of the top return games in the county year-in-and-year-out, are already on the board in 2021 after Adrien Chargualaf had a 34-yard punt return score.
Steele Canyon, led by Spencer Campillo shutout the Vaqueros, 28-0, in the first half. Campillo recorded a sack and had a fumble recovery.
The Dons, meanwhile, are already at the top of the charts after a shutout of rival Torrey Pines, 41-0. The Falcons came into the contest ranked sixth. 
The Dons and Saints, second and third, respectively, in the computer ratings, drew all 17 first-place votes by media panelists (CC got 12). Those same computers have the Cougars currently eighth.
Dee'Shon Swafford had a 59-yard punt return for the Dons, while Cathedral quarterback Charlie Mirer had three touchdown passes, including two to Jack Kilpatrick, and a 69-yard connection with Rex Haynes.
Back Lucky Sutton had 139 yards and a score, and the Falcons suffocated the Torrey Pines offense.
These two have met 10 with the Dons holding a 7-3 edge (SC was awarded a 2012 win by forfeit after the CIF forced CCHS to vacate its wins due to having an illegible player all season).
Coaches probably don't need a selling point to get those student-athletes who have already committed to playing this spring focused or motivated but the Cougars are obviously in a position to play for a mythical county championship and that short, but treacherous road starts here… CATHEDRAL CATHOLIC 28, STEELE CANYON 14.
No. 8 MATER DEI CATHOLIC (0-0) at No. 4 HELIX (0-1) – These
two schools have never met on the football field, not even when the Crusaders represented Marian Catholic High.
These are no ordinary Crusaders. MDC, making their season debut, is currently ranked eighth in the county. 
Mater Dei is coming off a 7-3 season back in 2019, which included a season-opening win over El Capitan, followed by a 33-point loss to Grossmont. 
Nearly all the starters returned from last year's club and the Crusaders added high-profile transfers.
Quarterback Trevor Appleman, headed for New Mexico State, was a 2,000-yard passer last season, while transfer running back Nico Estrada brings a thousand yards-plus over from Kearny. 
Wide receiver Josh Meredith, whose journey will be headed to Washington State in the fall, played his first three years of varsity football for Helix and Valhalla.
Oh, and by the way, Mater Dei's defense is led by one of the top sophomores in the nation in MLB Tre Edwards, who already has 13 Division I offers, including from his beloved Notre Dame.
Helix dropped its opener to St. Augustine last Friday, knocking the Highlanders from atop the county perch. It might have been a lofty expectation with a freshman quarterback making his first start against a fellow top-five opponent, but the Highlanders are still stacked, nonetheless.
New signal caller Ryland Jessee, along with his coaches, learned from the showdown, which included a 4-yard pick-six for the Saints. 
But don't worry, though. He'll likely have 40 more starts in his prep career to perfect his craft. He showed a veteran touch on a pair of deep passes that were just inches from connecting.
The Scotties can certainly rely on junior Christian "Big Moves" Washington to continue to relieve the pressure on Jessee. He was spectacular from the opening kickoff to the finish for the most part last week, starting the season with a 94-yard kickoff return for a touchdown and finishing with 174 yards of total offense.
The Saints connected on a 50-yard touchdown pass, as well, which the Highlanders can't allow in another matchup of this caliber.
Helix rarely loses two consecutive games, although it happened as recently as 2018 when the Highlanders started 1-3, however, the Crusaders could be this underrated… MATER DEI, 23-21.

EL CAPITAN (0-1) at No. 12 GRANITE HILLS (1-0) – The Eagles were caught in the Vaqueros' trap in their 2019 meeting, as El Cap stunned Granite for its only victory of the season, 25-23, in Lakeside.
Granite Hills was already coming off home losses to Steele Canyon and Grossmont and had Helix on deck.
The Vaqueros were winless and saw the wounded prey just in time for the celebration of the school's 60th-anniversary football game on Homecoming, no less.
Savigon Yokley, now the Vaquero quarterback, had four receptions on offense and two interceptions on defense in that one. He had 79 yards rushing against the Cougars last Friday night.
However, it was Xavier Peace that had the decisive 13-yard touchdown run with four minutes left in the game to stun the Eagles.
Last week against Steele Canyon, El Capitan rushed for 237 yards. However, three fumbles in the game by the Vaqueros were costly.
Mason Parr threw a 24-yard touchdown pass to Antwone Yokley at the end of the game for El Cap.
The Eagles, meanwhile, steamed past Valhalla, behind newcomer Joaquin Thomas Jr., who had four touchdowns, including scoring runs of 60 and 64 yards.
In last season's meeting, meaning that 2019 clash, Granite Hills quarterback Justus McComb connected with still-teammate Matt Keeley on a 65-yard touchdown which saw Keeley jaunting away from defenders down the middle of the field. McComb also had a 22-yard touchdown run with two minutes left in the game.
Granite Hills may have lost to their top three league rivals last season, but they might remember the one to underdog El Capitan most… GRANITE HILLS, 34-14.
WEST HILLS (0-0) at No. 15 GROSSMONT (0-0) – The winner of Friday night's game will take the all-time series lead.
Both teams have won 14 times… but it's the Hillers who have captured seven-straight meetings. West Hills hasn't defeated Grossmont since 2008, which was a 38-30 result.
The Foothillers were left without a game after Mission Hills, scheduled to travel to La Mesa last Friday, had to suspend team activities due to the current health protocols.
The Wolf Pack, meanwhile, were able to scrimmage against University City in preparation for their five-game schedule.
Grossmont senior Robert Tucker looks to catch up with the other top running backs who debuted last week in the Grossmont Hills League.
Talk about a doule-threat, Tucker had a rare accomplishment, gaining over 1,000 yard rushing and receiving last season, while also rushing for 10 touchdowns and catching 10 touchdown passes.
New Foothillers quarterback Justin Brown has veteran returning receivers.
The Grossmont defense is led by Blake Keeling, who is coming off a great season with 53 tackles. Teammate Matt Diaz had 39 tackles and two interceptions in 2019.
Grossmont's junior varsity went 10-0 last season.
Junior quarterback Braden Oberg brings varsity experience for West Hills, passing for over 500 yards in 2019. Senior Brendan Greene had over 350 all-purpose yards.
Senior Ryan Nicholas is the veteran leader on defense, joined by junior standouts Dylan Freund and Dylan Snyder.
The Wolf Pack's goals for the shortened-season and clear and reasonable and this week's game provides a stern preparation… GROSSMONT 34-7.
MONTE VISTA (0-0) at VALHALLA (0-1) – The back-to-back Grossmont Valley League champion Monarchs make their season debut.
Running back Lamonta Jenkins figures to be the Monarchs' featured back, running behind senior standouts Aaron Bustos, Adrian Ortiz, and Jesse Schroeder.
Most of the Monarchs' starters are two-way players, especially this season, with an even shorter roster than usual with only about two dozen players.
That may or may not be enough against a Valhalla team that was overmatched last Saturday night in a 56-7 loss to visiting Granite Hills.
Valhalla wasn't without its moments in the opener.
Marsalis Childs had a 71-yard touchdown reception from quarterback Tommy Logan, while Miles Tomlinson had four receptions for 39 yards.
Norseman quarterback Luke Pillsbury rushed for 53 yards and passed for 60 more sharing time with Logan.
This might be the area's most intriguing matchup of the night since Valhalla has actually won the last eight meetings between the two, with Monte Vista last knocking off the Norse, 42-0, back in 2004.
Monte Vista leads the all-time series, 23-13-2 and the computers have the host Norsemen rated as the stronger team coming into what would've been a big game in the newly-realigned Grossmont Valley League… MONTE VISTA, 20-19.
MOUNT MIGUEL (0-0) at EL CAJON VALLEY (0-0) – Both teams make their season debut after the Braves scrimmaged Santana last Saturday morning in Santee, while the Matadors' scrimmage against Westview was scrapped from the schedule.
Mount Miguel senior quarterback J.D. Laverdiere figures to pick up where he left off over a year ago.
The Matadors' all-time passing leader may have lost his record-setting receiver to graduation but the senior has Kojo Miller returning to the pass-catching corps following a season where he was some kind of special second-fiddle, hauling in 48 passes, including three touchdowns.
Senior JoJo Castillo had 16 receptions, including three touchdowns, as well. He also had two interceptions on defense.
The Braves have their own candidate for Grossmont Valley player of the year in Black Hills State-bound Clarence Johnson.
El Cajon Valley is coming off a playoff campaign, which included a first-round win over Mountain Empire, 33-0.
The Braves have a veteran lineup, including senior quarterback/linebacker Joe Malone, who passed for over 750 yards last season, throwing seven touchdown passes, while also recorded 3 ½ quarterback sack.
ECV senior Wendell Walcott also had a co-team-high 3 ½ sacks in 2019.
Junior Jayden Barnett, who was second on the team in receptions last season behind Johnson, is a two-way standout, as well.
Last season, Laverdiere threw four touchdown passes and ran for another as the Matadors won, 49-7.
This matchup appears closer than what the computers would suggest but the Matadors have won nine-straight in the series, with the Braves winning last in 2001, 14-13.
Mount Miguel leads all-time, 53-8-1… MOUNT MIGUEL, 39-26.
CHRISTIAN (0-0) at MIRA MESA (0-1) – The Patriots begin the Danny Mitchell-era.
Senior quarterback Gabe Krug is out to impress in this shortened season under the tutelage of the man who helped groom Notre Dame's Tyler Buchner at Bishop's.
It seems like a match made in heaven with Krug coming off a season in which he amassed over 2,000 yards of total offense.
Senior receiver Jack St. Fleur is the perfect compliment for Krug's throwing ability. He, too, has plenty to show out, after a career plagued by setbacks.
Andrew Carlock leads the offensive line.
Sometimes short-handed on defense, this year's group is not short of veteran names, including Andrew Young and Alonzo Glenn, who had three sacks in last year's 28-10 win over the Marauders. Christian also won the only other meeting in 2018, 54-25.
Mira Mesa fell to Scripps Ranch, 21-0, in the opener last week and managed just 55 yards of total offense against the staunch Falcons' defense.
Christian has been a steadily rising program for decades, graduating from league-to-league after conquering all comers. Soon, Mitchell could take the small school to even more unprecedented successes… CHRISTIAN, 35-14.
SANTANA (0-0) at KEARNY (0-0) – The Sultans are a young team this season but are coming off a division championship game appearance and one of the best seasons in school history, going 11-2.
Senior receiver Jared Forster returns after catching 37 passes last season. 
The new quarterback is Drew Temple, who replaces his school record-setting brother, Nathan Temple, and could prove quite the understudy.
Andrew "Gumby" Golembiewski was a second-team All-East County selection last season on the offensive line.
Senior Michael Richter is one of the top returning defensive players in the county after recording 19 ½ sacks in 2019. 
Linebacker Nick Brase is team's second-leading returning tackler.
Kearny is in a similar position as the Sultans with a new look in 2021.
Sophomore quarterback Rollin George threw two touchdown passes in a scrimmage against Hoover last Friday night.
Senior James Amis had an interception and a touchdown reception in the scrimmage for the Komets.
The Sultans have won six-straight meetings against the Komets to lead the series, 6-2. Included was Kearny's first-ever home night game back in 2015, but the Sultans, behind Frankie Guiteirrez and his four touchdowns, won, 59-19. Kearny won back-to-back years in 1995-96… SANTANA 24-15.
VINCENT MEMORIAL at MOUNTAIN EMPIRE, 5 p.m. – The RedHawks lost their first-ever overtime game last Friday evening, 12-6, to against visiting Maranatha Christian.
Marcus Smith had the Mountain Empire touchdown on a great catch but the RedHawks had three other TDs  – including two long-distance scored by Smith – nullified by penalties.
Larry Clark led the defense with a pair of sacks for MEHS, as the RedHawks got to the QB six times.
Vincent, meanwhile, rolled to a shutout win, 37-0, over Southwest (El Centro), turning three Eagle turnovers into touchdowns.
The Scots lead the series, 14-12, and the series is 5-all over the last 10 matchups… VINCENT MEMORIAL, 32-13.
WEEK 2
All at 7 p.m., unless noted
Fri., Mar. 19
Vincent Memorial at Mountain Empire, 5
Cathedral Catholic at Steele Canyon
Christian at Mira Mesa
El Capitan at Granite Hills
Mater Dei Catholic at Helix
Mount Miguel at ECVHS
Monte Vista at Valhalla
Santana at Kearny
West Hills at Grossmont