Braves, Sultans may be Valley's best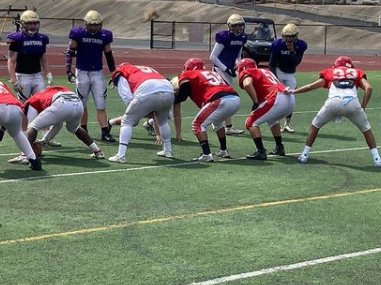 Santana and El Cajon Valley scrimmage on special teams on Saturday. / ECV Football
2020/21 EAST COUNTY PREP FOOTBALL
By Dave Dickens
EastCountySports
EL CAJON ( 3-13-2021) – In a season such as this, even a scrimmage, per se, is considered to be a game, as two teams are competing from the same league, as well.
In three short years, the El Cajon Valley High School Braves have turned into the class of the league, whether it be girls basketball, boys basketball, and now, even football. 
As far as El Cajon head coach Nick Osborn, an SDSU alum, is concerned, they have always been winners.
It was just a matter of increasing the optimism of team players that look out for one another on and off the field.
"Jayden Barnett had a great catch that he took down the sideline and also had a great run he took all the way to the goal line," Osborn said of the scrimmage. "Ruben Cosio also had some great plays on both sides of the ball with a great run on offense and some great coverage plays downfield.
"Guys like Isaac Ochoa stepped up on defense with pressure on the QB and Yasir Blair really came alive on the defensive side at linebacker. (Blair) is a sophomore who has worked very hard since joining our team and was making plays left and right in the backfield and making his presence felt.
"Although our only returners on the offense of line are Salvador Morales and Ochoa, Jesse Higuera, Luis Hernandez, and Sameer Issa all stepped up and played some physical reps resulting both in long runs but also converting in tight situations in short-yardage and at the goaline. Jaheim Mendenhall also had some good plays at tailback, along with Sohail Ameer Hussein.
"I loved seeing Jaheim battle it out with one of Santanas sturdy tailbacks at the goaline. They stalemated twice in-a-row but Santana prevailed on the third rep and got into the End zone. I love seeing the competition. Definitely a good day for our boys and look forward to seeing how they compete against Mount Miguel next week."
The Braves players are accounted for and expected to give it their all at home, as well, assisting their hard-working parents or guardians, along with their siblings. Coach Osborn expects greatness in every aspect of the word, which transforms from the classroom to the field and the return to their home.
"We had an amazing game on both sides of the ball and feel confident in our craft as a team," El Cajon Valley star Clarence Johnson said. "We will continue to put our all into playing Braves football the way Braves football is played in these upcoming games.
The Santana Sultans have a lot of respect for these classy Braves.
"Seeing the smiling faces on both sides of the ball made it all worth it," Osborn said. "There was a moment towards the end of the scrimmage where we were playing our back-up players and starters like Clarence and Joe (Malone) were begging to get more reps. They were having so much fun out there while at the same time I thought that they competed well.

"Clarence had some great runs from the backfield while Joe also had a couple of great runs as well. Joe also showed well in the passing game with a few good touches but as a receiving core we need to do better and not give up big opportunities."

Another great story is how far we have come, as we now have a great coach at Santana in Taylor Estes, daughter of long-time football coach Tim Estes.
Coach Tim Estes is now a defensive coordinator for the Sultans, who had their best season on record in 2019, only to lose to the Serra Conquistadors, the same Serra team they took down in the regular season. 
After a long, overdue pandemic push back of COVID-19, new CIF administrators, staff meeting after staff meeting, and a once upon a time, Feb. 12, 2020 high school practice date, the football community were denied a season yet again.
Many players quit, as the mental state of some of our teens was at its worst.
Just three weeks ago, along with a threat of a gubernatorial recall and a courageous coach, full-time in-class instruction may resume as early as the end of April, as COVID-19 vaccines are increasing daily, and the infection cases continue to drop.
After a week and a half of virtual high school football previews, we were able to have a few Friday and Saturday games. Some were scrimmages, some were games, some were canceled as some out-of-town teams had a few players test positive for COVID-19.
The Braves and the Santana Sultans were fortunate and scrimmaged each other Saturday morning at Priest Field.
"Playing ECVHS taught us we need to work on our defense," said Sultan Michael Richter.
"Jared (Forster) is a stud as usual and is extremely talented, which he showed today," Richter said.
"Today's scrimmage went really well, and El Cajon will be good this year. They had some pretty big guys. " said coach Taylor Estes.
"We had many sophomores play today and looked pretty good. (Quarterback) Drew (Temple) looked really comfortable and threw a nice ball to Jared for a touchdown, and he should fill Nate (Temple's) shoes nicely," Taylor Estes continued.
The official time and place are not confirmed, however, the word is that Santana will be playing Kearny High. Stay tuned for more word on the official time and venue.
The Grossmont Valley League teams look very competitive this shortened season, however no dominating team it seems is prevalent.
These two teams, if there were a playoff, might've seen each other again.
1,360 total views, 1 views today