LIONS: Tournament back on in 2021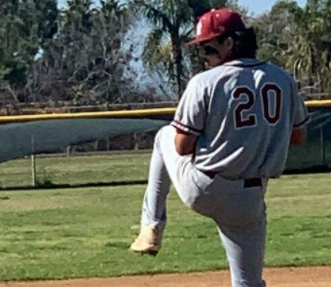 Andy Canedo delivers on Monday. / MonarchSports1
2021 EAST COUNTY PREP BASEBALL

By Nick Pellegrino
ECS staff report
EL CAJON – Jerry Schniepp, the 1988 East County Baseball Coach of the Year when he was a coach and administrator at Helix High, recently retired as the commissioner of the CIF San Diego Section.
One of the policies Schniepp initiated was changing the playoff division format based on school enrollment sizes to a power rating system. The inspiration for the idea might have come from the annual Lions Tournament, which has conducted its event in a similar style for decades.
One of the benefactors of power rating to determine team pools has been El Cajon Valley, which owns a vastly superior winning percentage in Lions play rather than league play.
In fact, the Braves once captured their Lions division in 2008, sweeping five opponents over a 4-day span, the highlight of a 7-year span when ECVHS played .500 ball against ballclubs of similar stature.
However, this season's 71st annual event will not be more successful for the Braves, which dropped Monday's (Mar. 29) opener to visiting Hoover, 15-4, in five innings.
By the time El Cajon Valley scored all of its runs in the third, they were already trailing 11-0. Seven errors contributed to the mercy rule decision.
Ruben Cosio was the main standout for the Braves (0-3) in a pairing of winless squads. The Cosio, a junior catcher, batted 3-for-3 including an RBI double in the third.
The big inning saw the first three batters reach base on an error and a pair of walks.
Joe Malone, the school's football quarterback, intentionally ground to the right side for the RBI, scoring Alvaro Alvarado from third base to avoid the shutout.
Sophomore Rikki Ortiz stroked a 2-run single to left field to plate Daniel Jacobs and Chris Cosio. Ruben Cosio, the older brother, followed with his line single to left field.
This season's Lions event is dedicated to a quartet of and current and former CIFSDS coaches who passed away in the off-season: Mickey Deutschman (West Hills, member National Semipro Baseball Hall of Fame), Dick Serrano (USDHS/Cathedral Catholic),  Dennis Pugh (Mission Bay/CSU San Marcos assistant coach) and Ron Sisler (Classical Academy, best record in California in 2019).
Santana 5, Eastlake 1
CHULA VISTA – Eastlake was one of a handful of schools being considered for No. 1 in the first CIF San Diego Section media poll this week. In three contests, the unbeaten Titans out-scored their opponents by a mammoth 45-9 count.
However, visiting Santana was not impressed.
Sultans pitcher Koda Alto delivered a low-note to Eastlake batters, scattering eight hits to overcome a slow start to earn a complete-game victory.
The Titans scored in the first, then it was all Alto, supported by three Santana runs in the third inning, then a pair of insurance markers in the sixth. The 220-pound right-hander registered four strikeouts.
The ballgame changed in the second when Eastlake's Nico Libed sent a drive to the right-field fence. The speedster turned second base and headed for a triple, but a relay from right fielder Nick Seabrook landed in the glove of third baseman Dean Landers for the inning-ending out.
Santana's bats then came alive, starting a string of five unanswered runs. Seabrook ignited both rallies.
Seabrook and Ethan Wright both walked,  then Tyler Glowacki singled to load the bases with one out. Elijah Reber capped the inning with a hard grounder which rolled to the outfield fence for a 2-1 lead.
In the sixth, Landers lined a one-out double to left, then Caleb Harris singled. Landers would score on a wild pitch.
West Hills 15, Imperial 4
SANTEE — Nationally-known motivational speaker Lynda Grant is often credited with the phrase "water seeks its own level."
In the case of West Hills, they rode both sides of the tide to finally take down the visiting Tigers in Monday's (Mar. 29) pool-play opener of the Lions Tournament.
The Wolf Pack was facing a winless ballclub that is allowing 15 runs per outing in three starts. But when the hosts struggled to manage just one hit through two innings, panic could've struck — it didn't.
West Hills responded with a 13-run explosion in the fourth inning to overcome a 2-run deficit, breezing to an easy win.
Ryan Parker set the table with three hits and a walk, scoring all four times. Parker also homered, along with Kyle Dobyns and T.K. Madera.
The big inning saw Jacob Villaneuva accept the lead walk, one of 11 free passes issued by the Tigers. Parker followed with an RBI double to center field. Connor Evans followed with a run-scoring triple to right.
Madera, the No. 9 batter, later went deep with his homer — a grand slam to right — to account for a career-best four RBI. Two batters later, Madera smacked a 2-run homer, also bringing home Villanueva (hit-by-pitch).
The Dobyns homer went to center and led off the sixth. Eron Drake collected the pitching victory in relief, not allowing an earned run in two innings of work.

Helix 9, La Jolla Country Day 1
GOLDEN TRIANGLE – Trevor Young drove in three runs, while Ben Haar and Cameron Tarling had two RBI each, as the Helix Highlanders rolled up seven tuns in the second inning to quickly subdue the host Torreys.
Haar also tossed four innings of shutout ball, yielding just two hits and striking out six LJCDS batters for the victory. He both gained the victory and saves his arm for up to six additional innings later in the week should the Scotties advance to Thursday's championship round.
"Keeping hitters off-balance was my goal since La Jolla Country Day has some very talented hitters," Harr said. "My off-speed pitches were getting over the plate great and many had swings and misses. I was really focusing on pitching to contact and occasionally would ramp it up on the fastball to get it by hitters."
Three relief pitchers — Demarae Woods, Leyton Wirschem and Cooper Hovey  — tossed on inning each to close ut the triumph.
Trevor Young opened the third with a lead walk, then Haar blasted a home run toward Genesee Avenue beyond left field for the game-winning RBI.
"I was very happy to get my first win and my first home run," Harr said. "I didn't think it was gone off the bat and thought it was going to be off the dance in left. Then it just kept carrying and ended up going about 20 feet over the fence in left-center. I felt like I didn't get all of it."
The shot opened the flood gates as LJCDS next committed an error, followed by a walk and a hit batter to load the bases.
Cameron Tarling followed with an RBI single. Wyatt Laub smacked the ball which hit the center field fence but was ruled an error, with one run scoring but the runners needed to hold to see if the fly ball would be caught.
Young's second at-bat of the rally was a 2-run double.
Grossmont 6, Cathedral Catholic 1
SAN DIEGO – The Grossmont Foothillers are assured of a top position in the first release of the polls after winning once again on Monday, this time against the Cathedral Catholic Dons.
Grossmont is 4-0 to start the season.
Evan Vasiliou allowed two hits over six-inning, striking out nine and walking three to subdue the Dons.
"Evan was really, really good today, which is a good sign" Grossmont head coach Jordan Abruzzo said. "We faced a good arm and had some good at-bats. We played well today."
The Foothillers' Justin Brown drove in a run of runs in the top of the first with a double to center, as Grossmont took a 2-0 lead.
"It's an amazing win shutting out Cathedral since they are a top team year-in and year-out," said Brown, who finished with three RBI.
Grossmont added four runs in the top of the seventh inning.
Isaiah Gomez went 2-for-4 with an RBI and a run scored. Through four games, Gomez is batting .750.
Monte Vista 2, Hilltop 1
CHULA VISTA – What a turnaround for the Monte Vista Monarchs.
After yielding an embarrassing 26 runs over a pair of season-opening setbacks, the pitching staff reversed gear in posting two impressive victories, including Monday's (Mar. 29) surprising 2-1 road victory over the Hilltop Lancers.
Monarchs pitcher Andy Canedo carried a 2-hit shutout into the seventh, coming one out away from the blanking. Canedo dominated Hilltop with 11 strikeouts. He also gained some defensive assistance to end the contest.
"Andy throws 88-91 miles per hour," Monte Vista Craig Neu said of the UC Riverside commit. "He is definitely on the high side for high school pitchers. He threw mainly fastballs today and mixed in sliders when necessary."
A tiring Canedo walked two batters and allowed a single, but Canedo picked off one of the runners. Then with two outs and racing on fumes, head coach Neu allowed the senior to gain a milestone win.
The final Lancers batter, David Garcia, singled to right for a run, However, the runner at first base elected to continue to third base, but without the intended results.
Monarchs senior right fielder Isaac Anthony fired a strike to shortstop Ernie Arambula, who relayed the ball to third baseman Tyler Lemen for the victory-clinching out.
Monte Vista tallied single runs in the third and sixth innings.
A two-out double by David Vega was cashed in on an Arambula base hit. The combination again displayed their magic on Vega's leadoff single and double by Arambula.
"Any amount of runs can win a baseball game as long as the defense is there," Canedo said. "We have good, young talent. I always rely on my teammates and trust them with helping me win the game. They have our pitchers' backs."
Steele

 Canyon (2-2) 17, Santa Fe Christian (2-3) 7 (6 inn.)
RANCHO SAN DIEGO —- Don't get the bats of Steele Canyon upset. After Santa Fe Christian posted six runs in the sixth inning, the Cougars answered with a 7-run outburst to run-rule the visiting Eagles in Lions Tournament play on Saturday (Mar. 29).
Sophomores Tommy Molina and Will James both hit their first varsity home runs, and in the same inning no less.
First one of the season pic.twitter.com/3CPauxxE6f

— Tommy Molina (@TommyMolina18) March 30, 2021
Weston Clark and Jake Entrekin both had a triple, while Entriken and Sebastian Granados hit doubles.
The Cougars were running wild, as well, with nine stolen bases, led by three from Granados.
Vencel Kalasho got the win, going 5 1/3 innings, with 10 strikeouts, retiring the side in order in the first, second, third, and fifth innings.
Christian 18, Classical Academy 9
EL CAJON – The Christian Patriots didn't know what to expect when meeting Classical Academy after the Caimans shocked powerful Carlsbad, 12-7, over the weekend.
Christian was originally slated to travel to Ramona, but when Classical, located in Escondido, agreed to instead visit East County, it was a breath of relief for the Patriots' season opener.
And the Patriots enjoyed the home cookin'.
Braeden Ross and Josh Meekins homered in the rout of the visitors.
Season is off and running! @BraedenRoss5 leads his senior season off with a 2-run 💣 @CHS___Athletics pic.twitter.com/oQwXv71hdh

— Joe Ross (@thejoeross) March 29, 2021
Both Ross and Meekins exploded for three hits. Ross drove in three runs on the day, including his homer in the first.
Vaughn Major had an RBI single in the second to give CHS a 4-3 lead.
Ross added an RBI single in the third for a 9-3 advantage. He also earned the pitching win, starting and going three innings.
Shane Bailey had three hits, two RBI, and scored twice, while freshman Ashton McCurty had two hits and drove in two.

Foothills Christian 5, Mar Vista 1
IMPERIAL BEACH — After trading runs in the third inning, Foothills Christian (3-1) posted four runs in the sixth to maul the Mariners in Monday's (Mar.. 29) pool-play opener to the Lions Tournament.
Both starting pitchers were firing gems, through five frames, but both were forced to leave because of high pitch counts. Taylor carried a 1-hitter into the sixth, while Mariners sophomore pitcher Trevor Rector was tossing a 2-hitter, yet neither gained a decision
The battle of the bullpens went to the Knights after Kip Famolaro fired two innings of 1-hit ball to garner the victory.
The game-winning rally saw the Mar Vista relievers start by allowing a single sandwiched around a pair of walks to quickly load the bases.
A passed ball allowed Trevor Casey to score the tie-breaking run, then Mathew Jones stroked an RBI single to right, scoring both Cameron Nicks and Seth Seth Gilbody.
Billy Temple walked to re-load the bases, followed by an intentional ground ball to the right side by freshman Daniel Chalupnik, a late-inning substitute, for anther run on his first high school base hit.
El Capitan 17, Palo Verde Valley 2 (4 inn.)
LAKESIDE – How deranged were the El Capitan Vaqueros in snapping a season-long, 3-game losing streak?
They were Crazy 8s crazy.
The Vaq Pack train-wrecked Palo Verde Valley pitching with 8-spots in both their first two at-bats to mount a massive 16-0 cushion Monday (Mar. 29), racing to an easy Lions Tournament opener decision.
A ridiculous  85 percent of El Cap's 20 base-runners scored — thus, only three left-on-base — as a half-dozen pitchers for the Yellowjackets issued eight walks, four wild pitches and a balk, coupled with a key error that allowed seven unearned runs in the first.
Vaqueros shortstop Cole Winsor collected an amassing six RBI from the leadoff spot. Winsor, a junior, uncorked a grand slam into the left-field parking lot to cap the first, then lined a two-run double in the second.
In addition, Brady Reed, Brody McAuliffe and Clayton Brown drove in two runs each.
It was the season opener for PVV (0-1), located in Blythe, Calif., which saw two scheduled contests postponed due to COVID-19 issues with its opponents.
Three Vaqueros pitchers combined on a 1-hitter. The blow was a 2-run double by Parker Loureiro in the third.
University City 6, Valhalla  4
UNIVERSITY CITY – The winless University City Centurions made a 5-run rally in the second inning stand, eventually building a 6-0 lead to upset visiting Valhalla in Lions Tournament action Monday (Mar. 29).
Cents right-hander Jack Zerr carried a shutout into the fifth inning to collect the win. Zerr struck out six Norsemen.
For Valhalla, third baseman Riley Hughes and relief pitcher David Gordon each recorded two RBI,  while leadoff batter Chris Madigan, the left fielder, did his job by batting 3-for-4. However, Valhalla stranded eight base-runners.
Valhalla's 3- run rally to move close in the fifth feature an RBI double by Hughes.
Rancho Bernardo 7, Granite Hills 2
RANCHO BERNARDO —- A come-from-behind effort by Granite Hills was thwarted in the sixth inning when Rancho Bernardo tallied four times to take an opening pool-play verdict in Lions Tournament action Monday (Mar. 29),'
The "stick and stones" contest saw the Broncos score single markers in the first three innings, but the Eagles answered with markers in the fifth and sixth before unbeaten RB (3-0) erupted thanks to the bat of left fielder Ben Lyons.
Lyons, a sophomore, registered seven RBI, including a grand slam to left in the decisive inning. Teammate Cale Gousha added a solo shot to right in the third for a 3-0 advantage.
Granite Hills finally got to Broncos pitcher Collin Rothermel, who struck out six Eagles while scattering right hits in his complete game.
The Eagles got on the board on a lead double by Tanner Vielguth, who scored on an ensuing base hit from Ethan McNish-Heider. However,  Rothermel escaped the jam when James Taylor lined into a double play to Broncos shortstop Trent Able.
An inning later,  singles by Camden Sos, Grant Mac Arthur (3-for-3) and Spencer Davis (RBI) trimmed the deficit to a single run.
"We are a better team that what we showed today," Mac Arthur said. "Our team is solid. As coach (James Davis) would say, 'we will be back at it tomorrow.'"
For Granite Hills, Vielguth batted 2-for-3.
"It was a very good game," Vielguth said. "(Pitcher) Austin (Smith) kept us in the game and Grant's bid day at the plate helped out a lot. Our infield and outfield were spot on today, we jsut have to pull out the win next time."
Holtville 11, Mount Miguel 3
SPRING VALLEY – In an unexpected pairing of 2-1 teams, the visiting Vikings from the Imperial Valley limited Mount Miguel to just two hits to win their third straight.
Mount Miguel was slated to host Valley Center, but Holtville was a late substitute when the Jaguars bowed out of the Lions Tournament pool.
Holtville sophomore Raul Sierra struck out 11 Matadors batters before coming out after six innings due to an elevated pitch count.  Bryce Buscaglia tossed the seventh for the save.
The lone hits for the Matadors were registered by cleanup hitter Thomas Ringer. Included was an RBI double in the sixth by the Mount Miguel third baseman. He also stole a pair of bases.
"We were beaten by the opposing pitcher," Ringer said. "With our young team, it took time to adjust to the speed and intensity of a game. Nothing that hard work and repetition can't fix. We are a scrappy team. I just look for opportunities worth taking (on the bases)."
Ringer also scored on an error in the second, while freshman Jacob Miranda scored on another Holtville rescue in the third.
Mountain Empire at Lincoln, ccd.
LINCOLN ACRES – Although the CIF-San Diego Section is allowing student-athletes to participate in more than one sport at a time because of the pandemic, it seems more players are interested in playing football at Lincoln High — the powerful Hornets recently whipped Point Loma, 65-0 — forcing some quick baseball scheduling flips.
Thus, Mountain Empire didn't need to make a 50-mile haul to Lincoln High. Instead, the RedHawks will take a 35-mile trek to meet El Cajon Valley in Tuesday's Lions Tournament contest.
1,516 total views, 1 views today