Victory is everything for Vaqueros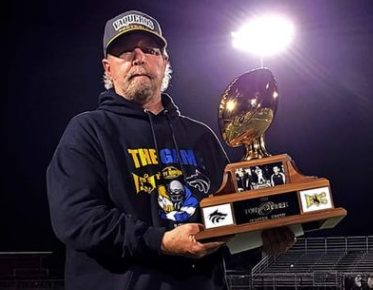 El Capitan head coach Ron Burner holds the Tony Burner Trophy after the game. / Billy Ortiz
2021 EAST COUNTY PREP FOOTBALL
EL CAPITAN 27, WEST HILLS 14
EastCountySports.com staff report
LAKESIDE – The El Capitan Vaqueros earned a much-needed victory against the West Hills Wolf Pack on Friday night.
More significantly, however, is that the Vaqueros retained possession of the Tony Burner Memorial Trophy from their recent rival.
It was the third renewal for the hardware, and the win gives El Cap a 2-1 lead since the award was introduced.
Tony Burner, the son of the veteran Vaquero coach who played quarterback at West Hills and coached with his dad, Ron, passed away in June of 2017.
"West Hills got it on the last play of the game last year," El Capitan head coach Ron Burner said. "Some bounces finally went our way. It was a hard-fought game. It was awesome."
Both teams came in winless and were aching for a victory.
The Wolf Pack tied the game at 7-all on a touchdown pass from Braeden Oberg to Dylan Snyder for a 40-yard play.
Snyder had a couple of good gains on West Hills' second scoring drive to take a 14-7 lead, as Oberg rushed in for a short score.
West Hills' was set to punt when the boot was blocked by El Capitan.
Moments later, El Capitan's Savigon Yokley ran all over the Wolf Pack's side of the field on his 27-yard touchdown run in the fourth quarter to tie the score at 14-all.
Yokley dodged, darted, and weaved through the West Hills defenders, who couldn't corral the elusive running quarterback on the play.
"It was a very long play, but one-on-one with anyone, I am beating them," Yokley said.
On the Pack's next drive, Mannigel sacked the Pack quarterback and forced a fumble, which was picked up and returned to the 10.
From there, the Vaqueros took the lead 20-14 on a 10-yard run by Daisean Desinor.
"This game meant a lot, especially for (coach Burner's) family," Yokley said. "We were trying to get this win for coach and make him happy. This year, we had to make it happen for him.
Yokley engineered a scoring drive mostly with his legs to open the scoring, but a running back cashed in the short 2-yard score.
The first portion of the game was ruled by the defenses.
For El Capitan, Derek Mannigel had a sack. For West Hills, Evin Patterson sacked the quarterback twice.
Antwone Yokley had an interception for El Capitan in the fourth quarter.
Brother Savigon saved a touchdown for last near the end of the game on a quarterback keeper.
"I was so happy for coach," Savigon Yokley said. "We had to find a way to get this win."
Braden Oberg passed for 153 yards for West Hills.

Snyder finished with 111 yards on seven receptions.