Patriots face Eastern champion Vikings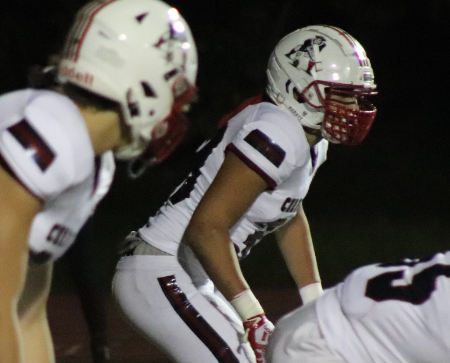 2021 EAST COUNTY FEARLESS FORECASTER
EastCountySports.com staff report
No. 7 LA JOLLA (3-0) at CHRISTIAN (2-1) – The Patriots figure to have their hands full with the Vikings tonight at 7.
La Jolla has continued to roll to new heights and has averaged over 54 points per game this spring.
Christian can scheme up to beat some teams and stay competitive but against this quarterback – junior Jackson Stratton – and his fleet of receivers, the Patriots will have to try and match scores here.
The Patriots lost their starting quarterback last week to an injured shoulder on the last series of the game – a well-earned 17-6 win over the Morse Tigers.
However, this La Jolla outfit beat the Tigers, 49-12.
Not only did the injury cost the Pats their passer, but the team's leading rusher, as well.
The objective surely will be to get the ball into the hands of playmakers J.C. Gustin and Chris Akridge, as well as, red-zone threat Hunter Provience.
Both teams also beat Mira Mesa, but the Patriots' margin of victory was 16, while the Vikings beat the Mauraders by 37.
La Jolla edged Christian, 20-19, on the coast last season to clinch the Eastern League championship, the school's first varsity football title in 24 years.
And the Vikings haven't looked back since… LA JOLLA, 34-22.
Friday's games
EL CAJON – Our local student-athletes have been grateful to return to play their favorite sports this spring, even if we know the wait was long and, sometimes, painful.
Unfortunately for the football teams, there will be no championships  – either locally or county-wide – determined in this shortened, six-week season, which concludes next week.
But what will the lasting memory be of the Spring football season of 2021 – one that might get more attention years from now when memories are shared with their friends and future families?
For the annals, that moment may come Thursday night at Valley Stadium when the undefeated and sixth-ranked Granite Hills Eagles (4-0) host the ninth-ranked Helix Highlanders (2-2) for East County bragging rights as the season's best team.
The soaring Eagles have every reason to believe that they can match up at almost every position on the field against the Highlanders this time around after beating fellow Grossmont Hills League foes Steele Canyon and Grossmont.
The Highlanders also knocked out the other two league rivals to set up this showdown.
Last week, against Grossmont, the Scotties finally found their complete offensive package to score 49 points against the Foothillers, as Xavier Van caught three touchdowns and freshman quarterback Ryland Jessee had his best varsity game, throwing for 224 yards and three scores.
Helix needs the versatile output against the Eagles' defense because Granite and senior quarterback Justus McComb may have proved to themselves in last year's 49-27 loss in La Mesa, that they can move the ball and score against the Scots. Helix led 21-0 early, but the Eagles posted a modest comeback in the third quarter.
McComb passed for over 300 yards and three touchdowns, helping rally the Eagles to get back in the game. Matt Keeley had an 80-yard touchdown in the contest that brought the Eagles to within 35-19 midway through the third quarter. Granite eventually brought it to within 35-37 late in the quarter.
Helix junior running back Christian Washington, who rushed for 138 yards and two touchdowns, also threw a 28-yard touchdown pass last week. He had 183 yards and three touchdowns in last season's victory, which came, of course, back in 2019.
The Eagles have a running game that can counter the Highlanders' rushing attack led by sophomore Joaquin Thomas Jr., who started his playing career running rampant for the Helix freshman team in 2019.
Should Granite Hills prevail, they have a county showdown to determine one of the top teams in the county this season. Earlier this week, it was announced that the Eagles and Grossmont have scrapped their scheduled second meeting of the season next week. Instead, Granite will face No. 2-ranked Carlsbad.
However, there is no look-ahead here. The Eagle eyes are laser-focused on the high-and-mighty Highlanders.
This one sets up as the Game of the Year in the East County… HELIX, 34-33.
GROSSMONT (1-2) at STEELE CANYON (1-3) – Both teams need this victory to avoid a sub-par season heading into the summer.
The Foothillers put up big numbers against Helix's defense last week.
Grossmont senior quarterback Justin Brown passed for 482 yards and five touchdowns in the game, including eight passes for 250 yards to receiver Nate Acevedo.
Steele Canyon quarterback Elia Kirisimasi got his first real shot at the starting quarterback position in last year's matchup with the Hillers in La Mesa, and the Cougars responded with a 56-3 victory. Kirisimasi had over 200 yards of total offense and accounted for three touchdowns, two through the air, in the win.
Foothiller running back Robert Tucker had five receptions in last season's meeting.
The Foothillers were able to add undefeated Santa Fe Christian to their schedule for next week's finale, to replace the Eagles. That game will be played at Grossmont.
Steele Canyon currently enjoys a slight edge in the computer ratings and has a great home-field record… STEELE CANYON, 35-31.
MONTE VISTA (3-0) at EL CAPITAN (1-3) – Monte Vista must avoid looking ahead to next week's Battle of Spring Valley with the Mount Miguel Matadors.
The El Capitan Vaqueros are coming off an emotional victory over the West Hills Wolf Pack in their own rivalry battle for the Tony Burner Trophy, won by El Cap, 27-14 last Friday.
The win may have given the Vaqueros the confidence they've sorely needed, however, to pull off an upset of this nature.
El Cap knows what is coming their way with Monte Vista's ground-churning running attack.
Against the Wolf Pack, the Vaqueros' Savigon Yokley and Daisean Desinor gave the offense the spark and El Capitan made big plays late in the game.
This one plays out lopsided on paper, but could be closer than the computers have calculated… MONTE VISTA, 26-20.
VALHALLA (0-4) at SANTANA (3-0) – Unfortunately, we won't be able to determine the best team in the Grossmont Valley League this season unless the Sultans or Monarchs are upset in either their final two games.
Santana will be at city rival West Hills next Friday but will not meet Monte Vista this season in what would be the obvious title game.
Santana's road to finish undefeated is easier than the Monarchs' final two games. The Sultans are big favorites here.
Should the Sultans and Monarchs both finish 5-0, there probably isn't enough to conclude one team's superiority over the other. In fact, the official rankings which would be used for playoff seeding have just one club separating the two teams in the ratings.
Michael Richter, one of the top defensive players in the county, scored four touchdowns last week and made 16 tackles to boot.
Valhalla sophomore A.J. Cornthwaite scored his second touchdown of the season last week in a loss to Serra High School.
How good have the Sultans been this season. They are ranked right behind Grossmont in the computer rankings… SANTANA 41, VALHALLA 7.
WEST HILLS (0-3) at EL CAJON VALLEY (0-3) – The moment will not be lost on these two teams tonight.
With the Wolf Pack set to face the Sultans next week, the Braves are squarely-rated against their visiting opponent.
This is another local matchup where the teams are rated right next to each other in the section computer rankings.
El Cajon Valley senior Clarence Johnson leads the team in rushing, receptions and tackles.
The Wolf Pack lost last week's trophy game against El Cap but can point to last season's 27-0 shutout of the Braves in Santee.
West Hills receiver Dylan Snyder has ten receptions, including a pair of touchdowns this season. Seven of those catches came last week.
The teams haven't met very often this century but played to a 24-all tie back in 2009, and that's how close this one is… WEST HILLS 22, EL CAJON VALLEY 19.
SANTA FE CHRISTIAN (4-0) at MOUNT MIGUEL (2-1) – The Eagles bring an undefeated record into the game against the host Matadors.
Mount Miguel's career passing leader J.D. Laverdiere leads the county in rushing during his season season.
However, SFC has the county's second leading rusher in Stephen Britton.
These two teams will meet for the third straight year, but SFC won both, including 35-20 last season in Solana Beach.
Laverdiere passed for three touchdowns in the fourth quarter as Mount Miguel tried to rally… SANTA FE CHRISTIAN, 27-20.
HOLTVILLE (2-2) at MOUNTAIN EMPIRE (0-4) – Mountain Empire can make its season with an upset of its rival.
Holtville has won consecutive games over Manzanita League foes Palo Verde Valley and Vincent Memorial after dropping its first two contests – against nonleague opponents, Brawley and Imperial, respectively.
For a winless team, it is hard to fault the effort on defense by the RedHawks. Mountain Empire allows 18 points per game, which isn't bad for a team sporting a winless record.
The RedHawks have been extremely competitive in all four of their starts, thanks in large part to Larry Clark and Marcus Smith. These guys turn heads on the football field.
Junior Chaz Ennis has also contributed mightily on defense for MEHS.
The computers would suggest a one-sided victory but Mountain Empire is super-competitive… HOLTVILLE… 27-14.