Finally!!!: Hawks end 30-game losing skid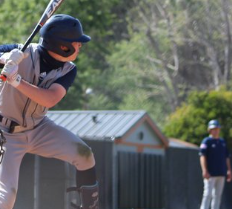 Peyton Berroth of San Diego Christian / sdcchawks
2021 SAN DIEGO CHRISTIAN HAWKS BASEBALL
ECS staff report
ESCONDIDO – On the same day the school's women's softball team snapped a month-long losing streak, the San Diego Christian College baseball broke an even longer skid.
The Hawks ended a 30-game drought which started in late January by smacking University of Saint Katherine, 13-6, on Saturday (Apr. 10) in the first game of a non-conference doubleheader played at Escondido High School.
Despite losing over an array of situations, blowing leads, comebacks that fell short, walk-off hits — you name it and the Hawks probably lost that way. But this ballgame belonged to San Diego Christian almost from the start after the Hawks tallied four times in the second inning.
When the Firebirds rallied to tie, another 4-run outburst in the fifth put the victory on ice.
The initial SDCC rally saw a series of RBI singles by Cade Cabral and Tanner Mayberry, a run on a double-play grounder, then a run-scoring double by Peyton Berroth.
In the fifth, Peyton Berroth slugged to two-run homer to left, also scoring Billy Strohm (walk, stolen base), Joseph Canty later doubled in a run, then Cabral registered his second run-scoring base hit as batters throughout the batting order contributed to the victory.
Strohm, the leadoff hitting shortstop, added a double and a solo home run.
Conall Sexton, the first of three Hawks relief pitchers, tossed two frames of shutout ball to collect the victory.
Canty finished with three hits, while five other Hawks registered two each.
In Game 2, Saint Katherine bounced back for a 9-0 win.
On Friday, USK swept the Hawks, as Dylan Jacob set the Firebirds' single-season home run record. Jacob went deep twice to raise his total to 18.