Foothillers rally for tournament title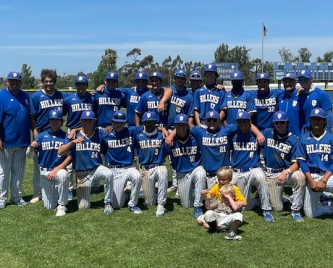 2021 Aztec-Foothiller Classic champion Grossmont Foothillers
2021 EAST COUNTY PREP BASEBALL
By Nick Pellegrino
ECS staff writer
EL CAJON – One would figure that if your ballclub rolled up 10 runs, the leadoff hitter probably was a heavy contributor.
However, for Grossmont High first baseman Evan Vasiliou, it was a rather ordinary, 1-for-4 day at the plate in Saturday's (Apr. 10) championship game of the Aztec-Foothiller Classic.
Fortunately, Vasiliou garnered a fifth at-bat, making the most of his Greek ancestry. With an Olympian effort, the senior blasted a walk-off, bases-loaded double to forge Grossmont to the tournament crown in stunning Eastlake, 10-9, at historic Gizoni Field.
"The count was 3-1 and I was just trying to get a ball elevated so we could tie the game," Vasiliou said.
The decision also allowed Grossmont to make up for a title game setback to La Costa Canyon in last week's Lions Tournament, stating a case to be the No. 2-ranked ballclub in the CIF-San Diego Section.
Number two? No, try No. 1 as the top-rated Mavericks (8-2) lost Saturday to Granite Hills, 5-4, in the final of the Hiltop Tournament.
The visiting Titans led throughout, leaping to an 8-0 advantage after 1 1/2 inning. Although it took two, long hours, Grossmont was finally able to complete a 6-game sweep to the tournament title with six runs in the fourth inning to get close, then the walk-off winner to cap the comeback.
Facing a last chance in the seventh, Noah Barnes drilled the first pitch for a lead double, a harder grounder to left field. A pair of pitching changes saw the new relievers post 4-pitch walks to load the bases.
One out later, Vasiliou lined a 3-1 pitch to the fence in center, with Barnes scoring from third base, followed closely by Barron Zamora to send the Foothillers (9-1) bouncing.
Barnes was also key to the fourth-inning rally to trim the deficit to within 9-8.
With Eastlake pitching running on fumes, they hit a batter, walked another, then Vasiliou singled to load the bases. Two outs later, another walk and a hit batsman forced in two runs.
Then Grossmont reverted to the script which helped them to a pair of tournament finales: the long ball.
Barnes, facing yet another Eastlake pitcher, saw three balls, took a called strike, then launched a 3-1 pitch to left field. His line drive cleared the left-center field fence for a grand slam — the ballclub historic fifth of the season in just 10 outings.
"Threw me a fastball and it felt really good off the bat and I knew it was gone watching it halfway down first," said Barnes. "I'm stoked I got a big opportunity to contribute to a big win for our team. It's fun being on a part of a team where we have a whole lineup of guys that can step up at any moment, so it's safe to say, we are never out of it."
The Hillers bullpen also saved the day for a seemingly hopeless situation.
Mason Dirkes fired 3 1/3 innings of 1-hit ball to gain a hold. Jaden Wilcox, earlier, followed with 2 1/3 frames of shutout ball, although he was tap-dancing at the very end.
"Jaden did a great job on locking it down," Barnes said.
In the top of the seventh, Eastlake's first three batters reached to load the bases. However, Wilcox would escape and send all the momentum to the Hillers to set the stage for the rally.
A ground ball to third baseman Caleb Hommel was sent to the plate for a force-out. Wilcox then registered a strikeout, plus a lazy fly ball, building the anticipation for a possible, positive result.
"It was a great curve that was working for me today and I stayed with it all game," said Wilcox. "This was one of the best games I have been a part of. Everyone got hype (on Barnes' slam) and the momentum changed. We knew we were going to come back and win it.
"This team has great chemistry. One guy gets a hit and everyone feeds on it. It's like we know the next guy will pick you up even if you don't get a hit or make a play."
For Eastlake (6-3),. 6-foot-3 shortstop Marcelo Mayer knocked in four runs with a pair of home runs. Mayer, a senior blasted a 3-run shot for a 6-0 lead in the second, then posted a solo shot for a 9-2 cushion in the fourth. Both went to right field.
However, five Titans pitchers combined to walk nine Hillers and hit two others.
Vasiliou is expected to take the ball when the Foothillers next face the Cathedral Catholic Dons.
"We already beat them once and I'm ready to see them for round two," Barnes said.
962 total views, 1 views today