GMC: Vaqueros, Patriots grab wins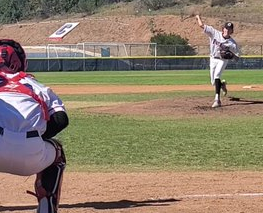 Vaughn Major delivers on Monday. / CHS Athletics
2021 EAST COUNTY PREP BASEBALL
ECS staff report
LAKESIDE —- Just call it a walk-off winner — in reverse.
On a Mater Dei Catholic base hit in the seventh inning, El Capitan left fielder Sy Mendoza fired a strike to Vaqueros sophomore catcher Brady Reed for the game's final out, as the Vaqueros survived a dramatic 4-3 verdict over the visiting Crusaders in Monday's (Apr. 19) Bill Dickens-GMC Tournament photo-finish.
Mater Dei Catholic, not used to the cozy dimensions at Hostetler Field, maybe didn't realize that the outfield defense can play closer to the infield than in most ballparks. So when the Crusaders runner was sent home, tilt the advantage to the Vaqueros.
The play clinched the win for El Cap pitcher Zach Mayhew, who fell one batter short of a complete game due to the pitch count. Fortunately, Cole Winsor came out of the bullpen to fire two quick strikes, then the 0-2 pitch was lined directly to Mendoza.
Mayhew struck out nine Crusaders batters, yielding just one earned run.
The contest was level at 2-all before the Vaqs answered with a pair of go=-ahead markers in the fifth inning.
Winsor, the starting shortstop, started the rally with a one-out, line double to left. Jake Bergherm followed with a walk, with Winsor advance to third on a wild pitch.
It was time for the Mater Dei defense to step forward but failed. A delayed steal saw Bergherm head for second base, but when the throw sailed into the outfield, both runners came home.
The Crusaders got one run back in the seventh on an error and a double (MDA doesn't supple lineups with names) before Winsor entered to garner the save.
El Capitan (4-8), which had dropped five straight, is now on a 2-game win streak. Mater Dei Catholic slipped to 3-10, its poorest start since opening 2-11 in 2013.
CHRISTIAN 8, HILLTOP 3 – The Christian High Patriots (8-0) are one of two unbeaten teams left in San Diego County.
The other is top-ranked Rancho Bernardo (14-0).
The Patriots were ranked 13th by the local media when the latest poll was released this week but the computer ratings currently have Christian ranked ninth in the county, ahead of other local clubs such as Granite Hills, Santana, and Steele Canyon.
Sophomore Vaughn Major struck out 12 Hilltop Lancers over five innings, allowing two hits and two walks, as the Patriots' win string continued on Monday.
"He could've easily completed the game," Christian High head coach Mike Mitchell said. "It's still early but this team has a chance to be pretty good. We will find out next week how good we are when we play Cathedral, (fifth-ranked) St. Augustine, and (14th-ranked) Santana."
Major struck out the side to start the game. He also struck out the side in the fourth and fifth innings.
"We have had a great start to the season and next week should be a great test for our team," said Major, who scattered three hits. "I'm really looking forward to some battles in the next couple of weeks to show how good of a team we really are."
Josh Meekins remained hot, hitting a ground-rule double to give the Patriots the lead 2-1 through two.
Singles by Ashton McCurty and Xavier Farnum extended CHS' lead to 5-1.
Shane Bailey drove in Braeden Ross (single) for an RBI to give CHS a 6-1 lead.
"Vaughn shoved today – he's a stud," Ross said. "Shane Bailey is really locked in right now. He's seeing the ball really well and putting good, solid swings on the ball.
"Our team chemistry is through the roof. Playing with this team is so fun."
Hunter Kaul had an RBI double to right to make it 7-1.
Kaul also scored the fifth after a McCurty single to make it 8-1.
Grant Heinrich came in to pitch the top of the sixth, then Andrew Carlock closed out the seventh.
Christian will face 20th-ranked Montgomery (8-4-1) on Wednesday.
The Patriots currently have just nine position players and three others that only pitch, according to Mitchell.
"We can't look past them," Ross said. "They are always a solid baseball team and that's a tough place to hit. We'll be ready for them, though, because we want to keep the undefeated streak alive."
481 total views, 2 views today