East powers provide thrilling GMC wins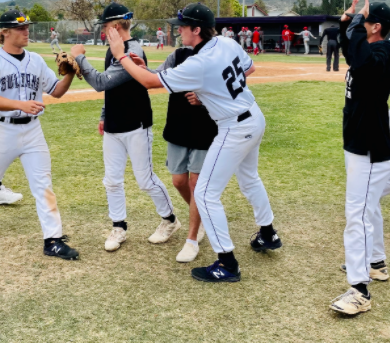 Santana celebrates a defensive inning against Cathedral Catholic. / photo by Dave Dickens
2021 EAST COUNTY PREP BASEBALL
By Nick Pellegrino
ECS staff writer
EL CAJON —- Back in the day, or some similar idiom, watching a 1-0 baseball occurred far more often than today's game because of carbon-fiber or aluminum bats.
Granite Hills senior Austin Smith was involved in one such ballgame on Wednesday (Apr. 21), locked in a scoreless pitchers' duel with Scripps Ranch's Carter Foss. Both were firing two-hit shutouts through five frames, with no runs in sight for seemingly days.
So Smith did something about it.
Smith opened the home half of the sixth inning with a base hit, then scored moments later on a double by second baseman Spencer Davis, the lone run in a triumph over the Falcons to cap pool-play action in the Bill Dickens-GMC Classic tournament.
For Granite Hills (9-5), it was the pitching staff's fourth shutout of the season, which is just reaching the midway point.  Conversely, Scripps Ranch (7-6) was blanked for the fourth time this year, including losses to Steele Canyon and Santana.
Who says they don't play them like they used to?
"It felt great to be out there," Smith said. "All three of my pitches were working and I was throwing them exactly where I wanted. And I felt comfortable at the plate, too. I stayed under control and tried not to do too much up there. It feels good to be able to dominate. We are looking forward to playing well as a team in (Grossmont Hills) League play."
Among the Eagles starting pitchers, Noa Ponciano owns two complete-game shutouts — he owns a shining 1.12 earned-run average –while Chandler Henry was involved in a combined blanking with a pair of relievers. But Smith had never previously been asked to go so hard for so long before gaining his complete-game shutout.
Smith finished his 2-hitter by striking out 14 batters, including all three Falcons in the seventh to cap his memorable effort. He walked two, both in the sixth, but survived the inning, followed by immediately starting the game-winning rally.
Except for Davis' RBI double, no one else on Granite Hills recorded a hit except Smith, who batted 3-for-3, to raise his batting average to .413.
Granite Hills, which has lost two straight, next opens GHL play by hosting West Hills in a Saturday, May 1, doubleheader at 10:30 a.m.
Scripps Ranch, which hasn't score in 14 1/3 innings, next meets preseason favorite St. Augustine (12-3-1) to start its Western League schedule.
Helix 9, Point Loma 6
LA MESA —- The season's first meeting between local rivals Helix and Grossmont high schools is still a month away, but that doesn't prevent the ball clubs from rooting for each other. Case-in-point: Wednesday's (Apr. 21) pool-play finale in the Bill Dickens-GMC Classic tournament.
Grossmont was already saddled with one loss in the event, thus, they needed someone to upend the ballclub which upset them, Point Loma — the Helix Highlanders were more than wiling to oblige.
Tied at 6-all, Scottie third baseman Aidan Perez rocked a walk-off, three-run homer, helping Helix to out-slug Point Loma, 9-6, in the tournament finale for both clubs in the Bill Dickens-GMC Classic.
With two out, Perez fouled off the first two pitches but connected on the next offering to somewhere near Lowell Street beyond the fence in fright field.
"It was an outside fastball and I got a lot of barrel on it to make it go over the fence," Perez said. "It felt good but we have to start preparing for (Grossmont Hills) League play next week."
It took a dozen games, but the Highlanders offense is beginning to click. One little change by head coach Cole Holland may be the Midas touch he's sought for the past month.
Leadoff batter  Anthony Matthiesen was demoted to the No. 7 slot, where he's finding results. SInce the move, Matthiesen is batting 500, including a two-run double to cap a four-run rallly in the third inning to break a 3-all deadlock.
Although Mattiesen was thrown out at third despite the relay from the outfield reaching home plate, welcomes the opportunity to contribute, perhaps gaining his old position on the lineup card.
Holland, though, has discovered more options to turn around the offense, which is finally delivering throughout the order.
"Aiden smoked it," Helix head coach Cole Holland said. "We played really tough today. I am proud of our kids."
Along with Perez's game-winning blast, the middle of the order also saw James Whitman collect three RBI off Point Loma pitching.
"It was a great win," Whitman said. "I felt locked in like everyone was locked in. And our pitching was good. Aiden coming up clutch was huge.
Helix relief pitcher Wyatt Laub, who has allowed just one earned run all season in four appearances, collected the victory.
"I am really proud of my teammates for going out there and picking me up to win that ball game," Laub said. "That was a great approach by Aiden and one of the most exciting moments of my baseball career to this point. I am honored that my coaches trust me enough to bring me out in the later innings to get the job done."
Speaking of lineup juggling, the Pointers moved center fielder Kien Vu up from second-to-first in their card. But instead of getting on base, the senior connected on a pair of home runs.to rally Point Loma back from a 6-2 deficit.
Vu's first homer lead off the contest. Two batters later, Corbin Chianell went yard for a 2-0 lead. The homer bounced off the glove of Whitman, the Helix center fielder, who tumbled hard to the ground yet eventually got up on his own.
Whitman came back strong by batting 3-for-3 and scoring twice along with his three RBI.
Helix (6-7 overall) next opens Grossmont Hills League action by hosting a doubleheader with Steele Canyon on Sat., May 1, starting at 10:30 a.m.
Point Loma 8-6), which defeated Grossmont and Valhalla in the tournament,also lost to Granite Hills,, Santana and the Scotties to go 2-3 in the event.
Steele Canyon 6, Patrick Henry 3
DEL CERRO — Steele Canyon was the fourth Grossmont District school to win in its final at-bat Wednesday (Apr. 21), stunning host Patrick Henry,6-3, to cap the Dickens-GMC Classic.
The Cougars tallied four times in the seventh inning to finally reward a combined two-hit pitching effort by Vencel Kalasho (5 IP) and Sebastian Granados. The pair posted three strikeouts each.
"Our team's chemistry this year is insane,"  Granados said. "We just have the mindset where we succeed as a team and fail as a team and we're always there for each other.
Granados, a senior, fired two no-hit innings for his third victory of the season, lowering his ERA to 0.53, which rates second behind Grossmont's Evan Vasiliou.
"Today was just knowing my fastball was overpowering to my opponents," Granados said. "I just had to challenge them and pitch to contact. My catcher, Jake (Entrekin) is a beast. I love having him as a teammate because he's like a brother to me. I will definitely miss playing with him after this season.
Entrekin smacked a solo home run, walked twice, and scored twice.
"Sebastian came in with his usual stuff and shut them down," Entrekin said. "Defensively, Weston Clark played great in the infield. Alfredo Flores made an amazing diving catch at second and Isaac Vargas made a great play in the outfield running down a foul ball then crashed into the fence."
The winning rally was centered around a pair of sophomores.
Will James drew a leadoff walk, immediately scoring the game-tying run on a Granados double. A single and a walk loaded the bases, then another youngster, Tommy Molina, singled in the go-ahead runs, with a third runner coming home on an error in the outfield.Granados and Molina each had two of the Cougars' six hits, yet ruined a strong pitching outing by the Patriots' Dylan Dyresen, who came out after five solid innings with a no-decision.
"Tommy Molina came up with a huge hit in the top of the seventh," Entrekin said.
Down 3-2, Patrick Henry made its move in the fourth. The Pats tied the ballgame when cleanup hitter Jake Lowery smacked the inning's first pitch for a home run. A little later, Ryan Ellis was hit by a pitch, then took three bases on an error in the outfield to take a 3-2 advantage.
Steele Canyon moves to 9-5 overall, while Patrick Henry falls a half-game back at 8-5, as this decision could have important CIF ramifications in the computer rankings among these Division II programs.
Santana 5, Cathedral Catholic 4
SANTEE —- Unlike many games involving Grossmont District school2 on Wednesday (Apr. 21), the Santana Sultans only needed to wait until their next-to-last trip to the plate to pull out a dramatic victory.
Sultans designated hitter Caleb Harris drilled a go-ahead, 2-run double in the fifth inning, allowing Santana to take down Cathedral Catholic, 5-4, in Bill Dickens-GMC Classic Tournament action.
The decisive fifth inning saw the visiting Dons register four runs to grab a 4-3 advantage, with Harris taking over on the mound to end the outburst, However, the Sultans immediately answered back with two runs for the winning margin and make Harris the winning pitcher.
The rally was short, yet deadly.
Tyler Begg accepted a lead walk — you know what happens when a batter gets walked to start an inning! –followed by a Dean Landers single. A passed ball advanced the runners, then Harris tagged the ball over the left fielder for the RBI.
"We produced energy and battled to come back and get a great team win," Harris said. "It feels good to be able to always be in the game no matter the score because we can fight back.
"My fastball was moving well for me but the majority of the strikeouts were with the curveball. When they did make contact, it was what the defense could work with and they always have our pitchers' backs. We can compete with anyone no matter how good they are. We will find a way to piece it together and get the win. We definitely have an opportunity to win (the Grossmont Hills) League and prove what we can do."
Early on, Santana opened the scoring with three runs in the third on a lead double by Cole Contreras, followed by a walk, a wild pitch, a passed ball, and a pair of errors.
"Our team played well despite missing some opportunities early in the game. We just stuck with it and didn't let the one-run deficit get to us. Both of our pitchers pitched well and Caleb did a good job of holding them to no runs as soon as he came in.
Koda Alto got the start, going 4 2/3 innings.
The Dons rally saw a fielder's choice grounder for a run, then a go-ahead, three-run homer by DH Aiden Dillehay to left.
"Alto pitched great," Landers said. "He kept us close then Caleb came in and shut them down to give us the opportunity to come back. We felt like we were never out of it. We knew that we were going to need to string together some quality at-bats. We had guys step up when we needed them to so it was a great all-around win by our guys."
Santana (9-4) is on a nice roll, outscoring its last three opponents by an 18-9 count since falling to second-ranked Eastlake.
Cathedral Catholic continues its historical slide, falling to 5-8. They return to the East County on Monday at 3:30 p.m. to meet previously unbeaten Christian.
Mountain Empire 17, Kearny 3
CAMPO —- Now sporting a full roster now that the spring football season came to a conclusion, the Mountain Empire RedHawks look to challenge for a CIF small division title thanks to a bolstered pitching staff.
One of the arms is Jacobe "No-No" Noland, who combined with football wide receiver Marcus Smith in throwing a no-hitter at visiting Kearny. The final score was 17-3 in six innings, but the Komets runs (without the aid of a base hit) came in the sixth and final inning when the contest could've been stopped after five frames due to the mercy rule.
Sill, Noland was strong from the start, going 5 1/3 innings. He registered 14 of his 16 outs on strikes in dominating the winless Komets. Smith closed with an additional whiff, giving the staff 15 total strikeouts.
Smith, the starting shortstop, also clouted a pair of doubles. Noland and third baseman Angel Jimenez also smacked two-base hits as the RedHawks offense registered runs in all five trips to the plate.
Meanwhile, second baseman Frank Hatmaker led the ballclub with three hits.
Mountain Empire leveled its record to 4-4, including a two-game, season-series sweep of Kearny (0-5).
Montgomery 3, Christian 2
SAN DIEGO – Ashton McCurty, Braeden Ross, and Josh Meekins each had a pair of hits for the Patriots, but the Aztecs won to end the Patriots' season-opening eight-game winning streak as Montgomery scored it the bottom of the seventh.
Christian had already clinched a spot in their GMC division final on Saturday.
The Aztecs won it on a two-out, two-strike base hit off the glove of a diving outfielder, scoring the game-winning run from second base.
Christian left runners in scoring position in each frame from the second-through-sixth inning.
Meekins had a double, Vaughn Major singled, and Ross doubled home the first run of the game in the top of the third.
"The streak was bound to end at some point," Ross said. "We didn't play very well and teams like (Montgomery) capitalize.
"Champions are made through adversity and this is the first time we've faced it this year. We'll be hungry to get back in the win column on Saturday."
The Patriots loaded the bases in the top of the fifth but came up empty and trailed 2-1.
Dominick Zepeda scored Christian's other tun.
Andrew Carlock retired the Aztecs 1-2-3 in the bottom of the fifth on consecutive popouts.
McCurty had a triple to lead off an inning, but the Patriots couldn't drive him in.
Ross, the Pats' starter struck out seven and walked none in four innings.
"Their pitcher was tough but Braeden threw well," Christian High head coach Mike Mitchell said.
Andrew Carlock got the work over the final 2 2/3 frames.
"Carlock pitched really well," Ross said. "He throws strikes and he gets the job done every time. Montgomery is just a very solid team."
Olympian 12, El Capitan 5
CHULA VISTA —- El Capitan first baseman Jake Bergherm drilled an early 2-run double, but Olypian broke a 2-2 deadlock by scoring three times in both the third and fourth innings to vanquish the Vaqueros, 12-6, to complete pool-play action in the Dickens' GMC event.
The host Eagles collected 18 hits, including at least one from all nine starters on Wednesday (Apr. 21). Leading the way were the No. 4 and 5 hitters — Walter Alfaro and Josh Manness — with three RBI each.
For El Capitan (4-9), Bergherm batted 3-for-4, lifting the senior's club-leading batting average to exactly .400. Olympian moved to 6-4 in snapping a brief, 2-game losing skid.
SD-Southwest 5, Monte Vista 2
NESTOR —- Monte Vista posted a quick start and a late finish with runs in the first and seventh innings, but the rest of the contest went the way of the Southwest Raiders, 5-2, in Wednesday's (Apr. 21) final Dickens-GMC tournament outing.
Ernie Arambula, Andy Canedo, and  Aaron Zuniga paced the Monarchs with two hits each.
"Andy and I have been on a hot streak lately," Arambula said. "We're trying to get ahead early in the ball game. We are always on the same page, asking each other how hard a guy is throwing, what kind of pitches we saw, and what we can do better in each of our at-bats. We just had mental mistakes today and we hurt ourselves."
The fast start saw Arambula stroke a one-out double with Canedo following with a run-scoring single.
"It was a tough loss," Canedo said. "We still battled but came up short. As seniors, Ernie as I do our best to help the team win and show the younger guys what Monarch baseball looks like
The late comeback effort had Zuniga hit the first pitch for a lead single, Chris  Lybarger walked, then Zuniga scoring on a base hit by freshman Justyn Stone
With no one out, Stone's hit brought the potential game-tying run to the plate, but Raiders pitcher Alvaro Arguelles retired the next three batters for his complete-game victory.
Albert Rodriguez delivered a pair of scoreless innings for the Monarchs.
"I knew we were still in the game when I came on and my job was to keep us in the game," Rodriguez said. "With the help of my defense, we were able to get some quick outs. I was hitting the corners and mixing fastballs and off-speed pitches."
Monte Vista (6-7) saw its two-game winning streak end. Conversely, Southwest (5-7) ended a two-game losing streak.
"Southwest played better than us today," Monte Vista head coach Craig Neu said. "We are capable of playing better but give Southwest credit. We just didn't cash in with runners in scoring position. These losses will help up grow and we will be fine. Our season starts on Tuesday.
Madison 7, Valhalla 1
RANCHO SAN DIEGO —- With the powerful Grossmont Hills League schedule looming next, Valhalla saw a possible last chance for a victory fall by the wayside after visiting Madison limited the Norsemen to just five hits in a 7-1 decision in Dickens-GMC tournament play.
Valhalla (4-9 overall) avoided the shutout in the seven-inning after junior Nico Simonet scored on a base hit by senior Chris Madigan.
Norsemen senior Matty Tellous ended the leading with two innings of shutout relief.
The Warhawks, which is also off to a poor start, moved to 6-8.
Escondido Charter 6, ECVHS 0
EL CAJON —-Escondido Charter pitcher Diego Pena fired a 1-hit shutout, as the White Tigers stopped ECVHS, 7-0 in four innings in Wednesday's (Apr. 21) non-league contest.
Pena matched his uniform number by posting 10 strikeouts. Pena also hit a double, while White Tigers teammate Damien Cisneros added a pair of doubles.
The lone Braves base hit was a first-inning single by shortstop Rikki Ortiz.
Escondido Charter moves to 5-3 overall. ECVHS is 1-8.
Meanwhile, Julian, which opened its season last week with a pair of setbacks to the Sharks of Bayfront Charter of Chula Vista, lost Wednesday to The Rock Academy, 13-1. The Warriors scored 10 times in the top of the first.