Cougars, Foothillers sweep opening games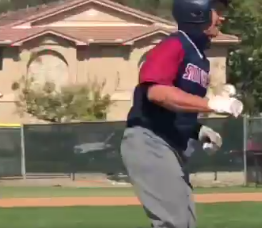 Steele Canyon's Tommy Molina rounds third during his home run on Saturday.
2021 EAST COUNTY PREP BASEBALL
ECS staff report
LA MESA —- It might be Opening Day in the Grossmont Hills League, but this doubleheader could well be considered an elimination series to determine which ballclub — Steele Canyon or Helix — will gain an opportunity to challenge Top 10 teams in Grossmont and Granite Hills to contend for the league title.
Give the nod to Steele Canyon, which posted a surprisingly easy sweep of the Highlanders, 6-2 and 7-1, on Saturday (May 1).
The afternoon was capped by a stellar 1-hitter by Cougars pitchers Vencel Kalasho and Ray Marrero.
Kalasho was only tagged for an unearned run while recording six strikeouts, then Marrero posted a 1-2-3 in the seventh to gain a share of first place.
"I just pitch knowing I have a defense behind me," Kalasho said. "Errors will happen but I just have to keep my head up and keep pitching because that's part of baseball. The unearned run did not get to me so after that, I kept throwing and creating ground balls and pop outs. We did a great job getting a safe lead on the scoreboard early today to make the pitchers comfortable and we were able to pitch with a lead the whole game."
Cougars cleanup hitter Tommy Molina belted a 3-run homer to cap a 4-for-5 outing.
"We always try to back up our pitcher with runs and back him up by making our plays and getting outs," Molina said. "We all were seeing the ball out of their pitchers' hand pretty well today. We always help each other out by giving the other batters tips on how the pitcher pitches and how the ball comes out of his hand."
Great win against Helix. 4-5 HR and a triple💪🏾 pic.twitter.com/PGNUDPiP8l

— Tommy Molina (@TommyMolina18) May 2, 2021
Meanwhile, Jake Entrekin went 3-for-4 with three runs and a pair of RBI.
"We played our best baseball today and it was fun to see," Entrekin said. "Pitching was amazing. We played solid defense today, too, but most of all, the offense was what we're looking for. Everyone battling having tough at-bats. Nobody was giving up easy outs. We hit the ball hard all over the field. Both games we jumped on them early, taking the lead in the first inning and we just never looked back."
HR # 5 pic.twitter.com/mr1GRmGoNK

— JACOB ENTREKIN (@entrekin_jacob) May 2, 2021
The lone Scotties hit was a single by Aidan Perez, the top Helix batter hitting over .300 this season. Perez (.351 entering the day) smacked a hard grounder to center field to leadoff the fifth inning.
Steele Canyon scored in five of its seven at-bats, including four in the first.
In Game One, Cougars pitcher Sebastian Granados nearly struck everybody out.
Granados, who ranks second in the GHL in earned-run average, registered whiffs on 13 of his 15 outs in a solid 5-inning stint on the mound, combining with Branden Jackel on a 5-hitter.
"My best pitches today were my fastball and changeup," Granados said. "I was changing speeds and locating pretty well today."
Leadoff homerun to start league and pitched 5 innings with 13ks and only allowing 3 hits @HawaiianScout @DavidRing4 @CSUNBaseball @CornejoEddie @DaveSerrano11 @AMGSportsGroup @ZeFreed @coachferg @tombattista33 @SDPreps @KUSIPPR pic.twitter.com/yolBxyVB7p

— Sebastian Granados (@Sebasti23810434) May 2, 2021
Jackel also rang up four whiffs, giving the staff a composite 17 strikeouts.
Steele Canyon batters recorded 10 hits, but half went for extra bases. Included were homers by Entrekin and Granados (to CF), plus a double from Issac Vargas, Spencer Campillo, and Taylor Corella.
"It was a well-executed game from us and the coaching staff," said Vargas, who had four hits on the day. "We came in with the mindset of winning and we kept that momentum going."
For everything he did in the contests, Granados, the Cal State Northridge commit seemed more thrilled with his four stolen bases on the day.
"Our fastest guy is Weston Clark and I always love competition so I try to challenge myself to have more stolen bases than him," Granados joked. "But really, I just try to put my team into better situation where we can produce and score runs. I just always have the best defense behind me and behind the plate to help me out and we just out here having fun trying make a statement to the rest of the (Grossmont Hills) League and (Division) 2."
Steele Canyon (11-5 overall, 2-0 GHL) has now won five straight and 7-of-8, including a triumph over No. 5 St. Augustine, leaving the Cougars to believe they can battle Grossmont and Granite Hills for the league crown.
Helix (6-0, 0-2 GHL) received a solo homer from Demarae Woods.
Grossmont 13-14, Valhalla 3-1
EL CAJON —- The Grossmont Foothillers quickly let visiting Valhalla know they were not welcome to re-join the Grossmont Hills League.
In the teams' first meeting since 2016, the Hillers uncorked 27 runs over Saturday's (May 1) one-sided GHL doubleheader in a pair of comfortable victories.
In Game One: Hillers pitcher Evan Vasiliou allowed just three hits over four innings to garner the victory. Chris Chrzan pitched the fifth inning to collect the save via the CIF sportsmanship guidelines in the mercy-rule shortened contest.
Vasiliou (5-0) became the league's first pitcher (second in East County) to reach the 5-win plateau. The other is Koda Alto of Santana.
"We had everything working and our pitching and bats were all in tune," Vasiliou said. "I think if we play the way we are playing, it's going to be a hard to beat us."
A quartet of  Foothillers — Reggie Williams, Isaiah Gomez, Justin Brown, and Vasiliou — registered two RBI each.
For Valhalla, Riley Hughes smacked a run-scoring triple.
In Game Two, Grossmont starting pitcher Jaden Wilcox and a trio of relievers combined on another 3-hitter to vanquish Valhalla.
The Hillers posted nine runs on six hits n their initial trip to the plate, aided by three Norsemen errors, a walk, and a hit batter. Brown's double was the game-winning RBI.
Grossmont (16-2 overall, 2-0 GHL) received home runs from Joaquin Baez, Brown (4-for-5, three RBI), and Gomez, his seventh of the season.
"We were all seeing the ball pretty well and were just swinging the bats the way we know how to," Brown said. "As a team we just tried to get ahead early and keep them down."
For Valhalla (4-11, 0-2 GHL), the 27 runs is an unfortunate coincidence. The last time they allowed 27 runs in a 2-game series against a single opponent, it was also Grossmont (12-2 and 15-2) in April 2010. The Norsemen also suffered a 27-1 drubbing to Point Loma earlier this season.
Tri-City Christian 15, Mountain Empire 2
ESCONDIDO — Mountain Empire was downed by the top-rated Division V ballclub in the CIF-San Diego Section in a contest held at Calvin Christian High.
But at least the RedHawks came closer than any Tri-City Christian opponent did this week.
The Eagles (7-1 overall) posted victories of 18-2 over the first-year program of Coastal Academy of eastern Oceanside, then 29-0 over hapless Kearny before getting "limited" to just 15 in Saturday's (May 1) non-league ballgame.
Tri-City Christian received a 3-run homer from senior Trey Blackford.
Mountain Empire (5-5 overall) had its 2-game win streak snapped. They return to Summit League action Tuesday, meeting first-place High Tech High of Chula Vista.