Eagles' Smith deals no-doubt no-hitter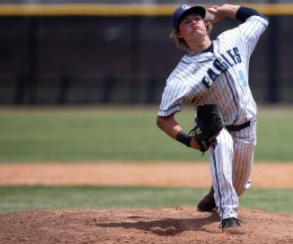 Austin Smith delivers on Saturday. / Vic Marano
2021 EAST COUNTY PREP BASEBALL
GRANITE HILLS 5-8, WEST HILLS 0-4
By Nick Pellegrino
ECS staff writer
EL CAJON —- So much to baseball scorekeeping is subjective. Experienced scorers know by nature whether a batted ball should be ruled a hit or an error, and explaining such nuances to less experienced keepers of the book can often be difficult.
Because of a difference in experiences — or rivalry or jealousy — disagreements can occur, especially when a team claims to have thrown a no-hitter, while the opponent elected to call the play a base hit.
When such controversies arise, when making a game report, most newspapers and websites elect to go with the home team's decision unless there is an obvious factor of prejudice.
Any controversy can take away from the accomplishment of the pitcher, who for years to come can relate the story of the day he completed a no-hitter — but with an asterisk.
Such the case will make Saturday's (May 1) effort by Granite Hills senior Austin Smith one to remember. The right-hander was officially credited with a no-hitter in a 16-strikeout performance in a 5-0 verdict over visiting West Hills. BOXSCORE
"I felt good out there," Smith said. "Just spotted up my fastball the whole game and was aggressive with it."
The game was the first of a doubleheader to open Grossmont Hills League action. The Eagles also took the second contest, 8-4, to grab the early league lead with a couple of other entries.
"It's good to start 2-0 and we want to keep winning," said Smith, who set the school record for most strikeouts in a game.
"The play" came with one out in the sixth inning Ryan Parker grounded the ball to the right side.
Obviously, the Wolf Pack called the seeing-eye single as a base hit. Granite Hills first baseman Tanner Vielguth couldn't make the play, thus was charged with an error.
It should be noted, whether a defender touches the ball or doesn't touch the ball has anything to do with the ruling of hit or error.
The other side contends otherwise, as the Wolf Pack's play-by-play entry on the widely-used scoring app shows the Eagle leadoff man with a hard single to right.
Smith finished the inning with a pair of strikeouts, the first of four straight whiffs, then coaxed a grounder to third baseman Grant MacArthur. Of course, the ball went to Vielguth — oh, those baseball gods! — who was among the first to jump on Smith for his achievement.
Following the error/hit, West Hills remained in contention down just 3-0. But that promptly ended when Kadin Collier belted a 2-run homer to right field in the sixth, also bringing home Ethan McNish-Heider (one-out single). For Collier, a junior, it was just his second varsity appearance.
"It's great to have Collier in our lineup," Smith said. "He is going to help our team win games."
Otherwise, West Hills pitcher Kyle Dobyns allowed just two other hits all morning in his complete-game effort.
The no-no also gave Granite Hills' veteran head man James Davis his first no-hitter as manager of the club.
Over his last two starts, Smith, a UC San Diego commit, has a pair of complete-game shutouts with 30 strikeouts. He whiffed 14 Scripps Ranch batters back on April 21.
The decision on the no-hitter ruling was the first in the Grossmont Conference since April 2016, when West Hills' Jeremiah "J-Barr" Barr was one pitch away from a no-hitter. However, the defender who collected the easy, one-hop grounder took his time throwing the ball to first base — he waited for the defender to reach the bag — with the batter hustling to beat out the throw for a scratch single.
Game 2: Granite Hills  8, West Hills 4
EL CAJON —- Tanner Vielguth, involved in the controversial play as the first baseman in Game 1, slugged a two-run homer in support of Granite Hills ace Noa Ponciano to give the Eagles a twin-bill sweep.
Ponciano dominated over 5 2/3 innings, registered 13 of his 17 outs on strikes, as Eagle pitchers sat down 31 Wolf Pack batters on Ks for the Day. He allowed just one earned run on four hits and one walk.
Over three-plus innings, Ponciano was hooked up in a pitchers' duel with Thomas Seebold of the Wolf Pack. But when Granite Hills snapped a 1-1 deadlock with five runs in the fourth, Ponciano was able to beat the heat and yield to the bullpen, as Ryan Krushensky tossed 1 1/3 frames on 1-hit relief.
West Hills finished with five hits, all by the bottom half of the batting order, including a pair of knocks by Jacob Villanueva.
Austin Smith, back at the leadoff spot since he wasn't pitching, also collected two hits to pace the Eagles. Included was a double.
Granite Hills (11-5 overall, 2-0 GHL) also stole a season-best 10 bases, including three by Camden Sos, Smith, Collier and MacArthur has two thefts, plus one by Cody Macias.
For West Hills (10-6, 0-2 GHL), Villanueva had a double and a stolen base despite the team dropping its second straight for the first time all season.
6,872 total views, 1 views today