BOYS: Foothillers, Monarchs get wins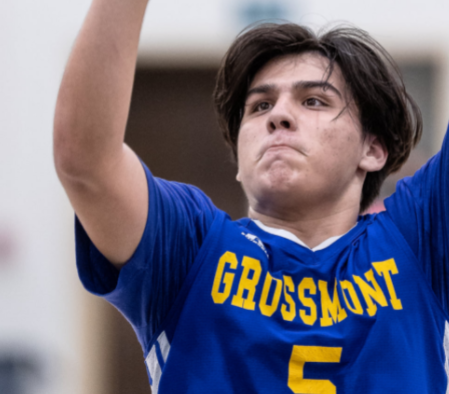 Grossmont junior Aaron Velasco. / P.J. Panebianco
2020-21 EAST COUNTY PREP BOYS BASKETBALL
 EastCountySports.com staff report
SANTEE – The Grossmont Foothillers probably won Tuesday night's big game with the 14th-ranked West Hills Wolf Pack in the opening minutes of the contest.
The Foothillers scored the first 14 points of the game then put forth a great defensive effort in defeating the West Hills Wolf Pack, 49-36, in a key Grossmont Hills League game.
Junior River Elliott scored the first seven points of the contest and finished with 13 points for the game.
"I just go out there and compete with my teammates game in and game out," Elliott said. "The goal is to win the league title. I'll be happy with that. We will keep fighting until we do that, and I will keep pushing myself and my teammates until the job is accomplished. Hard work beats talent when talent doesn't work hard.
Junior Aaron Velasco also had 13 points for Grossmont.
"Knowing all the teams are close (in the Grossmont Hills League) puts pressure on everyone to go out and try to win every game," Velasco said. "Our focus has always been to play really good defense and hold our opponents to minimal points no matter who we play."
Freshman Exavier Williams scored nine points for the Foothillers.
"Exavier had his best game of the season offensively and defensively," Grossmont head coach Jacob Ober said. "It was a great team win defensively for sure. They have some good players who are hard to stop, especially (Kyle) Dobyns."
The Foothillers' road win has big implications in a wild banner race that has every team still in contention.
The Wolf Pack rallied eventually to close to within 37-33 at the end of the third quarter.
This was another edition of student over the mentor with first-year head coach Jacob Ober of the Foothillers and his former coach, Tim Barry, currently of the Wolf Pack.
"Hats off to my former player who is doing a great job with the Hillers," Barry said. "He got his players to play harder and they grind for 32 minutes. They won numerous fifty-fifty balls and just punched us in the mouth."
West Hills star Brendan Green left after turning his ankle in the second quarter. He didn't return and his status is likely questionable for the immediate time being.
"Hoping for the best for Brendan," Barry said. "He's had such a good year."
MONTE VISTA 84, EL CAPITAN 52 – The Monarchs won against the host Vaqueros in a Grossmont Valley League contest as five Monte Vista players scored in double figures.
Hot scorer Isaiah Hilke had 18 points, 15 rebounds, and three assists for Monte Vista, which improved to 5-1 in the GVL.
"I was able to score inside and get nices passes from my teammates," Hilke said. "I rebounded well had made some steals anticipating passes after we were able to press well."
Brandon Tully scored 17 points in the game, knocking down two three-pointers in the second quarter.
Cameron McKan added 14 points for the contest, hitting a pair of treys in the third quarter.
"Cameron was a big part of our offense tonight," Hilke said. "We knew we had to come out hard because this is a league game and we have to prepare ourselves for Santana on Friday. Tonight was just a matter of moving the ball and creating open shots. We were attacking the basket to get to the line and we were able to execute our defensive traps."
Monte Vista's Deron Whitley finished with 13 points.
Armando Rasing put the finishing touches on the game for the Monarchs, scoring all 12 of his points in the fourth quarter, including knocked down two threes.
Daisean Desinor had 16 points for El Capitan, while teammate Jayden Johnson added 15 points.
MOUNT MIGUEL 72, SANTANA 70 – The Matadors had a massive rally in the fourth quarter, outscoring the Sultans 24-10 to take the victory by a bucket.
the victory turned away the Sultans' major chance in a key game in the Grossmont Valley League.
Santana was in a position to make its presence known in the banner race.
The Sultans got out of the gate quickly and led 23-16 after the first quarter.
Santana extended that lead to 41-26 at halftime.
VALHALLA 60, STEELE CANYON 34 – The Norsemen were led by senior Joe Avalos, who scored 21 points and went over the 1,000-point mark for his career.
went on the road and got a big win at Steele Canyon. The Norsemen were paced by 21 from senior Joe Avalos.
Calvert Escho scored 14 points for Valhalla, while teammate Indiana Schaefer added 11 points.
Schaefer hit a pair of three-pointers with about two minutes gone in the fourth quarter to give Valhalla a 51-30 lead.
Valhalla (3-2 GHL, 12-4 overall) led 16-9 at the end of one quarter and by a 35-19 count at halftime.
The score after three quarters was 45-27.
Valhalla has a big matchup with Grossmont on Wednesday evening at 5:30 in La Mesa.
ST. AUGUSTINE 93, CHRISTIAN 53 – The fourth-ranked Saints were a tough match for the Patriots but Christian High sophomore Hunter Provience was a bright spot with 14 points, 10 rebounds, and five assists.
"We would have to play a really great game to beat Saints," Provience said. "We competed up until the third quarter but they are a really talented team and their bench is much deeper than ours. We gave it our all so I am looking forward to the next two years competing against them with our young team."
The score was tied at 16-all after the first quarter but the Saints led 49-36 at halftime.
"Their pressure was constant all night and we handled in well in the first half," Christian High head coach Tim Brown said. "But they are a tough team to stop from getting to the rim."
FOOTHILLS CHRISTIAN 52, BISHOP'S 41 – The Knights of Foothills Christian won on the road against Bishop's Knights as the Carter-Hollinger brothers – Derrius, a sophomore, and Darrien, a senior, both scored 12 points for FCHS.
Both brothers hit two three-pointers each.
Darrien Carter-Hollinger had a team-high 11 rebounds and seven assists.