Cougar Pabon scores game-winner at Pack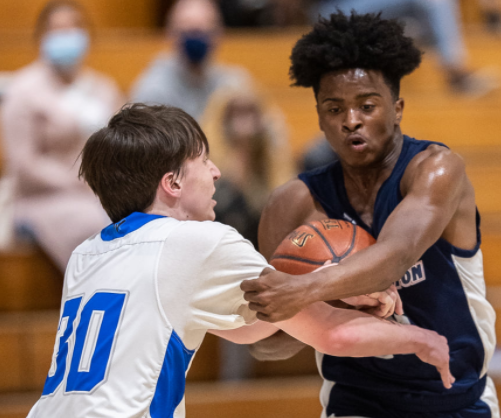 Steele Canyon junior A.Z. Simpson is guarded by West Hills senior Cash Creighton. / P.J. Panebianco
2021 EAST COUNTY PREP BOYS BASKETBALL
STEELE CANYON  49, WEST HILLS 47
EastCountySports.com staff report
SANTEE – The visiting Steele Canyon Cougars defeated the West Hills Wolf Pack, 49-47, in a dramatic finish in a Grossmont Hills League game on Friday night.
Alex Pabon scored the critical basket to ensure the Cougar win in waning seconds after the Cougars intercepted a pass and turned it into a huge go-ahead bucket.
"We got a stop with eight seconds left and thought we would get the last look," West Hills head coach Tim Barry said. "(Our) kids fought hard to come back on multiple occasions."
The Cougars led by a short margin throughout most of the contest but eventually pushed it above double digits for a brief moment in the second half.
However, the Wolf Pack would trail just 41-37 entering the fourth period.
Camrien Hunt scored 15 points in the first half for Steele Canyon, including a three-pointer in the first quarter. He finished with 19 points.
Angel Raposa had three three-pointers in the game for the Cougars.
Joey Cleaves and Pabon both made three-pointers in the fourth quarter for Steele Canyon.
Pabon finished with nine points.
Alex Jenkins had a three-pointer in the first quarter for the Cougars, who kept their hopes for a championship alive by improving to 4-4 in the GHL (10-9 overall)
Kyle Dobyns led the Wolf Pack with 15 points, including 10 points in the second half. His jump hook late in the third quarter brought the Pack to within seven.
Ashton Avestro scored 10 points for West Hills, including a steal and a layup with just over a minute to play to close a Cougar lead to 47-45.
Jarret Hartwig had a pair of buckets in the second half for the Pack. His short banker with four-and-a-half minutes left to play tied the game at 41-all.