Norsemen shoot to top of Hills League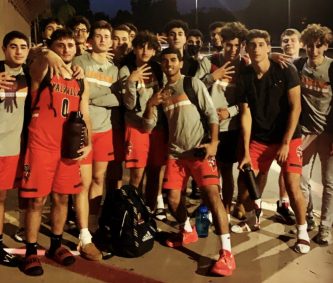 Valhalla following the victory over Granite Hills on Friday. / Norsemen Basketball
2021 EAST COUNTY PREP BOYS BASKETBALL
VALHALLA 49, GRANITE HILLS 39
By Ramon Scott
EastCountySports.com
EL CAJON – The Valhalla Norsemen have earned their way to the top of the Grossmont Hills League standings, catapulted by their 49-39 road win over nearest challenger Granite Hills on Friday night.
What was thought to be a free-for-all in a race for the league banner just a couple of weeks ago has ended with a front-runner in the Norsemen (5-2 GHL) and a group of desperate challengers, including Granite Hills (4-3 GHL)
It was the fourth straight victory for Valhalla (14-4), all over league foes.
Alden Elliasen came up large in the biggest game of the season, as he led Valhalla with 18 points and the Norsemen made a short barrage of shots midway through the second half to overtake the Eagles.
Senior marksman Joe Avalos started the game off with a three-pointer in the first quarter for Valhalla, then Nathan Shahatit added a three-pointer for a 6-0 lead.
Norse junior Calvert Esho knocked one down from straight away to make it 11-6 in favor of Valhalla with less than 20 seconds to play in the first quarter.
However, junior guard Tre Edmund hit a first-quarter buzzer-beater for an 11-9 margin. Senior Deon Spear had a blocked shot and a field goal in the first quarter for Granite.
Senior guard Ethan Jordan hit a three-pointer in the second quarter for Granite Hills, then the Eagles came back with another three for a 15-13 lead.
Senior Joseph Sagmani added a field goal in the second quarter to help stake the Eagles to a 19-17 halftime lead.
Elliasen made a three-pointer with 4:30 to play in the third quarter to make it 24-22 in favor of Granite.
The game remained close in the third quarter and Granite took a 27-24 lead on a three-pointer by freshman Derek Edmund with 3:45 left in the period.
Tre Edmund scored a basket plus a foul conversion to give Granite Hills a 30-28 lead with two minutes left in the third.
Esho added another three-pointer in the third quarter to give Valhalla the lead at 31-30 in what looked to be shaping up as a back-and-forth finish.
But Valhalla got a bucket from Esho and the Norsemen knocked down a three-pointer at the end of the quarter to suddenly lead, 36-30.
Valhalla led by nine when Jordan hit a three-points for the Eagles, but the Norsemen made another triple and eventually led 45-35 with 3:20 to play
Valhalla outrebounded Granite Hills, 44-31.
"It was a combination of all our guys that stepped up," said Avalos, a top candidate for the league's player of the year, along with West Hills' Kyle Dobyns and Helix's Markees Williams. "Josue (Amaya), Alden, Calvert all made huge shots for us tonight.
"Even when I did not have my best shooting game at all, those guys really pulled through."
Despite the one-game lead, there have been some unexpected results in the league this season, giving each team very realistic hopes for a championship.
But as the dust has settled, Valhalla is finally nearing conquering the Grossmont Conference's tougher league, just three years removed from an 0-10 season and a three-year run which saw them lose 23 of 26 ballgames.
Of course, the program then smashed the Grossmont Valley League the following year with a 9-1 record before graduating back to the Hills last season, finishing in fourth place, while it was Granite Hills, ironically, going undefeated last season in the Valley.
"We definitely cannot take any of our last games lightly and still need to play like we are at the bottom and trying to fight our way up," said Avalos, a member of the 2019 league champion team as a sophomore, along with current teammates Esho, Amaya (Jr.), Bashar Nooh (Sr.), and Indiana Schaefer (Sr.). "Everybody is beating up on each other so we just have to bring our 'A' game every night."