Sultans win on free throws with 2.2 left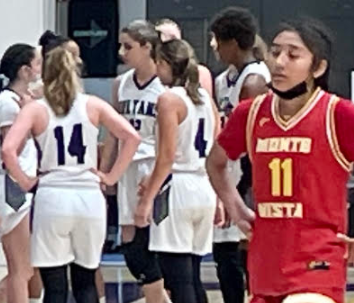 Lina De Leon of Monte Vista against Santana on Friday. / Dave Dickens
EAST COUNTY PREP GIRLS BASKETBALL
SANTANA 37, MONTE VISTA 36
EastCountySports.com staff report
SANTEE – The Santana Sultans stunned the late-charging Monte Vista Monarchs, 37-36, in a Grossmont league game on Friday night.
A Santana player made two clutch free throws with 2.2 seconds remaining to give the Sultans the lead.
Santana got to the line following a pair of final-seconds scrambles and a couple of missed shots, then by a foul called against Monte Vista.
The Sultans led 13-5 at the end of the first quarter, then by a 32-21 margin after three quarters.
Junior Bella Terry scored eight points for Santana.
Freshman Raeya Bristol also had eight points for the Sultans
Juinor Ally DePhilippis had a three-pointer in the fourth quarter for Santana, for the Sultans only field goal in the final quarter.
In the second half, the Monarchs' Micayaah Flournoy was injured, which the team said fueled their fire soon after.
Sami Gonzalez led the Monarchs' big comeback. She hit three of her five three-pointers for the game in the fourth quarter.
"We played the rest of the game for (Flournoy)," Gonzalez said. "We weren't hitting shots and stuff happens which is what made this game close."
Gonzalez led Monte Vista with 21 points. Her three with 2:30 remaining made the score 35-34 in favor of the Sultans.
Meadow Delino made a pair of three-pointers in the first half for the Monarchs.
"We definitely came together in the fourth despite being down," Delino said. "I didn't perform that well and the team may have fed off that."
Lina DeLeon was 5-for-6 from the foul line in the contest. She buried a pair of freebies with 1:34 remaining to give the Monarchs a 1-point lead.
"I tried my best playing the best defense I could," De Leon said. "I think after what we saw happen to Micayaah, it inspired us to play even hard because we wanted to win for her."
Saniya Raley had a driving layup in the fourth quarter to help Monte Vista pull close.
Santana improved to 3-4 in league play, while the Monarchs fell to 2-5 in league play.
Monte Vista had won the first meeting, 55-26, back on April 30 in Spring Valley.