Pats' Senior Night; Rojo triple-double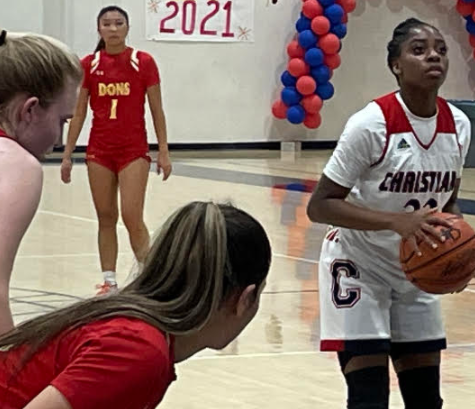 Christian High sophomore Koko Akridge at the line on Tuesday. / Dave Dickens
2020-21 EAST COUNTY PREP GIRLS BASKETBALL
EastCountySports.com staff report
EL CAJON – On Senior Night, the Christian High Lady Patriots gave an admirable effort against the No 1-ranked Cathedral Catholic Dons in a Western League game on Tuesday evening at the Ryan Athletic Center.
Christian trailed by just single digits with under three minutes left before halftime, but trailed 40-25 at intermission. The Dons went on to win 79-62 to go unbeaten in league play. It was a good improvement from the first meeting for the Patriots against Cathedral.
The senior Patriots honored were scoring champion Kristin Williams, Serene Weckback, and Jaya Little.
It wasn't the most favorable of circumstances for Christian High head coach Vickie Carrington considering the Dons' extremely talented and veteran lineup.
"I appreciate coach Vickie greatly this is one of the best Senior Nights we've had and I'm grateful for all my teammates and all the hard work," Williams said. "We definitely had it going in the first half. If we just kept it up we probably would've had a good shot at winning. I think we played through a lot of rough calls and had each other's backs."
However, it was Koko Akridge and Tiffany Bickford that gave a glimpse of the future with 17 points apiece for the Patriots.
Akridge scored 15 points in the second half, including a pair of three-pointers.
"The first half and second half felt like two completely different games," Akridge said. "In the first half, we were all frustrated with the refs but at halftime, we knew that we had to adjust and not let them gain a bigger lead.
"The last time we played them, Kristin and I were both out which changed the way the team had to play. I'm so glad to have played with my seniors. I'm honored because this game was dedicated to celebrating them."
Bickford made three threes en route to her point total, including one in the first quarter as she scored seven points but Christian trailed, 17-12, after eight minutes.
"I definitely was hot tonight and I wanted to keep that up because this was a really big game for us," Bickford said. "We lost by 59 the last time we played them so to come back and only lose by 17, I couldn't be more proud of the effort of my teammates and me.
"We had the mentality that we could do this if we played together and kept our fouls under control. Although the fouls weren't the best, we played well together, and honestly, if we got a few things under control, I think if we played them again we could beat them if we were on our best like tonight.
"We just wanted to play our best to celebrate our seniors and because we really need to win our next games. With the playoffs starting (next week), we need all the help we can get to be successful there."
Williams finished with 12 points for the Patriots, while Weckback added six points.
"I definitely didn't have my best game but my team picked it up and played well," Weckback said. "We just all need to remember to continue to play our game and not get frustrated with each other and ourselves. I did have some rebounds and put-backs but I know I could've done better."
Christian (7-8) is 2-3 with a game against Scripps Ranch to close out the regular season.
The Dons' Ice Brady led all scorers with 25 points. Taryn Johnson added 17 and Izzy Navarro finished with 14 for the Dons.
MOUNT MIGUEL 91, EL CAJON VALLEY 9 – Sophomore Ixchel Rojo led the fourth-ranked Matadors with 24 points, 14 steals, and 10 assists.
Sophomore Zanna Hurst added 20 points, five steals, and six assists for Mount Miguel (17-4, 6-0 Grossmont Hills League)
Senior Jacquee Brown added 18 points and four rebounds for Las Matadoras. She had three three-point field goals.
"Jacquee Brown played probably the best game of her basketball career tonight," Mount Miguel head coach Robbie Sandoval said. "We are just trying to get healthy, hopefully, in time for the playoffs."
Juinor Nataly Bravo finished with 16 points, including four three-pointers, and six rebounds.
Junior Danay Williams-Pope added 11 points and six rebounds.
EL CAPITAN 71, SANTANA 31 – Senior Mackenzie Curtis scored 25 points, made five steals, and had eight rebounds to lead the tenth-ranked Lady Vaqueros, who improved to 6-0 in the Grossmont Hills League and 19-7 overall in preparation for the final two games of the season against Mount Miguel to decide the league championship.
Senior Emma Driskill added 21 points for El Capitan.
Sophomore Kaylee Cole and Curtis both had three three-pointers for the game. Cole had a team-high eight assists
View this post on Instagram
HELIX 57, VALHALLA 30 – Junior Angel Riggins and sophomore Altheze Marquez both scored 12 points to lead Helix to the win over Valhalla at Caledonian Gym on Tuesday evening.
Ten Highlanders found the scoreboard for Helix, which improved to and celebrated vociferously following the victory.
Senior Samonah Betts made a pair of three-pointers for the Scotties.
Betts and Marquez also grabbed six rebounds apiece.
Helix (5-3 Grossmont Valley League, 9-6 overall) led 18-7 after the first quarter and extended the lead to 30-12 by halftime.
GROSSMONT 51, STEELE CANYON 28 – The league champion Foothillers improved to 9-0 in Grossmont Valley League play with the road win at Steele Canyon.
The Foothillers, which are 14-5 overall, will be considered one of the top contenders in the upcoming San Diego CIF Division 2 playoffs, along with the likes of Our Lady of Peace and Eastlake.
GRANITE HILLS 41, WEST HILLS 38 – The Eagles won on the road in a minor upset, although both teams are now 4-5 in the Grossmont Valley League.
Granite Hills improved to 8-10 overall.
No scoring information was reported.
MOUNTAIN EMPIRE 36, THE CAMBRIDGE SCHOOL 32 – Mountain Empire improved to 7-5 overall with the road victory.