Barka is Monarchs' three-point machine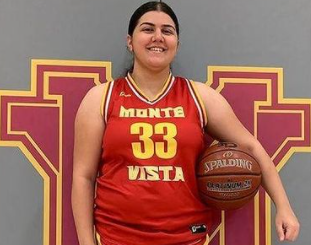 Monte Vista's Veronica Barka
2021 EAST COUNTY PREP GIRLS BASKETBALL
MONTE VISTA 66, EL CAJON VALLEY 46
EastCountySports.com staff report
EL CAJON – The Monte Vista High girls varsity basketball team closed out the regular season on Friday with a 66-46 win over the host El Cajon Valley Braves.
Senior Veronica Barka, in a starting role, made six three-pointers for Monte Vista in a career-high effort.
Monte Vista led 20-10 at the end of the first quarter.
Junior Meadow Delino led the Monarchs with 21 points.
"Veronica has always been a three-point machine," Delino said. "I knew once she hit her first couple of threes, it was the beginning of a hot streak. El Cajon Valley had a diamond-and-one on me, but were we able to swing the ball and keep the defensive constantly moving and it created perimeter shots for Veronica."
Monte Vista junior Sami Gonzalez had a pair of three-pointers in the first quarter and finished the game with 14 points.
Sophomore Lina De Leon finished with 11 points for the Monarchs.
El Cajon Valley's Fineita Taulanga scored 14 points
Ruth Taulanga added 11 points for the Braves.
Silvia Aboud had 10 points for ECVHS (5-15), which earned an 11-seed, and will travel to face sixth-seeded San Ysidro on Wednesday at 7 in a Division IV first-round playoff game.
Monte Vista (15-8, 3-5 GHL), the No. 2-seed, will open the Division IV playoffs against the 15th-seeded La Jolla Vikings (6-9) on Wednesday at 7.
"We've got our momentum back in time for the playoffs," Delino said. "I am happy the way our regular season went."
CHRISTIAN 70, MARANATHA CHRISTIAN 49 – The Patriots closed out the regular season with a win over the Eagles as four Christian High players scored in double figures.
Kristin Williams had 17, Tiffany Bickford had 16, Serene Weckback had 11, and Koko Akridge had 10 for the Patriots.
Weckback had a team-high 11 rebounds, while had team-high six assists.
The fifth-seeded Patriots (10-8) will host the 12th-seeded Torrey Pines Falcons (10-13) in the opening round of the San Diego CIF Division I playoffs.
HELIX 58, STEELE CANYON 33 – The Highlanders defeated the Cougars in Spring Valley in the Grossmont Valley League finale on Friday.
Reagan Havtasingh led the Highlanders with 17 points, while teammate Samonah Betts added 13 points and eight rebounds.
Helix led 30-14 at halftime.
Sixth-seeded Helix (10-6) will host the 11th-seeded Lincoln Hornets (11-5) in the first-round playoff matchup on Wednesday at 7.
The 10th-seeded Cougars (4-11) will travel to face 10th-seeded Valley Center (9-8) in the Division IV playoffs.
GROSSMONT 62, GRANITE HILLS 11 – The Grossmont Valley League champion Foothillers tuned up for the postseason with a road victory at Granite Hills.
Four Grossmont players scored in double figures – Alyssa Chargualaf (15), Domineece Silvels (13), Ariy'Ana Duke (12), and Shyann Van Kirk (12).
Van Kirk had a team-high 12 rebounds.
The second-seeded Foothillers (15-5) will host 15th-seeded University City (6-9) in a San Diego CIF Division II contest on Wednesday at 7.
Granite Hills (8-11) will travel to meet Oceanside (6-15) in a Division IV playoff game on Wednesday at 7.
WEST HILLS 53, VALHALLA 40 – West Hills won on the road in the season finale.
Seventh-seeded West Hills (10-12) will advance to the Division III playoffs to face 10th-seeded Rancho Buena Vista (5-13) in Santee on Wednesday at 7 p.m.
28,391 total views, 1 views today