CIF title contender Patriots get revenge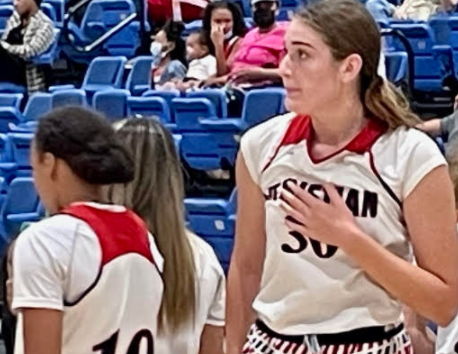 Christian High's Serene Weckback. / Dave Dickens
2021 EAST COUNTY PREP GIRLS BASKETBALL
CHRISTIAN 88, SCRIPPS RANCH 71
EastCountySports.com staff report
SCRIPPS RANCH – The Christian High girls' varsity basketball team had a scoring fest against the Scripps Ranch Falcons in an 88-71 road victory on Thursday evening.
Christian High senior Kristin Williams scored 36 points for the Patriots, including three three-pointers in the contest. But it wasn't as easy as the score would suggest.
The game was close in the first quarter but the Pats led 23-15 after one, although the Falcons surged to lead 35-29 in the second quarter and trailed just 40-37 at halftime.
But Christian enjoyed a 24-11 scoring advantage in the third quarter and went on to beat a Scripps team that won at the Ryan Center, 51-45, on May 7.
The Patriots improved to 9-8 on the season and have a final regular-season game tonight before the playoffs begin next week. The Lady Patriots have won six of their last nine.
What looks like a slightly above par season on paper due to playing the county's sixth most difficult schedule, Christian High can consider themselves a serious contender in a wide-open Division I postseason, along with teams like El Capitan, El Camino, Mission Vista, Rancho Bernardo, and Westview, plus another top contender, and these Falcons.
"I'm heck-a proud of the Lady Patriots," Christian High head coach Vickie Carrington said. "These girls are very talented and the four girls who are my underclassmen are going to be a special group. I am especially honored to be a part of these girls' lives off the court
Williams also had seven rebounds, seven steals, and five assists. She really got out well on the fast break in this one, resulting in 12 points for the team.
"It feels weird considering I remember being a freshman just yesterday it seems," Williams said. "This game shows that our hard work is paying off. I was just in the right place at the right time."
Williams had a steal and fast-break layup that gave the Patriots a 40-37 lead late in the second quarter. In the fourth quarter, another pair of Williams steals and breakaway buckets extended Christian's lead to 68-60.
Koko Akrdige continued her strong play for Christian with a flying start in the game. She hit three treys in the first quarter and finished the game with five threes and 21 points, going 6-of-6 from the foul line, as well. She also added eight rebounds, three assists, and three steals.
"I think 'K.W.' and I make a pretty good duo," Akridge said. "My shot was just on tonight so I continued to let it fly. I can be really aggressive to drive to the basket, so when I was hitting threes, I think it was harder on the defense to adjust to stopping me and Kristin."
Tiffany Bickford contributed 12 points, including a pair of shots from beyond the arc, and grabbed seven rebounds.
"I'm so glad that I've been able to thrive this year," Bickford said. "I've been trying to get more boards because we get more scoring opportunities and have a better chance to win. We played well tonight and we've really been getting together on how to set each other up best."
Serene Weckback added six points and 10 rebounds for Christian, while Alyssa Speers also made a three for the Pats, which made it 35-32 in the second quarter.
"Tonight was such a fun game to be a part of," Weckback said. "Even though there were definitely still some things we could all work on, I think we all stepped it up and truly played together as a whole and utilized everyone's strengths."
In addition to Akrdige and Bickford, Jaya Little had a first-quarter three in the early barrage.
"There were some defensive stops I made to help slow down Scripps' offense," Little said. "It's honestly sad the season has to come to an end because I love these girls and our coaches like family."
Senior Kayla Williams scored 29 points for the Falcons.