Patriots moving in on elusive pennant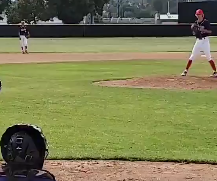 Vaughn Major get set to deliver on Monday. / CHS Patriots Athletics
2021 EAST COUNTY PREP BASEBALL
By Nick Pellegrino
ECS staff report
PACIFIC BEACH —- With nearly 500 career victories to his credit, Christian High head coach Mike Mitchel has witnessed his share of success, including four CIF San Diego Section championships in his quarter-century at the school.
One category which often eludes Mitchell is league pennants — and for good reason: the City Conference never knows where to place the Division III Patriots.
Now in his third decade, Mitchell's teams are often placed in either the Eastern or Western leagues, which usually consists of Division I and II schools. With one notable exception (2017, finishing one game out of first place), the Patriots don't fare well against the elite ballclubs. But when in the leagues consisting of smaller schools in the same division, they can dominate, like this season's Patriots squad.
On Monday (May 31), in a rare Memorial Day contest, Christian officially wrapped up the City League after erasing Mission Bay, 7-0, at Dennis Pugh Field.
Pugh captured three CIFSDS crowns in his career, leaving one to wonder when will the ballpark at Christian be named for Mitchell?
Game Report
With the absence of starting pitcher Andrew Carlock due to military service — since Christian High's school year is already complete — the Patriots need another arm in order to make a deep Division III playoff run as the projected top seed.
Sophomore Vaughn Major fired a 1-hit shutout to sink the host Buccaneers to improve to a team-best 7-0 on the season, lowering his ERA to 1.46.
"I think this was my best start I've had this season and I was confident throughout," Major said. "I felt really good on the mound today. My slider was my go-to pitch and my curveball was working well. I tried to work on my location later in the game and get the mechanics on my curveball down."
Major struck out 11 batters, but the one hit allowed came early. Try extremely early.
Mission Bay leadoff batter D.J. Monahan, the right fielder, opened the half-half of the first inning with a clean single up the middle. From then on, Major was untouchable, closing with seven full innings of no-hit ball. He walked three, thus finishing by facing just 25 batters — four above the minimum.
"It feels good for us to win our league but we want to end the league season undefeated," Major said.
The Patriots then scored over the next three innings to mount a 6-0 cushion through four frames.
Josh Meekins slugged a 3-run home run in the second. Meekins' drive into the wind to left field was set up on an error and a walk, then a sacrifice bunt from sophomore Hunter Kaul.
With an open base available, Meekins tattooed a 2-0 pitch out.
"The pitch was down and in and I got the type of swing I would want to put on the ball with a 2-0 count," Meekins said. "This was a good team game carried by Vaughn's outstanding pitching performance," Meekins said. "
In the second, runs scored on an error and a basehit by Will Carlock. He was the lone multiple-hit player for either squad, going 2-for-3 for Christian (20-4 overall, 10-0 league).
"Mission Bay had a few solid pitchers," Will Carlock said. "Right now, I feel like I am really seeing the ball well and just trying to hit it where it's pitched. I'm just getting lucky that it seems like everything is falling. Our goal is to win two more games this week to finish the league undefeated."
Mission Bay (15-11, 6-4 league), the projected fourth or fifth seed in Division IV, committed seven errors in its downfall. A No. 4-seed would allow the Bucs to avoid a play-in game and advance directly into the main draw.