PATRIOT KAUL MAY GET CALL IN DUE TIME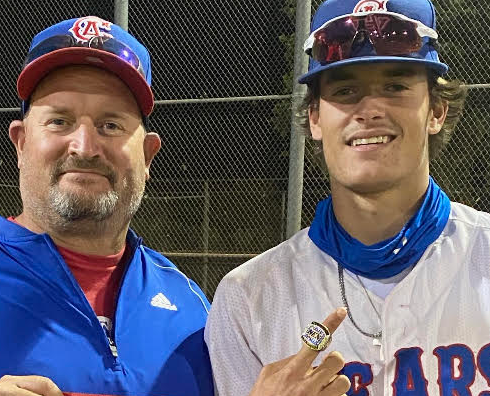 Hunter Kaul with dad, Mark, a Christian High coach
2021 EAST COUNTY PREP BASEBALL
By Dave Dickens
EastCountySports.com staff report
EL CAJON (5-29-2021) – Sophomore HUNTER KAUL is just a regular student-athlete who loves to play baseball.
Just playing hardball is extremely far off from the direction this young talent from Christian High is headed.
Kaul's attention was like a sponge, every small detail even at the young age of 5, you could see this kid had something special to share with the world.
Hunter was much taller and more athletic than anyone on the Mud Hens t-ball team from Cajon De Oro Little League out of Spring Valley.
Fast forward to 2016, while playing travel ball for the Rattlers in East County, Jake Palet, son of current Bonita Vista baseball head coach and media guru Dave Palet, saw Hunter playing ball for the Rattlers. At the time, Palet was recruiting talent for the travel ball team, the California Bears.
Jake's brother Josh and father Dave were also part of the operations for the squad.
"Jake was very persistent with young Hunter Kaul and shared this with Josh and me," Dave Palet said. "It wasn't as if we were trying to pry him away from the Rattlers, we just wanted him and his father, Mark Kaul, to know they had options.
"Our squad and operation with the Bears is to prepare those ballplayers that have the desire to one day possibly be drafted by Major League Baseball. If they don't make it to the bigs, at least provide the kids with one of the greatest experiences playing baseball and great memories that will last a lifetime. Brett Boone also played a part in recognizing talent and was in agreement regarding the talent and advanced mentality that Hunter possessed. I mean, when you speak with Hunter, his eloquence is that of a 30-year-old man."
Hunter ended up playing for the Rattlers and the Bears for a year, thus ultimately after hitting it off so well with the then 18-year-old Jake Palet, while Hunter was 13 or so.
"Jake and Hunter just fused together with a strong bond as he finally was playing for the Bears now full-time," Dave Palet said. "It was like they spoke the same language, so it wasn't only baseball, they were connected mentally off the field. Hunter was now not only Jake's protege but also a friend to confide in or vice-versa.
"Jake battled with depression, and with Hunter and his involvement with the Bears, it was his bright spot, kept him busy, and was so proud of not only Hunter but the many other players he was helping to develop and prepare for the majors with us."
Apparently Jake was so happy and close with his Bears team members that he adopted the 'Freddie Freeman hugs,' as did the players on the team. Jake had believed
that same philosophy, as if he could one day wake up and lose one of those players to passing, as happened to Freeman of the Atlanta Braves when his friend, ex-pitcher Tommy Hanson died.
Jake Palet, was unfortunately taken at an early age of 20, in October of 2018. He loved his position of giving the ultimate opportunity to kids in possibly fulfilling their dreams of becoming a major league baseball player or at the very least have built long-lasting memories with teammates and coaches, and memories that would last a lifetime.
Jake Palet had his heart stop while sleeping after taking a Xanax, or so he thought. However, it was not Xanax at all, but was in fact, fentanyl, and Jake was a big man, yet one small pill robbed him and his family, friends, and players of further wonderful memories, and he was starting to beat the depression according to his father. No further details at this time are available as the case is still open.
Moving forward, Hunter Kaul made the varsity team at Christian High in El Cajon. This was in 2020 before the pandemic shut down all athletics for approximately a year.
After the passing of longtime friend and mentor, Jake Palet, Hunter took it upon himself to draw with his bat in the dirt, prior to stepping into the box, JP 25. This corresponds to the initials and number Jake Palet wore while Coaching for the Bears, and has since been retired by the Bears and will soon be retired at Bonita Vista High, according to Dave Palet.
Hunter Kaul currently a sophomore at Christian High now wears number 25 in dedication to Jake Palet.
"I dedicate everything I do in baseball now to Jake. It was a really big help to play 14-and-under for the California Bears in Arizona," Kaul said. "It gave me an appreciation for the competition, facing faster pitching, faster pace of the game, and just playing up as a whole gave me a bigger appreciation for the game. Jake always gave me tips on how to be better, made it seem easier. You could go to Jake for anything baseball, life, schoolwise, and Jake would always have an answer on how to approach that particular situation. One thing that I think his dad, Dave, would agree with and miss as well, the signature Jake bear hug. Although Jake had struggles with depression, he still wanted all of us to have something to smile about. I was 14 when Jake passed and received a text from his father and my teammates with the Bears. It just didn't seem real, like I froze, he and I were really close, so it really caught me off guard."
Hunter still plays travel ball with the Bears, and talks with Dave Palet, and asks for advice often.
"I cry every time Hunter mentions what he does before he steps into the box to hit and dedicates every game to my son Jake's memory," said Dave Palet.
Among current players, family, and friends to weigh in on Hunter's story, who would know Hunter best?
Well, his father, Mark Kaul, of course, is also the current assistant coach to head coach Mike Mitchell with the Christian High Patriots.
"Hunter is a very conscientious young man that is always out to help people," Mark Kaul said. "Sometimes a little too generous, but a big heart. Jake coached Hunter at his first USA Baseball tournament and believed that encouragement was lasting. Jake's mark left on Hunter, and many others. Hunter works very hard to get better. He spends 30 minutes a day doing tee work. When he finished that routine he asks me to toss and throw to him. I would guess an average week for him gets seven hours of hitting at home. The batting cage was the best money I ever spent. He works at it because he wants to be as good as he can be. He is coachable and takes direction and criticism well. He helps quite a few of his buddies in school. His GPA is 3.3, but he worked very hard to get there.
"Hunter has been great," Josh Palet said. "The way that he honors my brother, Jake, and my family. We are so proud because Hunter was a kid that Jake loved so much. Hunter does everything the right way.
"He is mature beyond his years and his bond with Jake was strong. Jake had a way of connecting with players of all ages and Hunter was one of them."
"Hunter's a great dude," said Patriot teammate Braeden Ross. "We all love him and super grateful that he is on the team. He always gives us 100 percent and he is so vital to us on the field. His versatility helps us significantly on the defensive side and he is more than capable with the stick.
"We know that the loss of his friend, Jake, was tough for him, and we are all proud that he overcomes that and plays to honor not only the Lord but plays to honor Jake. Our program is beyond blessed to have Hunter, Coach Kaul, and their family in our program. They mean a lot to us and definitely to me personally."
Hunter is currently batting .246 with 16 hits, 65 AB, and has played in all 23 games this season. He is also a very versatile player that can play pretty much anywhere on the field.
Kaul currently has two more regular-season league games left to play, as do the rest of the Christian High Patriots, who are looking to finish undefeated in league at 10-0 currently, and 20-4 overall.
Hunter Kaul still has the SDS-CIF playoffs, and two more years to play at Christian High, and maybe two more years with the California Bears travel ball club.
Just keep this young man's name in the front of your mind, he is gonna do big things, and being led by legendary coaches like Mitchell of the Christian High Patriots, and Palet of the California Bears, just keep your eyes peeled and ears open as more talent continues to flow through the East County of San Diego.