Hot teams Christian, Henry win again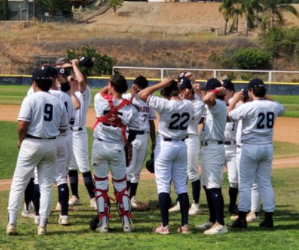 Christian High before the game against Mission Bay on Wednesday. / CHS Patriots
2021 EAST COUNTY PREP BASEBALL
EL CAJON —- The Christian High Patriots moved to with one game of posting an undefeated slate in City League play, disposing of visiting Mission Bay, 18-5, on Senior Day.
The red-hot Pats have scored 84 runs over their last five outings (16.8 runs/game) in extending their winning streak to a dozen in preparations for the CIF San Diego Section playoffs as the anticipated top-seed in the Division III field.
After Christian scored four times in the first inning, it was a pitchers' duel for five innings. as Christian sophomore Aaron Sheblowski fired four frames of shutout ball. However, the bullpen struggled unable to hold a 5-0 lead.
In the sixth, the Buccaneers tallied five times to move even. However, the Patriots responded by registering a season-best 13 times in the home half of the frame to again mount a substantial lead.
Just like the two games above, three Patriots were hit by pitches in the rally, along with five walks.
The big hit was a three-run homer to right field by Braeden Ross.
10th of the year💣💣💣💣💣💣💣💣💣💣 @BraedenRoss5 pic.twitter.com/JwqJa90pyZ

— Joe Ross (@thejoeross) June 3, 2021
"I struck it on the first pitch," Ross said. "It was a fastball I could handle. All of us are pretty locked in at the plate right now."
Ross led the Pats with three hits and a walk, scoring all four times.
"Today was a true test of our team," Ross said. "Energy was low all game. (Mission Bay) struck back on us late and we responded in a huge way. I think that's a testament to what we can do."
Senior shortstop  Vaughn Major and sophomore second baseman Shane Bailey each chipped in two knocks to aid a 12-hit attack. Bailey was also the pivot man in an inning-ending double play in the fourth, going from Major to Bailey to first baseman Josh Meekins.
Top 4. Shebloski works out of a bases loaded jam, gets a strikeout and a double play to end the inning. (Major, Bailey, Meekins)@VaughnMajor2023 @ShaneBailey2023 @JoshuaMeekins2 pic.twitter.com/ir4NaiY5hD

— CHS Patriots Athletics (@CHS___Athletics) June 3, 2021
Christian (21-4 overall, 11-0 league) can complete an unbeaten league season with the ballclubs complete the regular season in Pacific Beach on Thursday.
"It's an exciting time for all of us," Ross said. "With playoffs rolling around, we're all eager to get rolling into postseason play. That being said, we have a job to take care of tomorrow with Mission Bay."
Mission Bay (15-12, 6-5 league) can still grab a share of second place after La Jolla was upset by San Diego, 3-0.
Patrick Henry 9, Serra 1
TIERRASANTA —- Place this one under the category of either the weird or the unusual, but the Patrick Henry Patriots were not complaining.
Over the course of the first seven batters in the decisive fourth inning, three different Serra pitchers hit a Patriots batter with a pitch, then the next batter — Jake Lowery, Jonah Stepner, and Nolan Kluge — all delivered with RBI doubles.
The freaky HBP-double series ignited a 7-run rally to break a 1-all deadlock, as the Patriots downed Serra, 9-1, in the Conquistadors final home game with the name "Serra" emblazed across the front of their uniforms,
Serra will change its name to Canyon Hills for the start of the 2021-22 academic calendar.
Meanwhile, Patrick Henry lowered its magic number to clinch at least a share of the Eastern League title. The Patriots (19-9 overall) remain tied with Clairemont at 11-3 after the Chieftains officially eliminated third-place Coronado, 7-4, from the pennant race.
Just like Patrick Henry, Clairemont (16-11) was the recipient of three-hit batters by Islanders pitchers in the decisive inning, including two with the bases loaded, plus a pair of sacrifice flies.
Bayfront Charter 9, Liberty Charter 2
SPRING VALLEY —- In a pairing of Frontier Conference sides, the Bayfront Charter Sharks of Chula Vista stopped host Liberty Charter, 9-2, in a non-league contest.
The Sharks' Daneil Muniz Hernandez collected three hits and four RBI against the Lions (1-9 overall).
Elsewhere, Foothills Christian's two-game series against Tri-CIty Christian to determine the Summit League championship were canceled when at least two members of the Knights tested positive for COVID-19.
Foothills Christian officials stated they believe the players and the team will be ready just in time for the CIF playoffs.
In the Citrus League, The Rock Academy clinched second place by downing host Julian, 12-0. The Eagles (2-9 overall) wil finishin third place.
13,862 total views, 1 views today