Major in charge of Pats' championship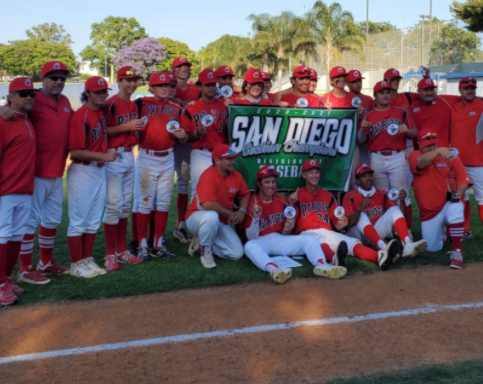 2021 San Diego CIF Division III champion Christian Patriots
2021 EAST COUNTY PREP BASEBALL
SAN DIEGO CIF DIVISION III CHAMPIONSHIP GAME
CHRISTIAN 7, SAN DIEGUITO ACADEMY 4
By Nick Pellegrino

ECS staff writer
CHULA VISTA —- Christian High pitcher Vaughn Major could be the answer to a trivia question: Name the unbeaten starting pitcher on the greatest Patriots' baseball team in school history?Major's credentials: a complete-game, two-hitter along with a two-run homer and a double, leading Christian to a 7-4 victory over San Dieguito Academy in Saturday's (June 17) CIFSDS Division III championship game held at Eastlake High.
Vaughn registered strikeouts against 10 Mustangs hitters, then provided himself with an early lead by going deep to left field in the first inning, bringing home Xavier Farnum (two-out double).
Vaughn Major hits a 2-run HR in the bottom of the 1st to give the Patriots a 2-1 lead in the CIF championship.#PBRbombsquad@VaughnMajor2023 pic.twitter.com/pw2MLk0F4i

— CHS Patriots Athletics (@CHS___Athletics) June 20, 2021
"Vaughn Major was the man for us today both on the mound and at the plate," Christian High head coach Mike Mitchell said. "Today, we played like a champion. They took a lead in the first, we answered with two. They scored in the second to tie and we answered. They scored in the third and we answered."
San Dieguito twice fought back to move even, but when the Patriots posted three runs in the fifth, Major proved to be too much for the Mustangs to overcome.
"I struggled with slider location early in the game but by the fifth, it was my best pitcher," Major said. "I felt better than ever at the plate and the home run carried my momentum on the mound. This is what it's all about. We worked hard all year to get to this point and we didn't waste the opportunity. It feels amazing."
Major took firm control with his lead double moving to third a sacrifice bunt by Eric Markowicz Avila, then home on a Will Carlock double.
"It was an incredible game and Vaughn did a great job," Markowicz Avila said. "(San Dieguito) was pretty good and it felt really good to beat them."
Carlock then scored on a two-run homer to left field by Josh Meekins.
"The pitch was up and I just knew I would crush it," Meekins said. "Coach Mitchell told me to 'hit one off the scoreboard,' and two pitches later, I hit one out. It was a great win Something we expected to do and worked hard for all season."
The championship is the eighth over 16 title game appearances for Christian. For Mitchell, it was title No. 5 (1997, 2003, '09, '15) over eight section finales in his quarter-century at the helm of the Pats.
Vaughn (9-0) could be compared to 1997 CIF Division III player of the year Matt Berry, who led the Patriots to a 26-2-1 mark, Then there are the 2015 Pats that went 29-2 behind unbeaten pitchers Nathan Jarvis (8-0) and Bryce Jurries (7-0).
However, such talk can wait for the summer. For now, Patriots Nation will enjoy this season's ballclub (26-4) that closed the campaign with 17 consecutive victories.
Second baseman and leadoff batter Shane Bailey went 3-for-4 with an RBI.
San Dieguito Academy (21-14), the No. 11 seed and the titlist of the Avocado East League received a first-inning, solo homer from senior shortstop Ian Hoslett.
"I want to commend SDA on a great season," Christian High head coach Mike Mitchell said. "We were a little too amped up early and we tried to do things that we don't normally do, which cost us runs. But we swung the bats today like we are capable of."