Mickey D enshrined in NBC Hall of Fame
Stars owner Kelly Ritayik, along with Bill Deutschman (right), accepts a plaque acknowledging Mickey Deutschman's enshrinement in the NBC Hall of Fame.
2021 SAN DIEGO STARS BASEBALL
By Nick Pellegrino
ECS staff writer
WICHITA, Kan. —- Mickey Deutschman enjoyed a single, primary love in his life: baseball.
Following 11 years in the U.S. Navy, Deutschman attempted to make his dream come true. He started in the ranks of youth baseball, eventually becoming an assistant coach under California community college Hall of Fame coach Ed Olson at Grossmont College.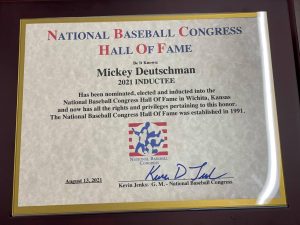 He became an assistant coach of a local semipro ballclub, eventually purchasing the team in 1984 and renaming them the San Diego Stars.Over the ensuing 35 years, Deutschman headed the ballclub's metamorphosis from semipro to a summer collegiate league program, yet was successful at every level. With more than 1,100 career victories since taking over the team's reigns, his club's advanced to the National Baseball Congress World Series an astounding 23 times.On Friday (August 13), "Mickey D" was honored as one of four inductees to the NBC World Series Hall of Fame.
"For anyone who knew Mickey, we loved this game," said Kelly Ritayik, the Stars current owner and president who made the acceptance speech at ceremonies held inside downtown Wichita's new downtown ballpark, Riverfront Stadium.
"Mickey D touched the lives of hundreds and hundreds of players and coaches," added Ritayik, "He made it possible for anyone to play for him."
Deutschman was to have been inducted last summer, but because of the COVID-19 pandemic, the Stars skipped the 2020 season, with his induction was delayed a year, Unfortunately, he passed away from heart issues in September.
"Mickey also loved his business (a heating/air conditioning company based in Santee)," added Ritayik. "He said, 'if you take care of your business, then it will take care of you."
Deutschman returned NBC baseball to Southern California in the mid-1980s, then his teams registered some of the biggest victories in NBC history. Included was a victory over a Hutchinson (Kan.) Broncos team featuring Barry Bonds and Pete Incaviglia. In 1998, the Stars eliminated the U.S. National Team, which then refused to play in the event for the next two decades.
"Mickey also created the Western Baseball Association, bringing NBC Baseball back to Southern California," she added. "Even though he had a few 'tiffs'  with the NBC over the years, the NBC was an important part of his baseball life in addition to the Stars, and he did everything he could to support it."
Deutschman also created a hand-built stadium on the Barona Indian reservation, which served as the club's home field for a quarter-century.
Deutschman had relatives from across the country in attendance, including brother Bill, who stood next to Ritayik at the podium. The Stars ballclub was also in attendance — including some from his original ballclubs — even though the ballclub was eliminated from the double-elimination event six days earlier.
"He wasn't tall in stature yet he was larger than life," Ritayik added. "He touched the lives of many, many young men."
"He always said, 'give me 35 convicts and I'll make a baseball team and change their lives.'"
Also attending was NBCWS Hall of Famer Mark McGwire, a 12-time All-Stars and the 1987 American League Rookie of the Year, among other dignitaries.
To conclude her speech, Ritayik added, "Like Mickey said at the end of his telephone messages, 'And with that, I'm outta here.'"
Deutschman is also enshrined in the National Semipro Baseball Hall of Fame, located in Evansville, Ind.
Watch the NBCWS Hall of Fame ceremony HERE.