Braves get first league win since '15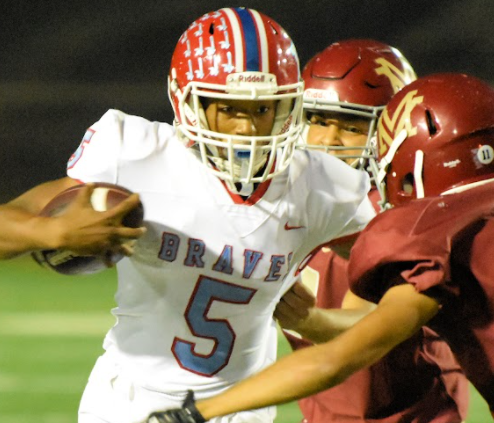 El Cajon Valley junior Kal-El Gordon carries against Monte Vista on Friday night. / Ken Todd
EAST COUNTY PREP FOOTBALL
EL CAJON VALLEY 41, MONTE VISTA 22
EastCountySports.com staff report
EL CAJON – The El Cajon Valley Braves won a Grossmont Valley League football game for the first time in six years on Friday night, out-scoring the Monte Vista Monarchs, 41-22,  and spoiling the hosts' Homecoming.
Braves star junior back Kal-El Gordon rushed for 190 yards and three touchdowns, while senior quarterback Daniel Jacobs accounted for 186 yards and three scores to give El Cajon Valley a league win for the first time since the team defeated Monte Vista, 20-14, in 2015.
It was the Braves' first road win in a Grossmont Valley League game since 2011 when ECV came here and beat the Monarchs in the season final, 36-16.
Jacobs passed for touchdowns to sophomores Shane Hopson (20 yards) and Paris Dixon, either by design or by accident.
After recovering an onside kick to open the second half (El Cajon's second successful such recovery of the game), the Braves' form of a trick play in the second half appeared as if they were anticipating a procedure penalty after the shotgun snap to Jacobs.
The quarterback then darted to the left side and threw a short pass to Dixon, who carried it in for what resulted in an 18-yard score.
Jacobs also rushed for a touchdown in the fourth quarter for the final scoring margin.
Gordon had a 67-yard touchdown run for El Cajon Valley (2-4, 1-1 GVL) to open the second quarter shortly after Aiden Robey had a 65-yard touchdown run for Monte Vista (0-5, 0-1 GVL) late in the first quarter.
View this post on Instagram
Gordon scored his second touchdown of the game on the next series, giving the Braves a 21-6 second-quarter lead.
Monte Vista's Jayden Richardson passed to Nathaniel Barragan for a touchdown as the Monarchs traded blows early with the favored Braves, down just a score at 21-14.
Gordon's third house call of the first half sent the Braves into halftime with a 28-14 lead.
Robey also had a short touchdown run with 7.7 seconds left in the third quarter. Richardson ran in the two-point conversion.
"It was a tough loss considering it was Homecoming," Richardson said. "But it was way more competitive than anybody anticipated. This ECV program has gotten way better this year. Our guys were not focused."
Ruben Cosio had seven solo tackles to led the Braves, while junior teammate Ali Ali had a sack.
The Braves will attempt to win consecutive road games and a second league game in a season for the first time since 2005 when they travel to face Valhalla (1-5, 0-2 GVL) next Friday.
728 total views, 1 views today