Liberty falls in flag football finale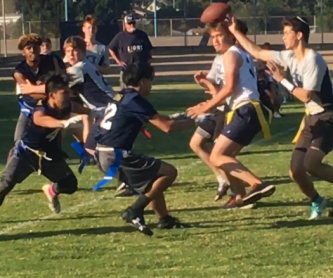 Southern California Yeshiva throws a touchdown pass on Thursday.
2021 EAST COUNTY PREP FOOTBALL
WEST COAST FLAG FOOTBALL LEAGUE
CHAMPIONSHIP GAME
SOUTHERN CALIFORNIA YESHIVA 20, LIBERTY CHARTER 0 
By Nick Pellegrino
ECS staff writer
LEMON GROVE —- Some would call it innovation, others would state it was just simple adjustments.
Either way, the decision made by using a different set of eyes was the difference as the first-round program from Southern California Yeshiva raced to the championship of the West Coast Flag Football League after stunning top-seeded Liberty Charter, 20-0, in Thursday's (Nov. 4) title game.
SCY (called by the acronym "Sky" High; they're known as the Hawks) was able to confuse the blockers of the Lions, which were blanked for just the second time all season after claiming the regular-season title with a 5-1 mark.
"SCY did something we haven't seen before all season," said Lions head coach Shawn Brown. "Almost every other team rushes two defensive linemen, but they rushed three, so had trouble with our blocking coverage or needed to release the football too quickly."
The hurried offense couldn't make the adjustment until late into the second half (two 20-minute halves), yet still failed to score on a pair of journeys deep into the red zone.
Meanwhile, the Hawks, which defeated Chula Vista Community Learning Center, 19-0, in Tuesday's semifinals, raced to its second consecutive postseason shutout in the school's first foray into the sport.
"The kids and I talked to the rabbi several times about joining until we finally did this season," said Hawks coach Ray Mills, the former head coach at El Cajon Valley. "I'm proud of how they worked hard, kept their focus, and didn't let anything stand in their way."
Liberty Charter's defense was equally strong in the early going, posting an interception and a pair of sacks. However, Hawks senior quarterback Ilan Horn was finally able to find short bursts to his receivers. He also had a key scramble of 14 yards to set up his club's second touchdown for a 14-0 lead.
"We had a great play call by our coach to throw a touchdown to the corner of the end zone in the first half to Jordan Rezmovitch, who's also a senior," said Horn. "Then in the second half, I was able to make a nice scramble to the 1-yard line, setting up another touchdown pass to Grant Lieberman."
Liberty Charter (6-2 including playoffs) advance to the WCFFL by blanking Bayfront Charter of Chula Vista, 19-0, in Tuesday's first semifinal contest.
SCY ("Sky') is a private, all-boys Judaic program of about 40 students located in Clairemont.
This was the ninth WCFFL season campaign over the past decade. As many as five other schools could join the circuit for the 2022 season.
WCFFL Playoffs
Semifinals
Tue., Nov, 2
Liberty Charter (6-1) 19, Bayfront Charter 0
Southern California Yeshiva (6-1) 19,  CV-LCC (4-3) 0
Championship
Thurs., Nov. 4
Southern California Yeshiva (7-1) 20, Liberty Charter (6-2) 0
977 total views, 1 views today