Hawks' Brooks: All-GSAC Volleyball
Updated: November 21, 2021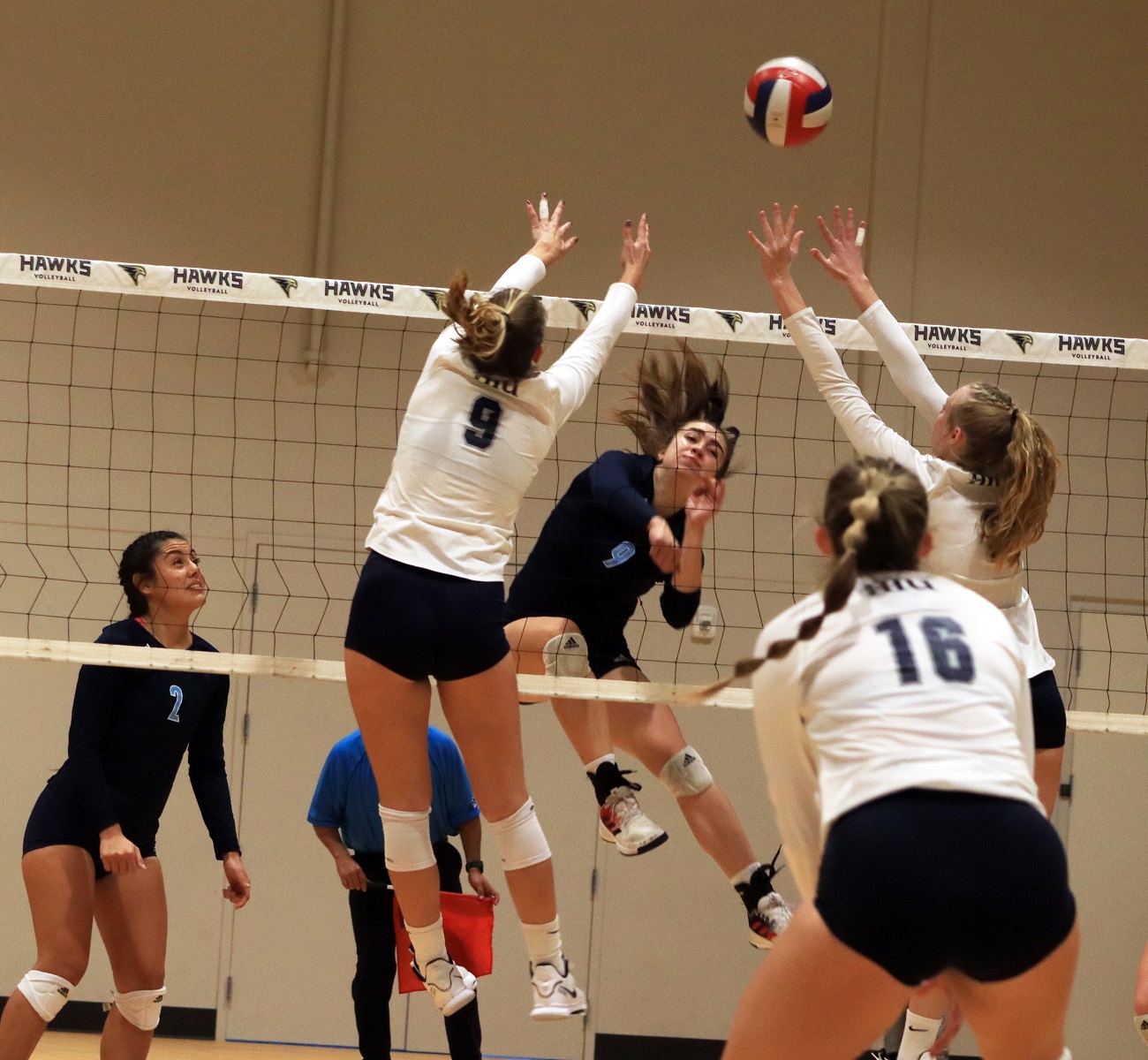 San Diego Christian College sophomore Breanna Brooks (center, spiking) was honored to the 2021 all-Golden State Atletic Conference women's volleyball team, (SDCC courtesy photo)
2021 SAN DIEGO CHRISTIAN WOMEN'S VOLLEYBALL
By Nick Pellegrino
ECS staff writer
SANTEE —- San Diego Christian College standout Breanna Brooks, who led the Hawks to one of their best finishes since the program joined the Golden State Conference, has been named to the 2021 All-GSAC women's volleyball team. The selections are made annually by conference coaches.
Brooks, a sophomore middle-blocker out of Gilbert, Ariz., ranked among the GSAC leaders in both kills, spiking percentage and blocking, helping SDCC to a first-division finish by tying Vanguard University for fifth place in the standings.
"Bre has been a hard-working, enthusiastic, member of the team since the day she arrived!," said Hawks head coach Gene Kreiger. "Everyone in the conference knows her for her skills, but also for her epic on-court celebrations when she gets a kill or a block I am grateful to be her college coach."
Brooks, a business major, finished third in both spiking percentage (.268) and blocks (0.98/set) among all GSAC players, and fifth in total kills,
"Jessica did even more for our program than last year," the coach added. "She played all six rotations, seldom came out, was a small group leader and co-captain. A shame the conference did not appreciate all those efforts, yet the Hawks family knows how great her investment was here."
San Diego Christian, previously known as strictly a defensive team, did see Kayli Barrera place fifth among conference leaders in digs. But the Hawks' greatly improved offense allowed the team to sweep Vanguard and compete closely with several nationally-ranked NAIA squads, including 5-set setbacks to Westmont and GSAC champion Ottawa (Ariz.).
Meanwhile, outside hitter Jessica Pinasco, a GSAC honoree last season was narrowly excluded due to the conference's slotting formula (four players for first, three for seconds, etc.).
Ottawa setter Cristal Carrizoza was tabbed player of the year, while the coach of the year was Spirit mentor Kristin Steele (not to be confused with the well-known psychologist from Coronado).
The Libero of the Year is senior Sydney Culpepper from Life Pacific University. The Freshman of the Year is Carissa Wiles from Hope International.
| | | | | | |
| --- | --- | --- | --- | --- | --- |
| Name | School | Year | Position | Uniform # | Hometown, State |
| Alyssa Fierro | Arizona Christian University | JR | L | 20 | Phoenix, AZ |
| Krysta Petersen | Arizona Christian University | SO | MB | 14 | Victorville, CA |
| Carissa Wiles | Hope International University | FR | OH | 23 | San Clemente, CA |
| Hannah Caddow | Life Pacific University | JR | OH | 13 | Valencia, CA |
| Sydney Culpepper | Life Pacific University | SR | L/OH | 8 | Rancho Cucamonga, CA |
| Cristal Carrizoza | OUAZ | SR | S | 17 | Nogales, Sonora |
| Kate Pestova | OUAZ | SR | OH | 13 | Tacoma, WA |
| Valentina Trovato | OUAZ | SR | L | 2 | Surprise, AZ |
| Avie Butsko | OUAZ | SR | MB | 14 | Lake Forest, CA |
| Breanna Brooks | San Diego Christian College | SO | MB | 9 | Gilbert, AZ |
| Ruby Duncan | The Master's University | SO | MB/OH | 2 | Santa Clarita, CA |
| Cambria Fernandez | Vanguard University | SR | OH | 11 | Northridge, CA |
| Jessie Terlizzi | Westmont College | SO | OH | 20 | Scottsdale, AZ |
| Phoebe Minch | Westmont College | SO | OH | 19 | Fountain Valley, CA |
| Lexi Malone | Westmont College | JR | MB | 11 | Ventura, CA |
| Taylor Dilley | William Jessup University | JR | OH | 18 | Clovis, CA |
| Mary Padilla | William Jessup University | SO | OH | 5 | Turlock, CA |