Norsemen indeed win at Imperial
Updated: December 10, 2021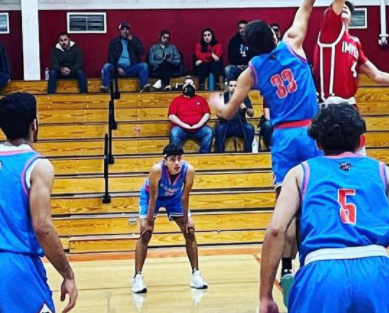 2021 EAST COUNTY PREP BOYS BASKETBALL
EastCountySports.com staff report
Games of Dec. 9, 2021
VALHALLA 64, IMPERIAL 43 – The Valhalla Norsemen won at Imperial in a tournament semifinal game. after jumping out to an early 19-8 lead after one quarter.
Senior Alden Eliasan scored 29 points for Valhalla, which led 32-20 at halftime.
Josue Amaya added 13 points, while teammate Calvert Esho had 10 points and 12 rebounds for the Norsemen.
Valhalla improved to 4-2, while the Tigers fell to 3-2.
GROSSMONT 57, CANYON HILLS 21 – The Foothillers may have scored 57 points on Canyon Hills, the school formerly known as Serra, which scored only 21.
The name change is hardly apparent when walking into the gym at Canyon Hills, which is still adorned with all the brown and gold that represents the old Conquistador name.
Senior Sergio Franso scored 12 points for the Foothillers.
Senior Elijah Williams added 10 points for Grossmont.
Josh Do, Cole Barnett, and Aaron Velasco each made a three-pointer in the game for the Hillers, who improved to 5-5.
Grossmont led 22-11 after one quarter, then held the Q's, er, Rattlers to just two points in both the second and third periods.
LIBERTY CHARTER 48, THE CAMBRIDGE SCHOOL 43 – The Lions won their first game of the season in ten starts by winning against the Griffins.
The Lions led 11-9 after the first period then extended the lead to 27-21 by halftime.
Jackson Applequist, a senior, scored 18 points to lead Liberty, while junior teammate Aiden Schroeder added 13 points, including a trio of three-pointers.
Senior Isaac Belprez had 10 points and 10 rebounds for the Lions.
HIGH TECH SAN DIEGO 74, SANTANA 48 – The Sultans were defeated once again, this time by the Storm, who led 18-9 after one quarter and 38-12 at halftime.
Four HTSD players scored in double figures. The Storm is now 5-2.
Santana, which nearly kept pace in the second half, is 0-9 on the season.
MADISON 88, MOUNT MIGUEL 49 – The Warhawks looked strong against the visiting Matadors, who fell to 3-5 overall.